The Breaking Bad Scene Aaron Paul Called The Hardest To Shoot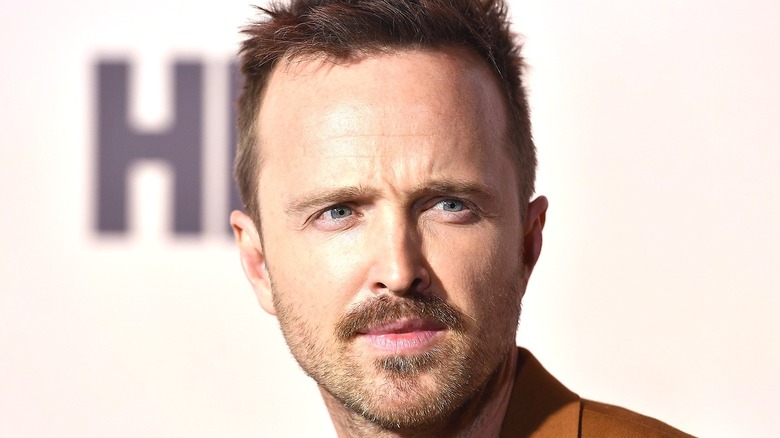 Frazer Harrison/Getty
Throughout its run, the AMC series "Breaking Bad" never shied away from brutal, shocking moments, which endeared the show to fans. From major character deaths to explosive revelations that shifted the status quo, "Breaking Bad" proved to be a thrilling watch that drew fans in because of the nature of its storytelling.
However, the nature of the show often made things difficult for the performers, as they had to bring several scenes of unexpected events to life from the page. They proved up to the task, however, with some even turning minor characters into major ones on the strength of their performances. The impact of certain scenes, however, were particularly hard for the performers. Aaron Paul, who played Jesse Pinkman on the show, recently spoke about what the experience of making "Breaking Bad" was like, and in the process, revealed the hardest scene he had to shoot during the series' run.
A character's death had a major effect on Paul
In the "Ask Me Anything" subreddit, Aaron Paul revealed that the hardest scene for him to shoot was the one where his character Jesse Pinkman finds his girlfriend Jane Margolis, played by Krysten Ritter, dead in bed next to him. The scene in question occurs in Episode 13 of Season 2, titled "ABQ," and immediately follows the end of the previous episode, titled "Phoenix," where Walt witnesses Jane choke to death on her own vomit while still high on heroin. 
Having been blackmailed by Jane previously, and worried about the effect she's having on Jesse and how it'll affect his drug trade, Walt lets Jane choke to death without intervening, leaving Jesse to find her lifeless body the next morning. Grief-stricken, Jesse tries to revive Jane, then ultimately calls Walt for help, leading to Mike Ehrmantraut (Jonathan Banks) coming in and cleaning up, helping move any potential suspicion away from Jesse.
"I honestly think the hardest scene for me to do was when Jesse woke up and found Jane lying next to him dead. Looking at Jane through Jesse's eyes that day was very hard and emotional for all of us." Paul said, "When that day was over, I couldn't be happier that it was over because I really, truly felt I was living those tortured moments with Jesse."