Joan Lee, Wife Of Marvel Icon Stan Lee, Dies At 93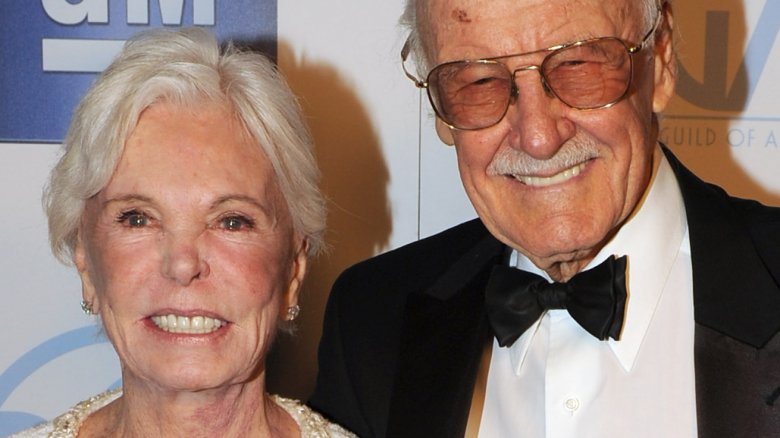 Getty Images
Joan Lee, the wife of Marvel Comics legend Stan Lee, died on Thursday, July 6. The Hollywood Reporter lists her place of death in Los Angeles, California. She was 93. 
A spokesperson for the Lee family gave a statement to the outlet confirming Joan's passing: "I can confirm the sad news that Joan Lee passed away this morning quietly and surrounded by her family. The family ask that you please give them time to grieve and respect their privacy during this difficult time."
According to unnamed sources, Joan Lee was hospitalized after suffering a stroke earlier this week. Her exact cause of death hasn't yet been announced. 
Born Joan Clayton, Lee was a former British hat model who was married to an American solider before she met the comic book icon. The pair married on December 5, 1947 and had two children together. Joan Celia "J.C." Lee was born in 1950; another daughter, Jan, unfortunately died three days after she was born in 1953. 
In 2016, Stan Lee told THR how he met Joan, calling her "the girl I had been drawing all my life." It seems fate brought the two together, as Lee's cousin originally set him up with another young woman and he ended up meeting Joan instead:
 "When I was young, there was one girl I drew; one body and face and hair. It was my idea of what a girl should be. The perfect woman. And when I got out of the Army, somebody, a cousin of mine, knew a model, a hat model at a place called Laden Hats. He said, 'Stan, there's this really pretty girl named Betty. I think you'd like her... so I went up to this place. Betty didn't answer the door. But Joan answered, and she was the head model. I took one look at her—and she was the girl I had been drawing all my life. And then I heard the English accent. And I'm a nut for English accents! She said, 'May I help you?' And I took a look at her, and I think I said something crazy like, 'I love you.' I don't remember exactly. But anyway, I took her to lunch. I never met Betty, the other girl. I think I proposed to [Joan] at lunch."
Joan Lee has been credited as inspiring her husband to keep at his comic career despite truly wishing to become a novelist. At one point, he seriously considered quitting the business, but Joan stepped in to offer some advice. "Before you quit," Joan said to her husband, "why don't you write one comic you are proud of?" Her words of assurance pushed Lee to create the Fantastic Four. 
Like Lee, Joan was passionate about writing. She wrote a novel, called The Pleasure Palace, in 1987, which followed the scandalous life of a man hoping to build the world's most opulent ocean liner all while courting a handful of women at the same time. In the 1990s, Joan gave her voice to Miss Forbes in the Fantastic Four animated show and to Madame Web in the Spider-Man cartoon series. Much like her husband, Joan made a sly cameo appearance in last year's X-Men: Apocalypse. 
The Lees would have celebrated their 70th wedding anniversary this December.