Here's How Much Iron Man's House Would Actually Cost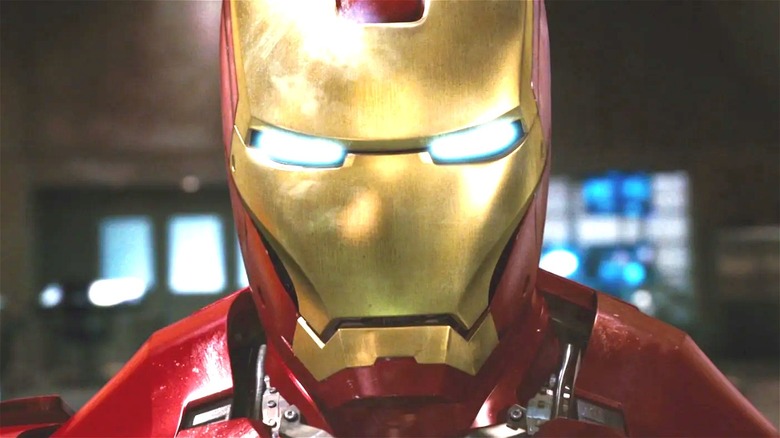 Paramount Pictures/Marvel Studios
As anyone who's seen "Iron Man 3" knows, Tony Starks' massive modern mansion was completely destroyed at the hands of a man who called himself The Mandarin (though not the real Mandarin, but that's another topic) after Tony Stark (Robert Downey, Jr.) issued a challenge via the worldwide media. In doing so, he gave out his address: 10880 Malibu Point, in the 90265 zip code. The gorgeous house, full of expansive rooms, views of the ocean, and the latest technology, was never actually real — but it was a presence in all three "Iron Man" films, standing atop a cliff in Malibu, California and providing a haven for the genius of Stark.
Starting from the beginning of the film trilogy, when one-night-stand and Vanity Fair reporter Christine Everhart (Leslie Bibb) looks out the window on the morning after and the screen pans out to show her location, Stark's home was a symbol of his wealth and fame and the privileged lifestyle that he enjoyed. After it crumbled into the ocean, it also became a sign of what Stark was leaving behind in exorcising his personal demons, taking a step closer back to humanity, and recognizing that the fruit of his own creative genius was more important than the material trappings of his old existence. 
Everyone knows that Stark is loaded — it's practically one of his defining characteristics, outside of his innovative genius, his undeniable bravery, and his insouciant wit. Naturally, fans have wondered exactly how much that house would be worth. Here's what we know.
According to 2013 estimates by a real estate site, the house is worth $117 million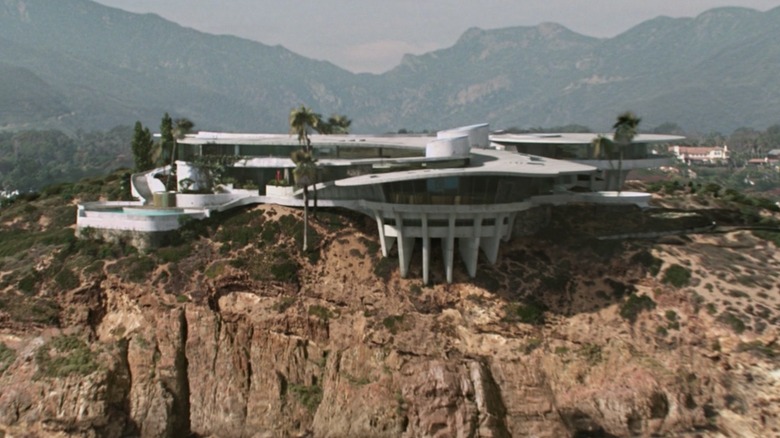 Paramount Pictures/Marvel Studios
The address of Stark's house is a real location, but only beach exists there, according to Google Maps (which was probably an intentional decision by Marvel Studios, to avoid someone's real house getting unwanted visitors). It's sited at Point Dume, which is inside a California State Park. Meanwhile, reports have speculated that the home itself is inspired by a mansion in San Diego, Calif. now owned by Alicia Keys (via Insider), which she purchased in 2019 for $20.8 million. "The Razor House," as it's nicknamed, does have some similarities to Stark's fictional abode, including a clifftop location, contemporary styling, and floor-to-ceiling glass walls, but at less than 12,000 square feet, it appears to be a bit more modest than its on-screen counterpart. 
Meanwhile, Stark's house was designed by artist Phil Saunders to resemble the concrete and glass homes of architect John Lautner, Saunders revealed in a 2008 blog post. In 2013, the real estate site Movoto.com (as reported by Fancy Pants Homes) calculated the costs of the mansion, saying that (at the time of writing) it would come with a price tag of $117,250,000. The Movoto Blog based its numbers on a home that it said partially inspired the house, Lautner's Casa Marbrisa, which has 25,000 square feet of space, and got a price per square foot by looking at a luxury home in Malibu, then tacking on 25 percent for the view. 
Amenities of the home, according to Movoto, would possibly include J.A.R.V.I.S., a multi-car garage with workshop, and state-of-the-art gadgets. But even this exorbitant price doesn't tell the whole story.
It would cost almost $10 million a year just for upkeep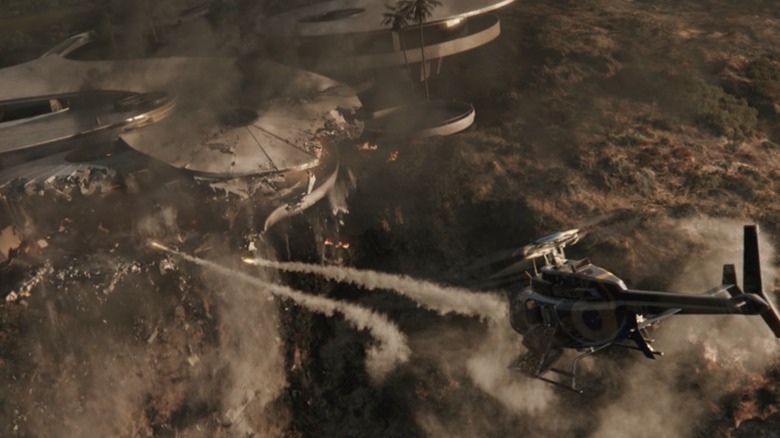 Marvel Studios/Walt Disney Studios Motion Pictures
Movoto.com didn't just price out the worth of the house; it also looked at exactly how much it would cost to live there on an annual basis. If the home was outfitted with all the bells and whistles that Tony Stark no doubt had at his command, this would include utilities plus services like gardening and housekeeping and security. The site calculated that the mortgage itself would cost about $5.45 million and property taxes would add a hefty $905,956 to the bill. Internet costs alone would top $1.8 million. 
Unfortunately, the original Movoto.com estimates are no longer available, so it's unclear exactly how its experts arrived at these numbers, but the infographics that outlined the information (available via The Mary Sue) indicate that some prices, like gas and electric ($46,694), were based on commercial rates, and items like security ($547,500) were based on 24-hour service. Insurance premiums are listed at $802,921 per year, although we're thinking if we were Iron Man's insurance company, we'd have asked for more. 
The grand total? $9,646,828 for yearly upkeep. And the number naturally doesn't include things like food, drink, parties, gas and incidentals like fixing the destruction Iron Man can do when he's drunk. It also doesn't factor in the worth of those numerous suits usually he has sitting around (he was wearing Mark LXXXV, or 85, in "Avengers: Endgame"), each of which has been calculated to cost anywhere from $100.4 million (by Gizmodo) to $1.6 billion (CNet). We hope the eight or so he had in his workshop when they exploded in the attack were all insured — that's a heck of a lot of money for us non-billionaires.