The Sesame Street Episode That Was Too Dark Even For PBS
Mention the line "sunny day" to just about anyone, and nostalgic hearts and minds will likely buzz with directions to a particularly friendly street full of colorful Muppets and valuable education. "Sesame Street" is one of the longest-running children's shows, and it's still going strong on PBS and HBO Max. Before the onset of series such as "Blue's Clues" and "Dora the Explorer," generations of children learned numbers and the alphabet strictly thanks to Elmo and Big Bird. "Sesame Street" teaches some essential lessons while also igniting the imagination. It's little wonder that many adults still welcome watching the program today with their children.
There certainly has been a lot from the PBS staple, with 52 seasons and an episode count that soars past 4,500 (via Deadline). And while the series usually brings to mind a squeaky-clean image, that doesn't mean "Sesame Street" hasn't traveled down darker avenues. From focusing a special episode on a cast member's death to even discontinuing a character because of audience complaint, "Sesame Street" has ruffled a few viewer feathers with some heavier moments. However, the show plucked one Big Bird-sized feather in the '70s with an episode considered so dark that PBS chose to ban it.
An appearance from the Wicked Witch of the West terrified children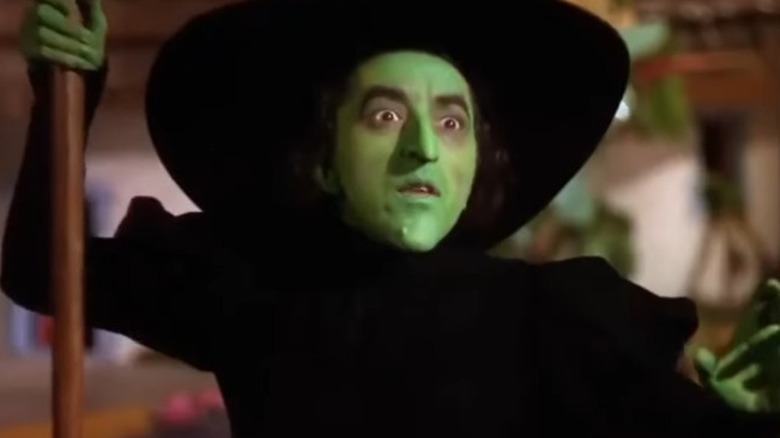 MGM
Thanks to her countless film and TV roles, Margaret Hamilton had a fantastic career. But one of her most iconic roles is as the Wicked Witch of the West in "The Wizard of Oz." For many children, Hamilton's role as the witch probably made for some frightful nightmares because she is such a terrific villain. And that's probably why her 1976 appearance on "Sesame Street" was always destined for trouble. According to the Muppet Wiki (via Birth.Movies.Death), in one episode, the Wicked Witch of the West goes on a quest to retrieve her broom after she drops it on Sesame Street, which seems like an innocent enough plot. But the influx of mail from unhappy parents proved otherwise. Children were frightened and refused to watch the show, and as a result, PBS decided never to air the episode again.
Interestingly enough, Hamilton had been featured on another of the channel's popular shows a year prior. In 1975, she appeared on an episode of "Mister Rogers' Neighborhood," although this time not in character. In the episode, she talks about acting in "The Wizard of Oz" and even gives her breakdown of the Wicked Witch of the West, saying, "I just think that sometimes we think she's just mean and a very bad person, but actually, you have to think about her point of view, that it wasn't as happy a time as she wanted it to be because she just never got what she wanted."