The Connection Between Law & Order: SVU And Taylor Swift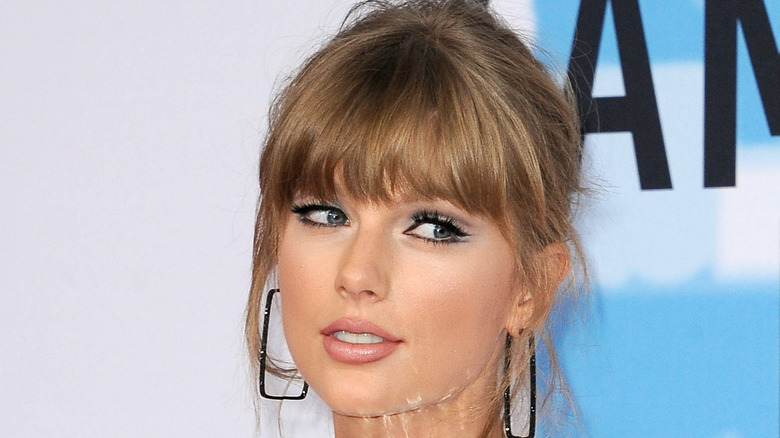 Tinseltown/Shutterstock
One doesn't tend to think of NBC's long-lived crime procedural "Law & Order: Special Victim's Unit" and pop songstress and actress Taylor Swift in the same breath. While Swift has played a murderess in a few of her music videos, claiming fictionalized revenge on the guys who have done her wrong, she's never actually appeared on the program. Conversely, the world-weary cops on "SVU" naturally never talk about Swift's bright, poppy music. The two subjects seem to be like pickles and apples, cheese and chalk, chocolate and rubber cement — wholly incompatible things that could never go well together. It does, however, make one yearn for Swift and Ice-T, who plays Odafin Tutuola on the show, to sit down and collaborate someday.
But there's a secret connection between the dedicated cops on "SVU" and the queen of the pop charts.  In fact, there are two things that connect Swift to the crime drama. Do you know what they might be?
Swift's cat is named after Olivia Benson - and Mariska Hargitay appears in one of her music videos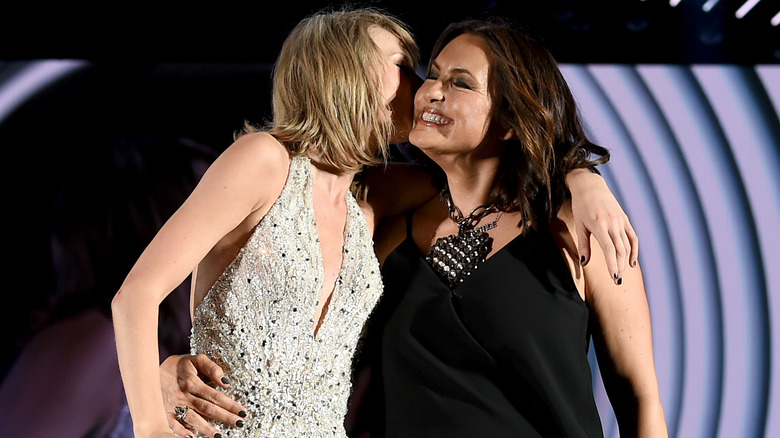 Dimitrios Kambouris/lp5/Getty Images
Per People Magazine, Taylor Swift named her second cat after Olivia Benson, one of the protagonists of "Law & Order: SVU." The singer's fondness for the show also helped connect her with a real-life friend – Mariska Hargitay, who portrays Benson on the NBC drama. 
The twosome bumped into each other at a Met Gala, and their friendship blossomed after spending time together at an Ingrid Michaelson concert after Swift gave Hargitay a ride home. Hargitay later appeared in Swift's music video for "Bad Blood" and shared a stage with the singer during a stop on her 1989 World Tour on June 13, 2015, at Lincoln Financial Field in Philadelphia (pictured above).
Hargitay spoke about her friendship with Swift during a 2015 appearance on "Late Night with Seth Meyers." She confirmed that Swift is a major "SVU" fan, and characterized herself as "grateful" to appear in the music video. Hargitay also said that her daughter is the "biggest Swiftie" she knows.