The Funny Reason Yellowstone's Jennifer Landon Is Like Teeter In Real Life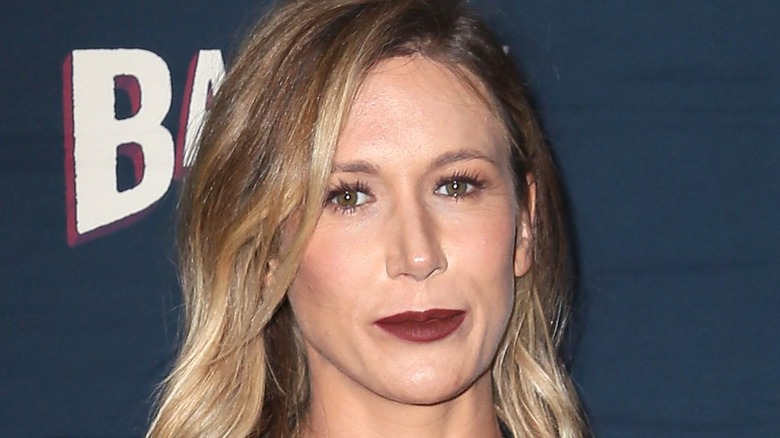 David Livingston/Getty
The Duttons get the lion's share of attention on "Yellowstone." They're the ones overseeing everything that takes place on their ranch, but while they're dealing with all sorts of nefarious individuals seeking to take their land from them, someone has to stay behind to ensure work actually gets done. That's where the ranch hands come into play, and over the course of four seasons so far, these workers have come to have compelling story arcs of their own, none as much so as ranch hand Teeter (Jennifer Landon), who was introduced in Season 3. 
Once she comes into the picture, she soon fits right in, fighting and cursing with the rest of the ranch hands like a pro. However, it's not long until she joins some of them on a revenge mission, eventually earning the "Y" branding that has come to showcase loyalty to the Duttons.
Teeter's tough, which may have been a challenge for some actors. But as Landon put it, she was particularly well-suited to take on the part because she relates so well to the character.
Jennifer Landon is also a 'feral ... little weirdo'
Teeter gets along with the other ranch hands swimmingly, so perhaps it should come as no surprise that she sat down with some of the actors she's performed aside, namely Jefferson White, Denim Richards, and Ian Bohen. During a roundtable discussion, the four go into all kinds of stories about their time filming "Yellowstone" together. Their attention soon turns to Landon and how she managed to land the role of Teeter when many other women went up for the part. As she put it, she was meant to play this role, saying, "I think I am Teeter. Deep down. I think so. I think I'm a feral, s***-kicking, little weirdo."
Furthermore, she elaborates on the audition process, and apparently, she thought she blew it big time. She goes on to mention, "I thought I tanked the audition. You saw it, I did not, apparently, but I thought I tanked it so hard, I kept having the casting associate read the scene again. Just do it again, which is also a big audition no-no for any actors who are watching." Luckily, it seems as though it didn't matter as she landed the part, which saw her return for "Yellowstone" Season 4. 
It's unclear what Teeter's future on the series will be like. John Dutton (Kevin Costner) kicked the women out of the bunkhouse, and it's unclear if Teeter will be welcome back on the ranch for Season 5 or if she'll have a part to play in the upcoming "6666."