The Character Everyone Forgets Megan Fox Played On Two And A Half Men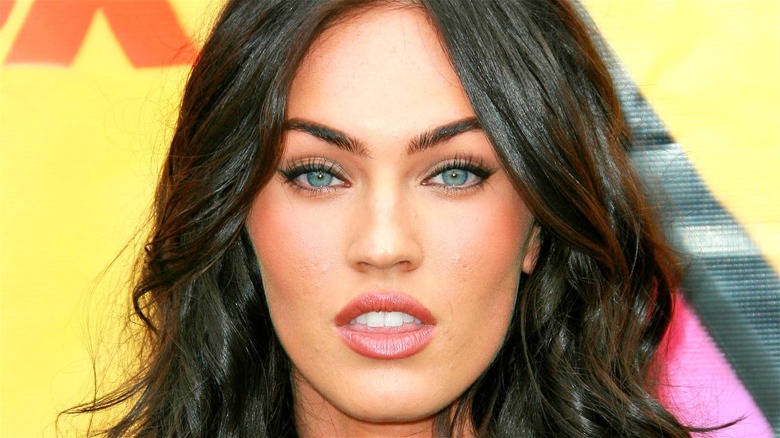 S. Bukley/Shutterstock
In the 2000s, it was hard to find a bigger network comedy than "Two and A Half Men." Created by Lee Aronsohn and Chuck Lorre, who is also known for mega-hits like "The Big Bang Theory" and "Young Sheldon," the series follows a fun-loving bachelor (Charlie Sheen) whose life is turned upside down when his brother (Jon Cryer) and young nephew (Angus T. Jones) move in with him. "Two and A Half Men" went through some significant changes over the course of its twelve-season run. Notably, Charlie Sheen was written out of the show in Season 8 and Ashton Kutcher was brought in to replace him.
The series, though well-regarded by critics and full of talented comedic performances, hasn't quite aged as well as fans of it might have hoped it would. That's especially true when it comes to Megan Fox's guest appearance in the series, which happened as she was getting her start in Hollywood. 
The actor appeared on the show early in its run, and fans of "Two and A Half Men" may be surprised to remember who Fox played in the hit CBS comedy.
Megan Fox played Berta's granddaughter
Megan Fox appears in the first season of "Two and a Half Men" in an episode titled "Camel Filters and Pheromones" (via IMDb). The actor plays Prudence, the granddaughter of Charlie's housekeeper, Berta (Conchata Ferrell). It's revealed in the episode that Prudence, who is only 16, wants to marry her boyfriend Freddie (played by future "Shameless" and "Twilight" star Noel Fisher). She comes to Charlie's house because she's unsure where else to go when her mother and grandmother disapprove of the engagement, and her appearance ends up being quite the distraction for the two and a half men themselves.
On rewatch, the episode is truly troubling, as the joke surrounding Fox's whole character involves two grown men ogling a teenage girl. Throughout her career, Fox has been vocal about the issues she's taken with her status as a sex symbol in Hollywood. For instance, at just 15-years-old, she was cast as a bikini-clad extra in "Bad Boys II." Since then, the actress has spoken out about the sexism she faced early in her career, especially when she was still just a teenager. 
Therefore, while we love revisiting Fox's early work, we can't help but cringe a bit at this particular episode of "Two and A Half Men."