Why Criminal Minds Fans Are Confused About Garcia's Past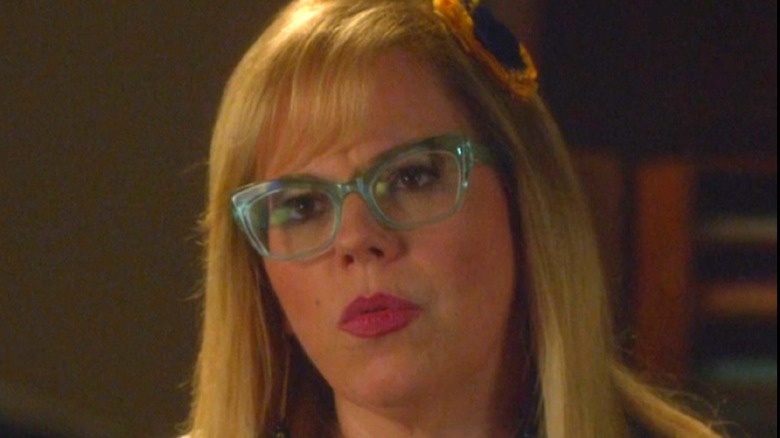 CBS/Hulu
The crime drama "Criminal Minds" may have ended in 2020 after 15 successful seasons on CBS, but people are still rewatching it, even to this day. It starred Kirsten Vangsness, Derek Morgan, and Thomas Gibson, among others, and featured brief appearances by talents such as Aisha Tyler and Adam Rodriguez. The plot is simple: a fictional version of the real-world FBI Behavior Analysis Unit (BAU) analyzes behavior and investigates crimes in order to put the bad guys, or unsubs, behind bars.
On the show, Vangsness plays Penelope Garcia, a feisty technical analyst known for her objectification of attractive men and her loud, colorful outfits. For the first several seasons, they don't really address where she came from — at least, not until they run into some interesting backstory exposition in Season 9. But the way the writers approached her mysterious past still has fans baffled about what is and isn't canon on the show.
Two different flashbacks contradict Garcia and Morgan's timeline
This Reddit thread about how Penelope Garcia and Derek Morgan meet discusses in detail the two different flashbacks that contradict her origin story. Users specifically referenced Episode 12 of Season 9, called "The Black Queen." This episode clearly shows Garcia getting caught by the FBI and being recruited by the law enforcement organization. There's even a memorable scene where she flirts shamelessly with the aesthetically pleasing detective Derek Morgan (Shemar Moore) and in turn, receives a lukewarm "welcome to the team" from her new colleague.
But as u/Comfortable_Cup5269 pointed out in that same thread, there's another flashback within the same season that tells a different tale. In that particular flashback, "Morgan [calls] Garcia babygirl because he [doesn't] remember Garcia's name" — but it seems a little odd that he would forget her, given the fact that their first social interaction was so awkward and uncomfortable. Another user, u/yates9987, offered a few more details, noting that Morgan mistakenly called Garcia by the wrong last name ("Gomez') and also referred to her in the flashback as the "new tech girl." They concluded their post by suggesting that Garcia's real backstory is whichever "makes more sense" to viewers.
There are plenty of shows with inconsistent canon on TV, especially on network TV where lots of episodes have to be cranked out quickly in order to keep viewers happy. But having two completely different flashbacks for the same character within the same season feels a little questionable.