Keanu Reeves' Favorite Action Movie Of All Time May Surprise You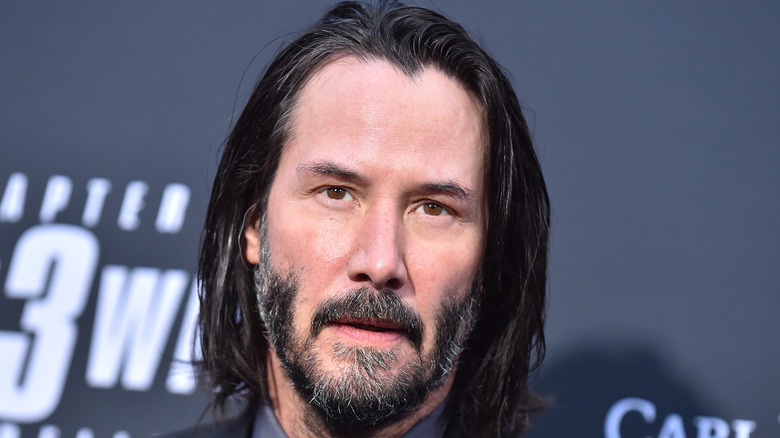 DFree/Shutterstock
Keanu Reeves has appeared in some of the highest-grossing and most popular action and science fiction movies of all time, from his early films like "Point Break" and "Speed," to the "Matrix" franchise, to the "John Wick" series.
His latest film, "The Matrix Resurrections," premiered on December 22, 2021. "Resurrections" takes place 20 years after the last film in the series, "The Matrix Revolutions." Neo (Reeves) has no memory of the events of the first trilogy and has resumed life as Thomas Anderson. When a young Morpheus (Yahya Abdul-Mateen II) shows him the truth, he resumes life as Neo to help the Matrix defeat an even bigger threat.
Reeves appeared on "Late Night with Stephen Colbert" to promote the film. Clearly he knows what it takes to make a great action movie, but his personal favorite is a throwback. When Colbert asked him to name his favorite, here's what he said.
Keanu Reeves is a huge fan of Rollerball
Keanu Reeves revealed his favorite action movie during the "Colbert Questionnert" segment. An excited Reeves went with "Rollerball," the 1975 dystopic sports thriller that starred James Caan.
"It's violence, and a game, philosophy, social commentary. Fantastic," Reeves said."
Norman Jewison's "Rollerball" takes place in a near future world ruled by corporations. James Caan plays "Jonathan E.", the best rollerball player in the world. Rollerball is a more violent version of a roller derby that can be fatal for certain players. The story follows Jonathan as his corporate owners try to force him into retirement, and he realizes that the world he lives in is corrupt. When he refuses to retire, his CEO Mr. Bartholomew (John Houseman) makes the games more and more deadly to try and eliminate Jonathan. It's considered one of the best science fiction movies of the 1970's (via Rolling Stone).