We Finally Know When Marvel's Agatha: House Of Harkness Will Begin Production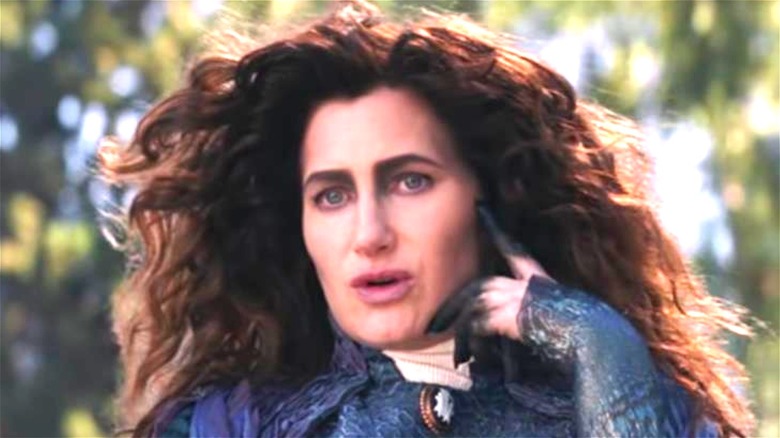 Disney+/YouTube
As soon as "WandaVision" was announced, Marvel aficionados suspected that Agatha Harkness would be in the series. She was responsible for teaching Wanda/Scarlet Witch how to hone her magical abilities in the comics. Her inclusion in the show was inevitable. That being said, "WandaVision" kept us guessing throughout and made Agatha's big reveal a shocking one.
"WandaVision" introduced Agatha as Wanda and Vision's nosy neighbor, Agnes (Kathryn Hahn). Upon first glance, she seems like a harmless sitcom stereotype whose only crime is showing up at the wrong time and being mildly annoying. The more time viewers spent with Agnes, however, it became obvious that something sinister was afoot. In the end, Wanda discovers that Agatha was responsible for all of the weird and horrible events that befell her, culminating in an aerial battle over Westview town center.
The hero won in the end, but you'll struggle to find many Marvel fans who came out of "WandaVision" not wanting to see more of Agatha Harkness and her spellbinding exploits. Fortunately, the House of Mouse heard our calls and greenlit a spinoff series about the mischievous witch. "Agatha: House of Harkness" is coming to Disney+, and the production start date is reportedly set in stone.
Agatha: House of Harkness will begin production this year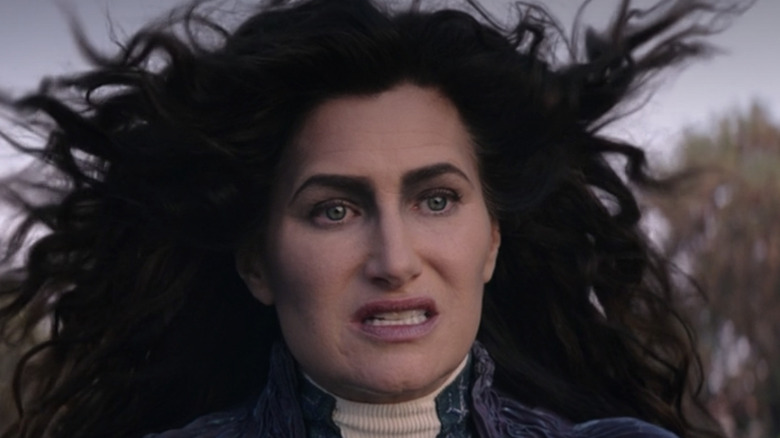 Disney
The Halloween season is the best time of the year for all things magical and spooky. Therefore, it's only fitting that a show about Agatha Harkness will start shooting when the eerie chills are in the air. According to The Cosmic Circus, "Agatha: House of Harkness" is slated to start filming in Georgia in October 2022, assuming everything goes according to plan between now and then.
Furthermore, it seems that Marvel is fully embracing witchcraft-themed pop culture heading into the new series. The Cosmic Circus report noted that the production company behind "Agatha: House of Harkness" is called Oakhaven. This appears to be named after the haunted Massachusetts town in "Scooby-Doo! and the Witch's Ghost," a direct-to-video movie from 1999 (per IMDb).
The article also teased a "fun addition to the cast." Unfortunately, the author was sworn to secrecy at the time of publication. Details about the project are being kept under wraps for now, but more information should be revealed in the near future.