Andy Cohen's RHODubai Controversy Explained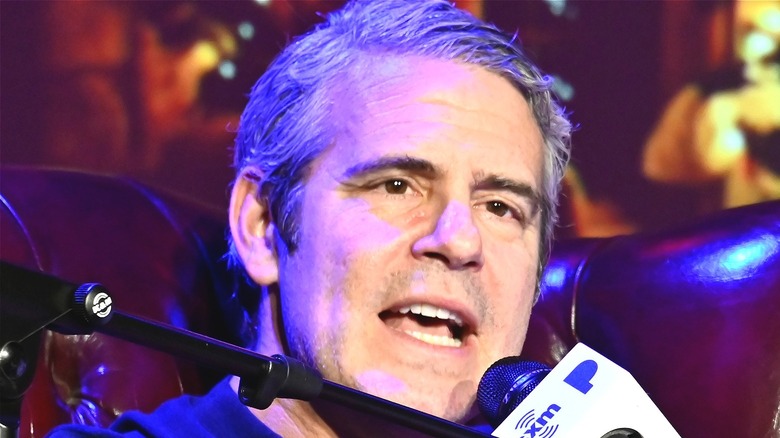 Astrid Stawiarz/Getty
As far as reality TV goes, there really is no other franchise like Bravo's "The Real Housewives." The network started it all when they launched "The Real Housewives of Orange County" back in 2006 and the franchise has since expanded to include several other cities such as New York City, Atlanta, Beverly Hills, and Salt Lake City. The creative team at Bravo clearly understands that to keep an audience interested in a series for nearly two decades, they must be comfortable pivoting and keeping things fresh. Those early seasons of "The Real Housewives" look nothing like the current iterations today. They're even willing to try a new spin on an old idea, as evidenced by "The Real Housewives of Miami" being revived on NBC streaming platform Peacock years after it was first canceled.  
Bravo regularly switches up the cast lineups and introduces new cities to keep audiences engaged. Back in November 2021, "The Real Housewives" executive producer Andy Cohen announced the Bravo franchise's first dip into international waters — "The Real Housewives of Dubai." The upcoming series is set to premiere sometime in 2022, and while Bravo has yet to officially confirm the cast, the show is already causing a stir online.
Andy Cohen hopes The Real Housewives of Dubai will start a larger conversation
Following Andy Cohen's announcement that "The Real Housewives of Dubai" was in the works, some fans took to social media to criticize the choice of city. When Bravo dropped a teaser video for the upcoming series on Instagram, many sounded off in the comments to express their anger and discomfort at the idea of a "Real Housewives" set in Dubai, which is part of the United Arab Emirates. 
"How are we highlighting a country with hideous Women's and LGBTQ rights? I LOVE the housewives but this isn't right," wrote one fan, who was echoing the sentiments of many commentors. According to Out Leadership, consensual sexual activity between same-sex partners is illegal in Dubai, and while Human Rights Watch notes in a 2021 report that great strides have been made toward gender equality across the United Arab Emirates, "Laws still provide male guardian authority over women and loopholes allow reduced sentences for men for killing a female relative." Meanwhile, other commenters on Bravo's Instagram teaser brought up the conditions faced by migrant workers in Dubai.
Since the "Real Housewives of Dubai" announcement, Cohen has addressed the backlash on SiriusXM's Radio Andy (per Showbiz CheatSheet). He said that he hopes the show will help "move the needle a little bit" as far as the issues going on in Dubai. "I think for a lot of people in this country who watch the Housewives or who watch this kind of show, it may be their first or only exposure to Dubai," Cohen explained. "I also hope that maybe we can showcase some of the stuff that's going on there that is politically incorrect and educate people about that." 
Cohen did acknowledge that fans make a "really fair point" in their criticisms about the franchise. "In a weird way, if we expose people to it, won't that be a significant conversation starter as opposed to never having the conversation?" he asked.