The Untold Truth Of The Curse Of Oak Island's Charles Barkhouse
Longtime fans of History's "The Curse of Oak Island" will know that Charles Barkhouse is one of the most important members of the Oak Island team, even if he doesn't get a whole lot of screen time. He serves as a history expert and touchstone for series leads Rick and Marty Lagina, and is incredibly knowledgeable when it comes to the legends and myths surrounding the island. That is no small wonder, as Charles has several decades under his belt as an expert on the history of Oak Island and all the weird mysteries that reside there. 
So, what do we know about Barkhouse and his connection to Oak Island? While some fans have suggested the theory that he may be a plant working on behalf of the modern-day Freemasons and Knights Templar to keep the Lagina brothers from actually uncovering the island's secrets, that is likely little more than Reddit speculation run amok. Based on what we actually know about Barkhouse, it seems that he's a consummate professional with an invaluable wealth of knowledge about the history of Oak Island.
Charles gives guided tours of the island, and he gets rave reviews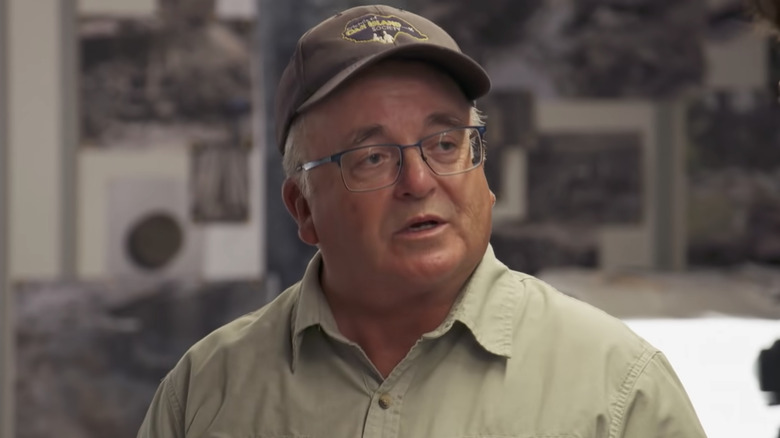 History/YouTube
When he's not busy shooting "The Curse of Oak Island," Charles Barkhouse gives guided tours across the island as a member of Oak Island Tours, the company which actually owns the majority of the island itself. His bio on the tour website reports that he can answer any and all questions about the island's history, as well as any questions about the legends and mysteries you hear discussed so frequently during the show. That's not surprising considering his professional biography cites over two decades of experience in studying the history of the island.  
Barkhouse also gives tours through the historical non-profit Friends of Oak Island, and it appears these tours are a big hit with fans and tourists alike, as Charles' tours, in particular, have incredible reviews. Of the 235 reviews left on the site Tripadvisor for Friends of Oak Island, 219 users gave the walking tour a full 5 stars, with many praising Charles' skills as a tour guide. 
"Charles Barkhouse is the treasure of Oak Island!" wrote one particularly enthusiastic reviewer. Another said of Charles, "He was an absolute pleasure. His knowledge of the history of the Island and the treasure hunt is astounding and you could tell he loved to share that knowledge with the crowd." 
While reality TV shows often embellish the details of their subject's life, it does appear that when it comes to being an Oak Island expert, Charles is, indeed, the real deal. And he has the reviews to prove it.
Charles works behind the camera as well
To give further credence to Charles Barkhouse's status as an expert Oak Island historian, we need only look at the credits of "The Curse of Oak Island" itself. Not only is Charles listed as making regular appearances on the program, but he's also credited as a production consultant on the show. Exactly what parts of the production Charles consults on aren't detailed. However, considering everything else we know about his résumé, we can assume that he puts his deep knowledge of the island's history to good use in his role. 
Whether by choice or not, little else is known about Charles' life outside of his appearances on "The Curse of Oak Island." In a 2017 interview with Monsters & Critics, an executive producer on the series, Joe Lessard, claimed, "Charles Barkhouse ... is a Freemason and in fact, recently, I think just this year, advanced beyond the highest degree to the level of what they call Knights Templar in the Masonic order." However, without confirmation from Charles himself, it's hard to say exactly how accurate that statement is. 
Perhaps one day more details about Charles Barkhouse's no doubt fascinating life will emerge. But, for the time being, he remains almost as mysterious as Oak Island itself.