The AHS: Cult Scene That Went Too Far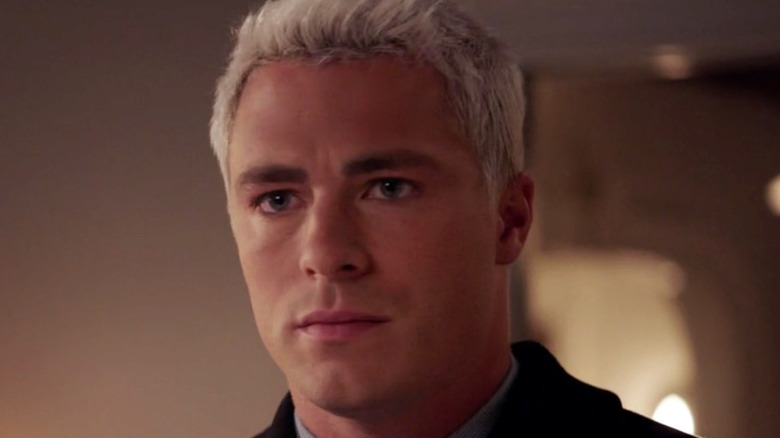 FX
"American Horror Story: Cult" is the seventh installment in the AHS universe. The season was met with decent reviews with the Rotten Tomatoes scores sitting at 73% from critics and 52% from audiences. The general consensus, according to the site, is that AHS: Cult "intrigues with timely, over-the-top creepiness — and lots of clowns — despite being hampered by broad political generalizations and occasional holes in the narrative's logic."
"AHS: Cult" took a very different direction than previous seasons. While prior to Season 7, most of the seasons were paranormal in some capacity, this marked the first time in which a season was relatively free of paranormal elements. Instead, all the terror was centered around murderous and political horror in true cult fashion.
This season starred Sarah Paulson as Ally Mayfair-Richards and her counterpart Evan Peters as Kai Anderson. Ally finds herself being terrorized by what appears to be a satanic cult donning excentric clown outfits. However, the satanic references are all a ruse crafted by cult leader Kai, who is forming a cult in service of getting himself further in politics. The two find themselves going head-to-head in the season until a climactic season finale. 
With the season's main shtick being focused on a cult, there were many moments that got very intense for audiences. However, there is one scene that may have gone a bit too far.
The convenient sacred ritual was a little much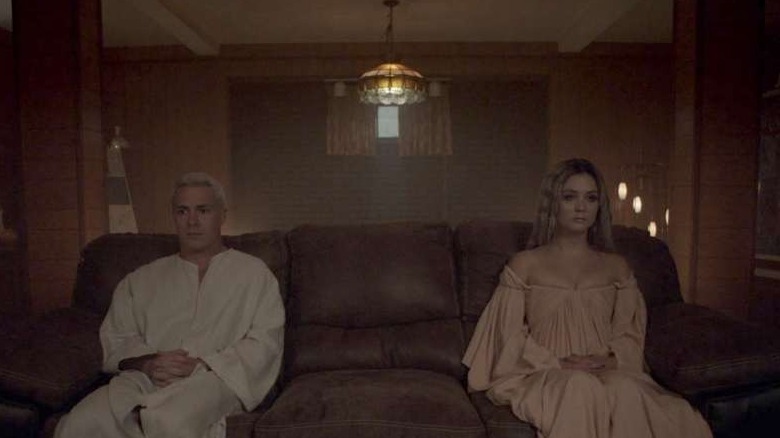 FX
The eighth episode – "Winter of Our Discontent" – turned out to be appropriately titled as the episode caused some major discontent. In the middle of the episode, viewers find Detective Samuels (Colton Haynes) and Winter Anderson (Billie Lourd) awaiting Kai in his basement for some sort of ritual Kai has decided to implement into the cult. Audiences were told by Kai, previous to this scene, that he wants his sister Winter to be the vessel of his offspring – he wants to create a "messiah." Now that was a horrifying thought on its own, but it did not prepare audiences for just how insane that very undertaking would be.
Long story short, Kai's plan is to have Samuels commit the act with Winter –- since Winter and Kai are related –- but it doesn't stop there as Kai also wants in on the action planning to make love with Samuels as he performs "the ritual." Thankfully, this is cut short as Winter becomes uncomfortable and tells Kai just how insane this all is saying "this is too screwed up, even for you." The scene closes with Samuels suggesting an alternative method involving a cup, one that is too morbid to share, that is turned down by Kai, thus ending the nightmare.
This whole scene is a lot to take in and can be seen as crossing multiple lines. One could argue that the point of the scene was to show just how far off the deep end Kai has gone -– and if that's the case, it is successful -– but there are other ways to showcase that fact without creepy incest rituals, as several fans on Reddit have pointed out.
Fans were divided on the episode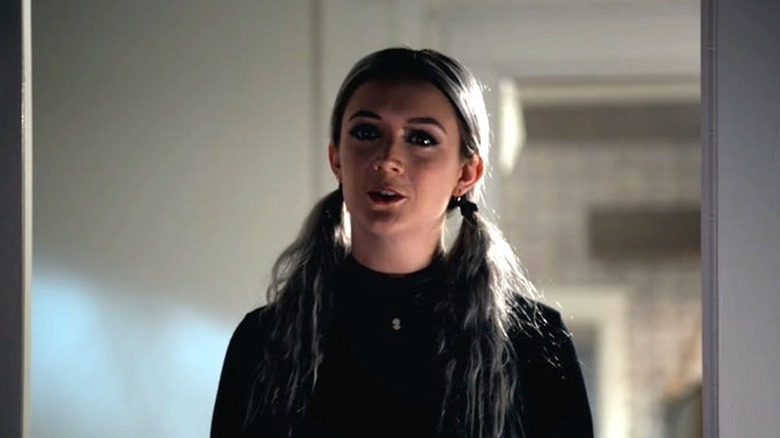 FX
In the "American Horror Story" subreddit, fans discussed the episode and that scene in a post-episode discussion thread. Fans conveyed that they had mixed thoughts on the episode -– most seemed to agree that the ritual scene was too much and uncomfortable, but the overall episode reception was divided.
u/EmeraldPen criticized both the episode and scene while also adding some thoughts on the season, saying, "We went from Kai's incest idea to him suddenly just waltzing into Ally's house and her betraying the psych brother for...some reason? There were multiple points in this episode where the tonal whiplash and poorly constructed narrative had me legitimately confused at what I was watching."
u/MsCandi123 speculated as to what they believe the intentions of the scene were. "He knows the Messianic conception ritual that he just made up is absurd," they wrote. "He went out of his way to make it absurd, presumably to push Winter to her limits, maybe even into killing Samuels just like he manipulated her to kill Harrison with MLWB."
There was a fan who took a more comedic approach in showing their discomfort. "I was dying at that 'threesome.' When Kai came down the stairs in that ridiculous white sheet and the music," they noted. "I almost choked."
Overall, it seems that even if fans have been able to rationalize why the scene exists in the episode, they were still discomforted and disturbed by it. The entire episode as a whole didn't seem to sit that well with fans either, so this ritual scene only adds fuel to the fire.