What Kind Of Car Does Peacemaker Drive?
HBO Max
Contains spoilers for "Peacemaker" Season 1, Episode 1 ("A Whole New Whirled")
A superhero's most prominent modes of transportation surely say a lot about them. Batman has the Batmobile because he's rich and smart (not to mention the fact that he's constantly running away from the police). Private investigator Thomas Magnum (Tom Selleck) (yes, he counts) has a 1984 Ferrari 308 GTS because it looks great on the Pali Highway (and pretty much anywhere, if we're being totally honest). When Doctor Emmett L. Brown (Christopher Lloyd) (of course, the Doc counts as a superhero too) first begins making a car into a time machine, he asks an important question, "Why not do it with some style?"
Given his love for superheroes and music of the '80s, we have to imagine that Christopher Smith (aka Peacemaker) (John Cena) makes just the same type of considerations when picking out his car. If his car doesn't have a dove of peace on it, surely it must have some attribute that identifies it as typical Peacemaker material. Without further ado, what is the exact model of Peacemaker's vehicle?
Peacemaker drives a 1976 Mercury Comet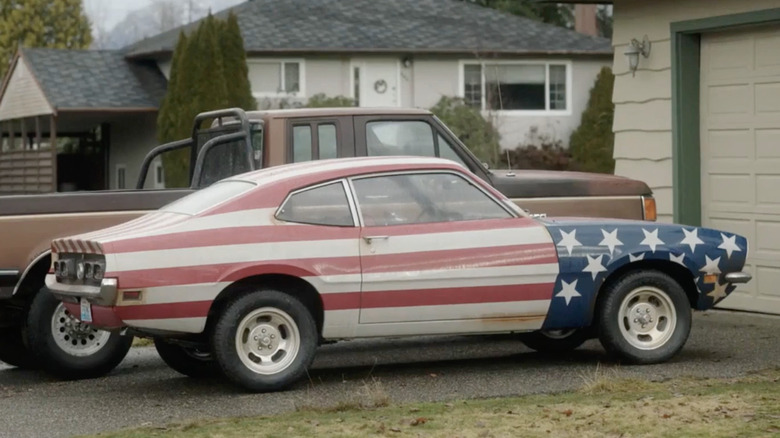 HBO Max
Peacemaker's red, white, and blue design emblazoned vehicle is a sixth-generation 1976 Mercury Comet by Ford. Mercury, a former division of Ford Motor Company, manufactured various iterations of the Comet from 1960 to 1977 (via Classic Industries). According to Hemmings Motor News, this version of the Mercury Comet was a virtual copycat of the Ford Maverick.
DC fans got their first look at Peacemaker's Comet back in August of 2021 when "Peacemaker" showrunner James Gunn tweeted a promotional photo for the series, in anticipation of the year's DC FanDome event (via Twitter). When we first meet the Comet in "Peacemaker," it has clearly seen better days, probably as a result of lack of care from Peacemaker's father, Auggie Smith (aka White Dragon) (Robert Patrick). Though Peacemaker initially seems happy to be reunited with his vehicle (and Eagly), his sonic boom helmet sadly makes rather short work of the antique car and we don't expect to see it on the road again anytime soon.