Why Maya From 22 Jump Street Looks So Familiar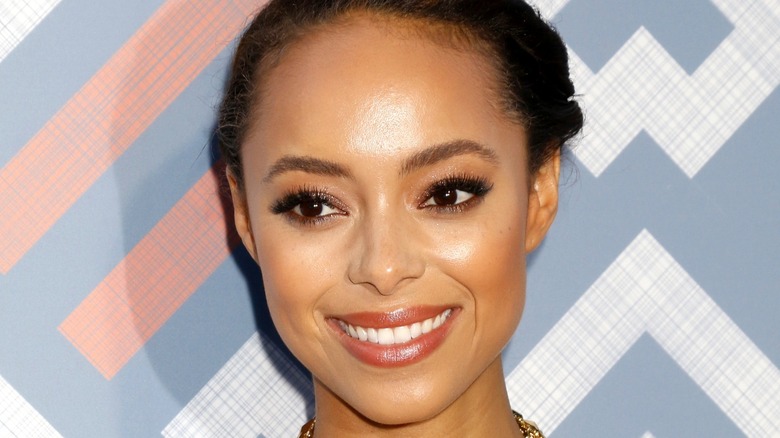 Kathy Hutchins/Shutterstock
The dynamic directing duo of Phil Lord and Christopher Miller has been at the forefront of Hollywood for the better part of the last decade. Whether turning a baldfaced corporate synergy and product placement strategy into one of the most original and endearing CGI animated films ever, writing and producing the definitive "Spider-Man" movie, or getting fired from "Solo: A Star Wars Story," the two American filmmakers stay busy — and always where you least expect them.
Case in point: Their out-of-nowhere, impossibly successful revival of the late-eighties undercover cop show "21 Jump Street" as a goofy comedy duology. Released in 2012, the Jonah Hill and Channing Tatum-starring "21 Jump Street" was maybe the funniest movie ever that nobody expected anything of — until it was one-upped by its 2014 sequel, appropriately titled "22 Jump Street." Where the first film drops its bumbling heroes into a typical high school milieu, the sequel sends them to college. And it is there that Schmidt (Hill) meets Maya, the slam poetry enthusiast with whom he begins a tentative fling — only to learn, much to his despair, that she is the daughter of Captain Dickson (Ice Cube).
The highly charismatic actress who plays Maya has appeared on many other films and TV shows throughout her career. Here are a few of the places where you might have seen her.
Amber Stevens West was the bubbly Ashleigh Howard on Greek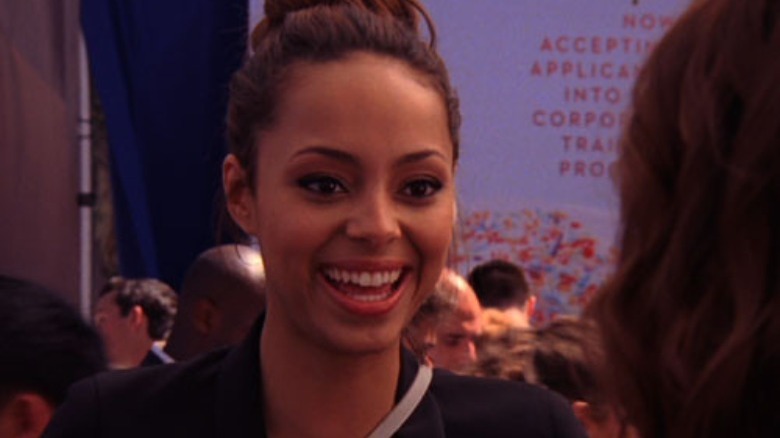 ABC Family
"Greek," created by Patrick Sean Smith and cheekily stylized as "GRΣΣK" (a spelling which, for the record, would actually be properly Romanized to "GRSSK") was a popular ABC Family series that ran for four seasons between 2007 and 2011, and aired a total of 74 hour-long episodes. Combining dramatic storytelling with a light, comedic touch like many ABC Family productions, it focused on the world of sororities and fraternities at a fictional Ohio university.
One of the main cast members across all four seasons was Amber Stevens West (then still known just by her maiden name, Amber Stevens). The Los Angeles-born actress played Ashleigh Howard, a Marketing major and member of Zeta Beta Zeta (ZBZ). A consummate fashionista at once well-liked and not taken seriously by many due to her ditzy, bubbly personality, Ashleigh defies expectations by being voted sorority president even though she isn't running. From then on, she accepts the position's great responsibility and evolves dramatically as a character. It was Stevens' first big acting role, and, although hers wasn't always a central character, she still aced the mix of dramatic and comedic skill it called for.
She had a lengthy recurring spot on Criminal Minds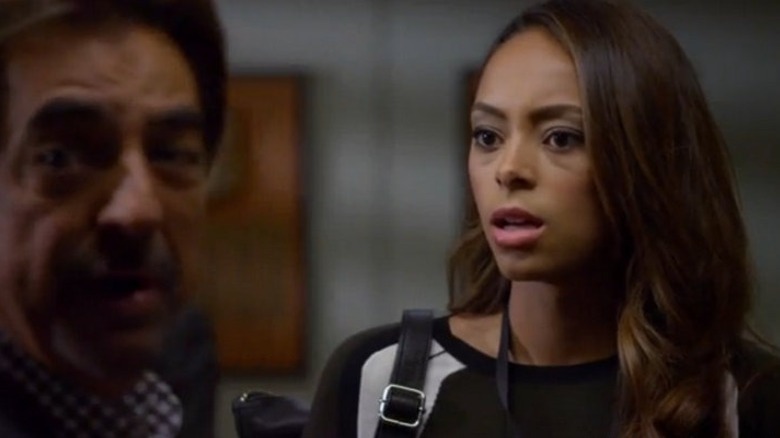 CBS
The past romantic entanglements of Supervisory Special Agent David Rossi (Joe Mantegna) were a topic of frequent discussion on "Criminal Minds," what with his young years as something of a playboy, multiple marriages and divorces, and seemingly having motivated the FBI's "no-fraternization" policy. But still, somehow, nobody quite expected him to be revealed as the unwitting father of an adult daughter when Joy Struthers (Amber Stevens West) came into the picture.
The child of Rossi and his second ex-wife Hayden Montgomery (Sheryl Lee Ralph), a diplomat whom he met while on a trip to France, Joy only learned that her mother's next husband wasn't her father when he revealed it to her on his deathbed. It was then, as a married mother of one herself, that she made the decision to seek out her biological father and tell him all about how Hayden got pregnant right before he divorced her and moved back to the United States.
Although Rossi is skeptical at first about Joy really being his daughter, he eventually embraces fatherhood and becomes close to Joy and her family, including his grandson Kai (Jaiden Alexander McLeod). Stevens West, given the chance to work with a meatier, more dramatic role than she had on "Greek," rose to the occasion, making a strong enough impression as Joy to return to the show on Seasons 11 and 14.
She played co-lead Maxine North on The Carmichael Show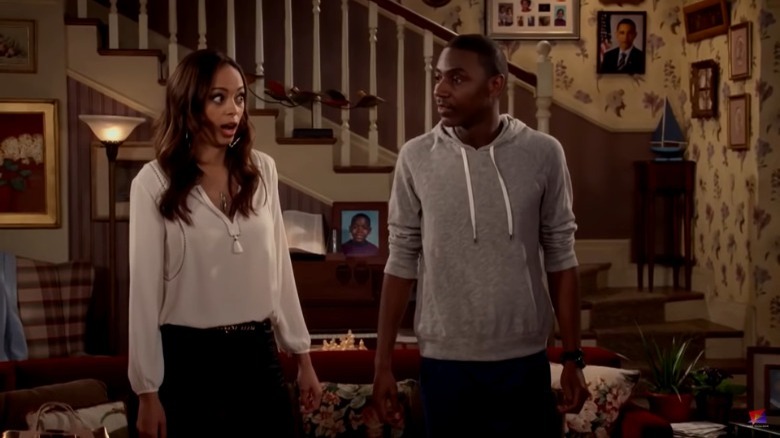 NBC
In the great pantheon of sitcoms built around, based on, and named after popular comedians, a particularly underrated recent entry is "The Carmichael Show," which ran on NBC for three seasons and starred stand-up comic Jerrod Carmichael.
Carmichael, who co-created the show along with Nicholas Stoller, Ari Katcher, and Willie Hunter, played a fictionalized version of himself — a well-meaning comedian in Charlotte, North Carolina trying to navigate familial and social issues while moving into adulthood. His girlfriend, and arguably the show's co-lead, was Maxine North, as played by Amber Stevens West — a smart, opinionated therapist in training whose ingratiation into the Carmichael family was one of the key overarching stories told by the series.
Once again, Stevens West made her role sing: In her hands, Maxine was just as strong and charismatic a comedic presence as Jerrod himself, and the two characters' frequent discussions about pressing political topics surrounding Black American life in the 2010s managed to be both highly entertaining and believable distillations of differing human perspectives. At the same time, their romantic chemistry was winning enough to never grow stale — up to and including their eventual marriage towards the end of the series.
She had her biggest film role yet in Love Jacked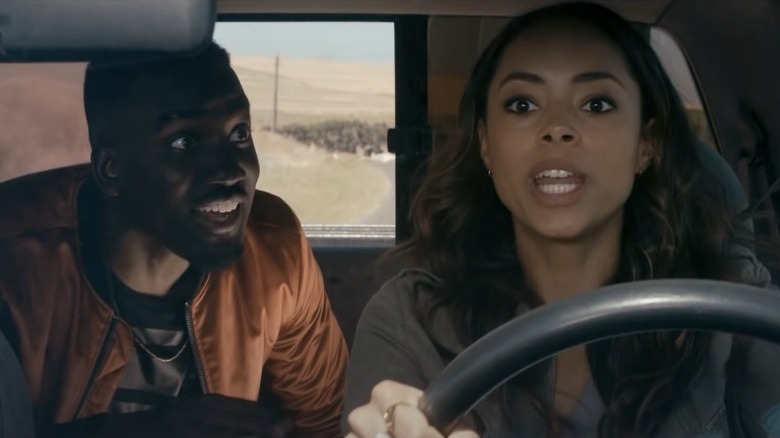 A71 Entertainment/Inner City Releasing
The Canadian romantic comedy "Love Jacked" was not critically successful, earning a paltry 22% on Rotten Tomatoes. But it still provided Amber Stevens West with her biggest role in a feature film yet, as protagonist Maya, opposite Shamier Anderson as her love interest Malcolm.
"Malcolm," for the record, is not the name by which the character is referred to for most of the movie. In the tradition of classic romcoms with high-concept hooks, "Love Jacked" begins with a big premise: Maya, an artist searching for inspiration, travels to Cape Town, South Africa, to find her muse. Once there, she falls in love with and impulsively gets engaged to Mtumbie (Demetrius Grosse), who is caught cheating on her right before they are to return to Canada together. Refusing to admit to her judgmental father (Keith David) that things went south, Maya asks Malcolm, a hustler on the run from his partner, to introduce himself to her family as Mtumbie.
She is one of the closeknit girlfriends of Run the World
Since May 2021, Amber Stevens West has been starring on what is shaping up to be one of her most successful projects yet: the Starz comedy series "Run the World."
Created by Leigh Davenport and executive produced by Yvette Lee Bowser (creator of none other than "Living Single," and also a producer on "Black-ish" and "Dear White People"), "Run the World" is, on the surface, similar to a lot of sitcoms about young adult girlfriends navigating the tribulations of city life — many were quick to compare it to "Sex and the City." However, even though "Run the World" is also set in New York, you could never mistake it for a rehash: The show's rich sense of place, local specificity, and unabashedly sunny vibe made it singular, and helped it become a genuine critical hit (per Rotten Tomatoes).
Stevens West plays Whitney Green, a high-strung, overachieving banker who makes up one-quarter of the show's central friend quartet, along with Ella McFair (Andrea Bordeaux), Renee Ross (Bresha Webb), and Sondi Hill (Corbin Reid). The group's chemistry, rapport, and unwavering support and loyalty to each other endeared them to audiences, and it resulted in a renewal for Season 2 after a highly successful eight-episode freshman season (via Deadline).