The Wolf Of Wall Street Scene Margot Robbie Regrets Filming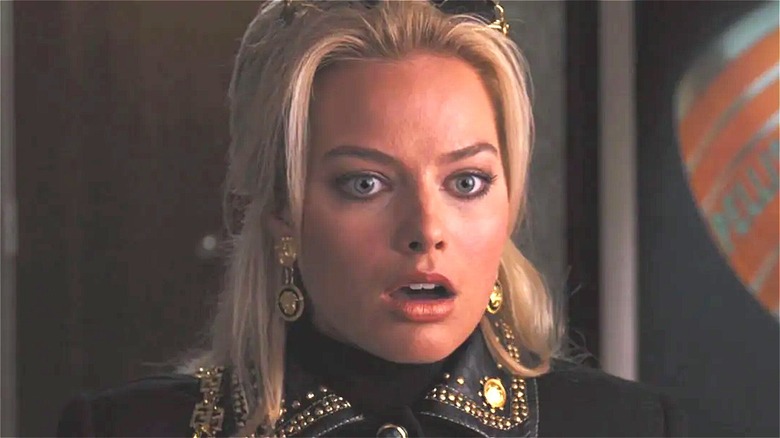 Paramount Pictures
Margot Robbie has undoubtedly been one of the most in-demand actors of the past decade. Since her star-making turn in director Martin Scorsese's 2013 fact-based crime drama "The Wolf of Wall Street," Robbie has rocketed to superstardom, stealing the show as the eccentric supervillain Harley Quinn in 2016's "Suicide Squad," and reprising the role for 2020's "Birds of Prey" and the reboot-slash-sequel "The Suicide Squad" in 2021.
On top of that, she has often been in awards season conversations, having earned a Best Actress Oscar nomination for playing the title role in the 2017 Tonya Harding biopic "I, Tonya" and a Best Supporting Actress Oscar nomination as one of the alleged targets of sexual harassment by Fox News chairman and CEO Roger Ailes (John Lithgow) in the 2019 fact-based drama "Bombshell."
Adding to that a role as screen legend Sharon Tate in writer-director Quentin Tarantino's 2019 revisionist Tinseltown comedy-drama "Once Upon a Time ... in Hollywood," it's pretty safe to guess Robbie has made enough cash over the past decade to stuff away in her mattresses and pillowcases — safe and secure places, so long the bills stay there.
Margot Robbie endured lots of paper cuts in a sensual Wolf of Wall Street scene
In "The Wolf of Wall Street," Margot Robbie joined a group of actors who filmed love scenes that they eventually regretted. Playing Naomi Lapaglia, the fictional second wife (via History vs. Hollywood) of millionaire stockbroker Jordan Belfort (Leonardo DiCaprio), Robbie filmed several sensual scenes with Leonardo DiCaprio, including one where Naomi and Jordan made love on a bed of cash.
Like most film productions, fake cash was used in "The Wolf of Wall Street," and as it turns out, the bills — produced by prolific movie moneymaker RJR Props (via CNN) — left Robbie with an unusual cautionary tale to tell. In a 2017 interview with The Daily Beast, Robbie exclaimed, "I got a million paper cuts on my back from all that money! It's not as glamorous as it sounds. If anyone is ever planning on having sex on top of a pile of cash: don't."
One thing Robbie found out is that the texture of movie money is different from the real thing, and she found out what sort of damage such a difference can make with some shocking observations from people on the set.
"Maybe real money is a bit softer, but the fake money is like paper, and when I got up off the bed, I turned around to get my robe and everyone gasped," Robbie recalled during the interview. "I said, 'What is it?' And they said, 'you look like you've been whipped a million times. Your back is covered in a thousand red scratches.'"
There is also one Wolf of Wall Street scene Robbie will never forget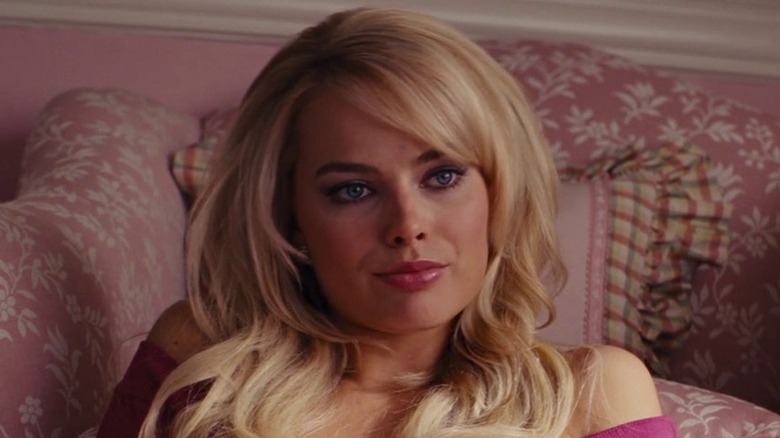 Paramount Pictures
Turns out, Margot Robbie's uncomfortable love scene with co-star Leonardo DiCaprio was one of many that stuck with the Australian actor long after the cameras stopped rolling. The "Wolf of Wall Street" star also revealed to The Daily Beast which scene was the most bonkers to film. The scene she pointed to is, arguably, one of the most memorable sequences in the 2013 Martin Scorsese-directed pic.
"Every single scene was absolutely insane," Robbie replied when asked by The Daily Beast which scene was the wildest to commit to film. She continued, "Definitely the Quaalude scene. I remember sitting there going, 'I will never, ever film a scene like this again.'"
For those folks who need their memories jogged, that once-in-a-lifetime scene — the Quaalude scene — occurs in the final act of "The Wolf of Wall Street." At this point in the movie, Jordan drives out to his country club to make an important call. Unfortunately, the Qualuudes he and Donnie (Jonah Hill) took that he believed were expired were, in fact, still active. As the effects of the drug kick in, Jordan also realizes he's in serious trouble over his business dealings. Over the course of 10 minutes, a sequence unfolds wherein Jordan, now extremely high, has to crawl his way back to his car, drive home, yell at an equally high Donnie for double-crossing him, and then save Donnie after he starts choking on a piece of ham. Meanwhile, a pregnant Naomi is left to watch and worry. It's no wonder the scene left such a big impression on Robbie.
"I'm sitting there [as Naomi], eight months pregnant, and Leo and Jonah are crawling around trying to strangle each other and I had to try not to laugh because they looked so ridiculous," Robbie shared. If you're curious, you can check out this infamous scene on YouTube right now.