15 Shows Like Bridgerton To Watch While You Wait For Next Season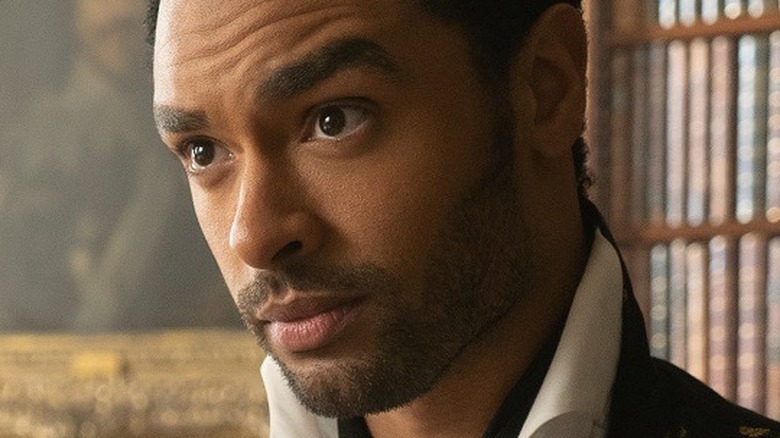 Liam Daniel/Netflix
"Bridgerton" fans can scarcely wait for Season 2 to hit Netflix. And who can blame them? This show has palatial estates, anonymous gossip columnists, climactic boxing matches, and handsome Prussian princes. Season 1's central storyline, the unlikely courtship of Daphne Bridgerton (Phoebe Dynevor) and Simon Basset (Regé-Jean Page), is as surprising as it is emotional — not to mention quite a bit more risqué than many viewers expect from a period drama. Later seasons will shift their focus to other members of the Bridgerton clan, who offer just as much intrigue, scandal, and tenderness. The wait for more "Bridgerton" grows shorter with every passing day, but when a show's this good, even 24 hours can seem like agony. 
Luckily, there are plenty of series out there that scratch similar itches. Hungry for historical drama? We've found Scottish sagas, Russian reveries, and Canadian capers of yesteryear for you to enjoy. Looking for searing romance? Get ready to fall in love in a dozen different ways. Yearning for more social satire? Stories set in modern-day California, mid-century New York City, and the overheated confines of elite college campuses are waiting for you. These TV shows won't just help you pass the time between "Bridgerton" seasons — they might just become your new obsession.
Outlander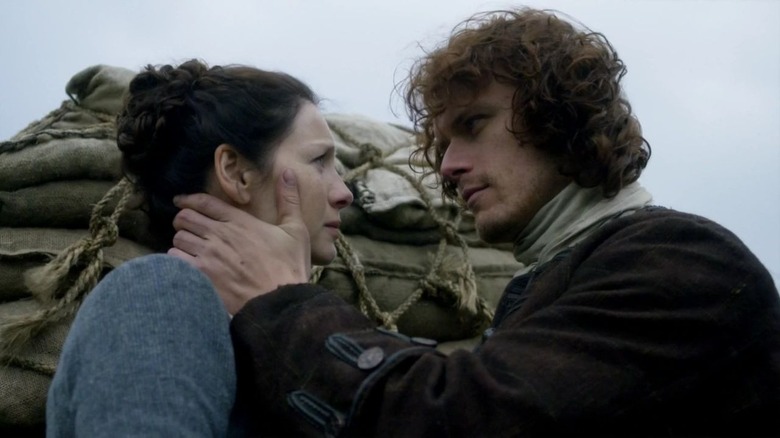 Starz
Some viewers adore "Bridgerton" for the elegant aesthetic of its Regency setting. Some enjoy exploring the London ton's labyrinthine social norms. But it's probably safe to say that what brings most fans to the Bridgerton family's wisteria-draped doorstep is the series' emphasis on romance. "Bridgerton" does, after all, kick off with Daphne's debut into society, which signals her readiness for marriage. Passion quickly kindles between her and Simon Basset, the enigmatic duke of Hastings, though the road to marital bliss is anything but smooth. Their courtship is the backbone of Season 1 and many viewers' favorite part of the series.
If you count yourself among that group, "Outlander" should be next on your to-watch list. While on vacation with her husband, Claire Randall (Caitríona Balfe), a daring British nurse living in 1945, is thrown backwards in time to 18th-century Scotland. What ensues is, like "Bridgerton," a multifaceted work of speculative historical fiction that examines real-world events. But for all the skill with which "Outlander" examines Jacobitism, its main draw is undoubtedly its love story. Claire's romance with handsome highlander Jamie Fraser (Sam Heughan) spans many continents, centuries, conflicts, and — above all — the rocky emotional terrain of its participants.
Harlots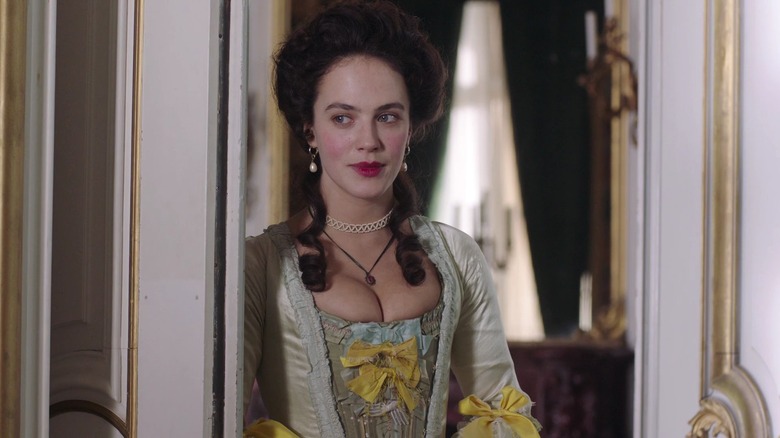 Hulu
While 19th-century tea parties and R-rated trysts might not seem like a natural pairing, "Bridgerton" has gained renown for its old-fashioned setting and up-front depiction of sexuality. "Harlots" is distinguished by the same two elements — with one very important difference. While "Bridgerton" chronicles the loves, lives, and liaisons of London's aristocrats, "Harlots" stars the city's sex workers. Set in the 1760s, this sharply written and gorgeously costumed series begins with Margaret Wells (Samantha Morton), a mother and madam with ambitions of catering to London's elite. Unfortunately, wealthy Lydia Quigley (Lesley Manville) — whose brothel entertains nobility on a nightly basis — is determined to stand in her way.
"Harlots" is a considerably more downbeat show than "Bridgerton." Few members of the main cast are more than one bad week away from grinding poverty. But as they struggle through an unfair world, so too do they fall in love, explore their talents, and realize what kind of people they want to be. Charlotte (Jessica Brown Findlay), Margaret's eldest daughter and her most popular courtesan, has been made ruthlessly pragmatic by the strictures of her life. But she's also capable of tremendous warmth, as when she develops feelings for Lady Isabella Fitzwilliam (Liv Tyler). The world of "Harlots" is far grittier than that of "Bridgerton," but both shows keenly understand the importance of the human heart — and a fantastic dress.
The Great
"Bridgerton" is a historical series ... in a sense. Its Regency era is one in which people of color are far freer and more empowered than their real-world counterparts. While the broad strokes of this better world and how it came to be are explored, "Bridgerton" isn't terribly concerned with the details. "The Great" approaches Catherine the Great's ascendancy in a similar fashion. Elle Fanning does indeed portray the historical Russian empress, who contends with real-world figures like Peter III (Nicholas Hoult), Count Orlo (Sacha Dhawan), and Voltaire (Dustin Demri-Burns). But "The Great" also describes itself as "an occasionally true story" (via Smithsonian Magazine) for a darn good reason: It never lets history get in the way of absurdist comedy.
Catherine, like many "Bridgerton" denizens, is interested in power. She wants to use it to make the world a better place, but she's not above enjoying the revenge it affords her. Her route to the throne encompasses social warfare and actual warfare, which collide more often than you might expect. And while she doesn't have Lady Whistledown to contend with, Catherine is the subject of constant court gossip — a fact she learns to use to her advantage. If irreverence is what you're after in your alternate history, you'll find it in "The Great." But be warned — you might end up exclaiming "huzzah!" at inopportune moments.
The Crown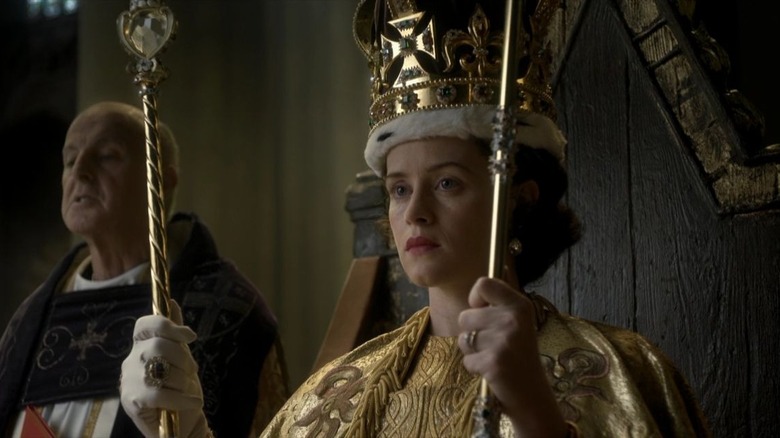 Netflix
Getting lost in the world "Bridgerton" portrays is easy. There, everyone is attractive, happy endings are frequent, and no one has to deal with the kind of tedious chores that clutter most of our lives — they have servants for that. "The Crown" is an interesting contrast to this. On the one hand, it's about the British royal family. Almost no one on Earth enjoys the advantages they have. On the other hand, this series isn't a fairy tale. The sharp edges of history are very much present within "The Crown" — in fact, that's a big part of what draws people to it.
"The Crown" begins in splendor, with Queen Elizabeth II's (Claire Foy) wedding. But from the beginning, a shadow is present. Her father, King George VI (Jared Harris), coughs up blood in the very first scene of the series. As the 20th century marches on, the royal family's glittering world shrinks. Paparazzi strip them of mystique, revolution dissolves their power, and ennui eats at them from within. Where "Bridgerton" captures the British elite at their most idealized, "The Crown" portrays them as increasingly lost. Yet whispers of the latter series can be heard in the former — many members of the ton are prone to lamenting their rigid lot in life, much like members of the royal brood. Tiaras might sparkle, but they cannot truly satisfy.
Pride and Prejudice (1995)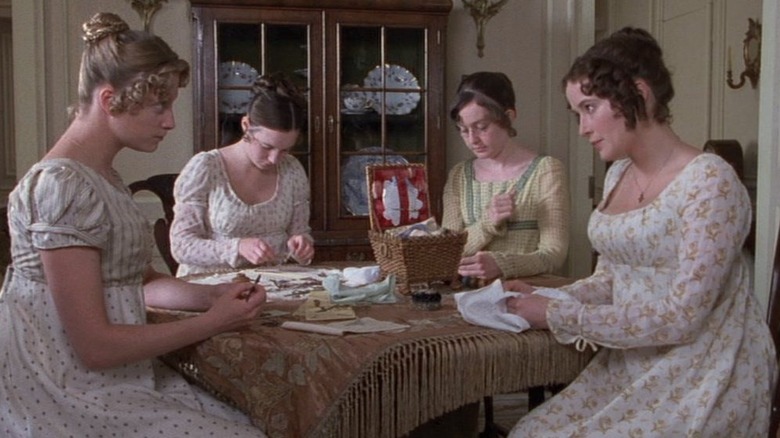 BBC1
How many times can one book be brought to the screen? When it comes to Jane Austen's "Pride and Prejudice," there is, apparently, no limit. Opinions on which movie, miniseries, or TV show adaptation reigns supreme are many and varied, but "Bridgerton" fans are particularly likely to enjoy 1995's "Pride and Prejudice," starring Jennifer Ehle as Elizabeth Bennet and Colin Firth as Mr. Darcy. As ever, these Regency lovers get off on the wrong foot. But as their friends and families grow ever more entwined, they come to respect each other — and eventually, to realize they've fallen in love.
"Pride and Prejudice" was a major hit, earning strong home video sales and a slew of awards. Perhaps the most visible symbol of its success, however, is the Darcy-mania it spawned. Fans all over the world fell hard for the brooding hero and the actor who played him. As one fan put it to the Boston Globe, Firth became "the thinking woman's sex symbol." Legions of Regé-Jean Page fans can relate. But even beyond matters of sex appeal, "Bridgerton" fans will find much to love here. Ehle vividly captures Elizabeth's intelligence and wit, while Firth balances stormy charm with genuine tenderness. Those unacquainted with Austen's work will find a solid starting point in this series, and those who've only seen more recent Austen adaptations like 2005's "Pride & Prejudice" or 2020's "Emma" are sure to enjoy its luxurious runtime.
Little Fires Everywhere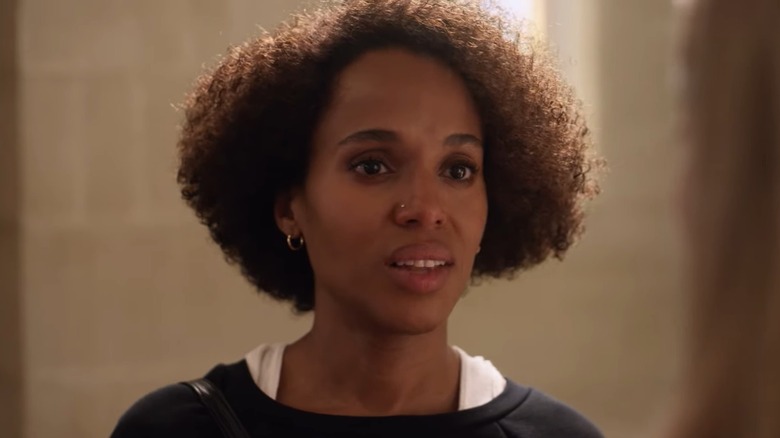 Hulu
"Little Fires Everywhere" takes place within the pristine borders of Shaker Heights, Ohio, circa 1997. Here, life is beautiful, orderly, and calm — yet the series opens with a devastating and mysterious house fire. It is this tension between apparent perfection and total disaster that makes "Little Fires Everywhere" the gripping drama it is — a tension that animates "Bridgerton" as well. Just as unplanned pregnancy, repressed desire, and brutal bereavement lurk beneath the London ton's polished façade, so too do they ravage Shaker Heights.
Elena Richardson (Reese Witherspoon) appears to have it all as a wealthy mother of four with a suburban dream home and a thriving social life. Mia Warren (Kerry Washington) — a single mom who rolls into town with one car, one daughter, and one seriously murky past — seems like her polar opposite. As their children draw them closer together, their differences become ever more pronounced ... and their similarities come into focus. Elena's children aren't the picture-perfect offspring they appear to be in Christmas photos, and they're increasingly tired of pretending otherwise. Pearl (Lexi Underwood), Mia's daughter, longs for the stability her mother's nomadic habits deny her. Eventually, love, resentment, and fear ignite, leaving a community — and the families it shelters — forever changed. As it turns out, secrets don't stay secret forever in London or Ohio.
The Marvelous Mrs. Maisel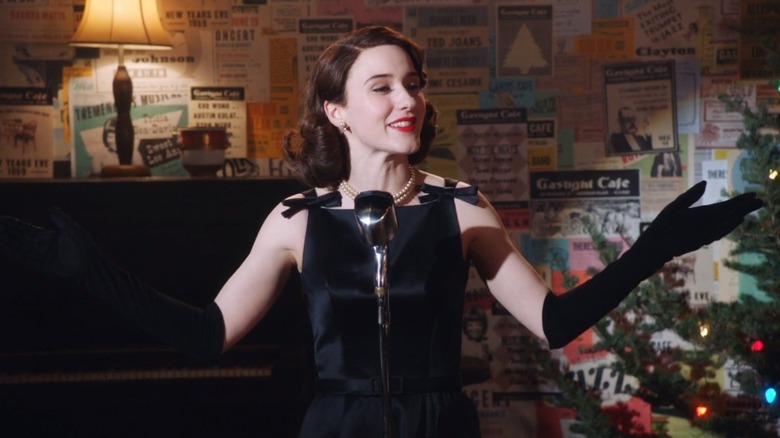 Amazon Prime Video
At the center of "Bridgerton" is Lady Whistledown, the mysterious scandalmonger whose gossip is so hot that even Queen Charlotte (Golda Rosheuvel) keeps up on her column. Lady Whistledown doesn't just reveal juicy secrets though — she's a commentator who tweaks, jibes, and suggests conclusions, ensuring a reaction from London's movers and shakers. The titular star of "The Marvelous Mrs. Maisel" might not trade in rumors, but if there's one thing she knows how to do, it's get a reaction.
Midge Maisel (Rachel Brosnahan) starts out as a 1950s housewife par excellence. All the perfectly cooked brisket in the world can't keep her husband from walking out on her, however. Midge is distraught ... until she discovers stand-up comedy. When she's on stage, she rivals Lady Whistledown for zinger supremacy. Midge rips into mid-century motherhood, cheating husbands, and parental pressure with thrilling viciousness. Regency London is, in many ways, a far cry from Midge's New York City, which encompasses Jewish delis, bohemian nightclubs, and Columbia classrooms. But as viewers find, both worlds' rigid mores are ripe for skewering. 
Midge's well-coiffed mother, Rose (Marin Hinkle), would be right at home with the London set, and skeptical Eloise Bridgerton (Claudia Jessie) would have a lot to talk about with Susie (Alex Borstein), Midge's cantankerous manager. Fashions change, societal norms evolve, and countries grow and shrink. But as "Bridgerton" and "The Marvelous Mrs. Maisel" prove, killer burns remain eternal.
Call the Midwife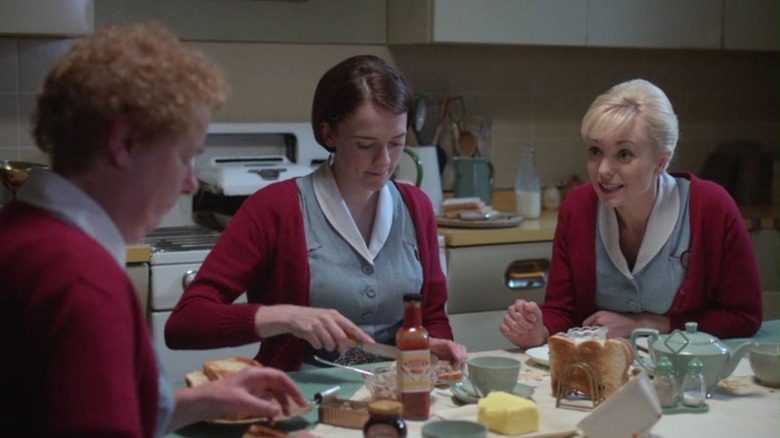 BBC One
It's easy to think of "Bridgerton" as a delightful whirl of ornate parties, starry-eyed heroines, and steamy honeymoon scenes. But it's the warm heart that beats beneath the lace and period-appropriate Ariana Grande tunes that truly distinguishes the series. While romance is the most prominent emotional element of "Bridgerton," the bonds between siblings, friends, and mentors are absolutely key to its success. "Call the Midwife" takes a similarly earnest, community-centric approach, albeit to very different subject matter.
This long-running BBC series begins in the 1950s and centers around the midwives of Nonnatus House, who've dedicated themselves to serving London's impoverished East End. Nonnatus is home to both secular midwives and an order of nursing nuns, ensuring a potent mix of personalities. Resolute spinsters, closeted lesbians, erudite glamour girls, and bookish immigrants all walk these halls at one point or another. But no matter who comes or goes, the series' focus on women's lives — especially the messy, tragic, and most invisible parts — remains unflinching. After more than 10 seasons, a gloriously complex community of characters emerges, encompassing Londoners of all stripes. The ladies of "Bridgerton" might not recognize the symptoms of pre-eclampsia, but they certainly understand what it is to care for each other through thick and thin.
Big Little Lies
"Bridgerton" and "Big Little Lies" both orbit around a central mystery. On the former show, it's the unfathomable identity of Lady Whistledown, who knows everybody's business while keeping hers an absolute secret. On the latter, it's a shocking murder. Neither the victim nor the perpetrator are initially revealed — all viewers know is that a posh school fundraiser has ended with a bloodied body.
In many ways, "Big Little Lies" is a dark reflection of "Bridgerton." Monterey, California, is just as full of whispers as London, and its "mamas" — as Simon Basset might call them — are every bit as formidable. The five at the center of the story aren't match-making though. Instead, they're waging corporate warfare, engaging in clandestine affairs, and trying to raise their kids to be decent people. They're also under investigation for the central murder. 
Snippets of police interviews with the people of Monterey reveal a Whistledown-esque degree of interest in their lives. Everyone has an opinion on pretty much everything they've ever done. But the truth is much slipperier than these neighbors guess — and more shocking. Moreover, it's revealed in last-minute fashion, just as Whistledown's identity is on "Bridgerton." While this jaw-dropping moment of clarity is unforgettable, it's a small part of what makes the show work. The true genius of "Big Little Lies" comes from its complex portrait of a community swirling with secrets, falsehoods, and scandal.
Crazy Ex-Girlfriend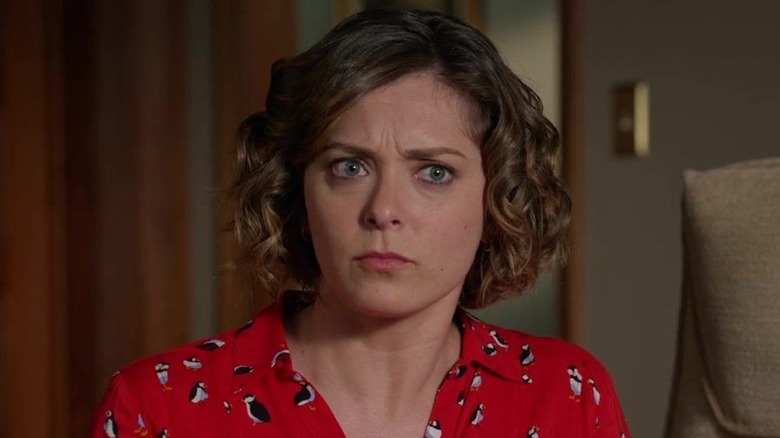 The CW
"Bridgerton" is most widely lauded for its searing (and often sizzling) romantic drama, but its crackling sense of humor deserves just as much praise. In the midst of the show's many galas and flower arrangements, Queen Charlotte will often pause to noisily snort snuff from her jewel-bedecked hand. The Featheringtons' outfits grow more and more dramatically yellow with every successive episode. Lady Danbury (Adjoa Andoh) has more bon mots than the rest of London put together.
"Crazy Ex-Girlfriend" boasts a similarly wicked sense of humor. Rebecca Bunch (Rachel Bloom) is a high-powered lawyer. She's also the kind of person who moves across the country to pursue the guy she dated at summer camp 10 years prior. In West Covina, California, Rebecca finds friendship, romance ... and the dark heart of her own dysfunction. It's brutal. It's real. It's also hilarious. "Crazy Ex-Girlfriend" is absolutely packed with acerbic laughs, many of which target the wide world of dating. Sure, Rebecca doesn't have to impress all of London in a corset, but Daphne would definitely chuckle in bitter recognition upon seeing her struggle into punishing shapewear. West Covina and Regency London are dramatically different places, but when it comes to beauty, courtship, and family, they're full of the same stumbling blocks. Good thing the heroines who must navigate them do so with plenty of humor.
Gentleman Jack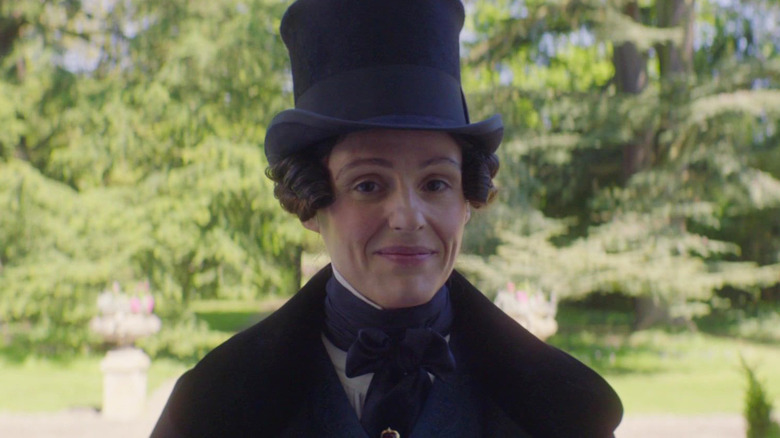 HBO
"Gentleman Jack" centers around a stormy, passionate, brilliant person who strides across the English countryside practically oozing charisma. Like Simon Basset and Anthony Bridgerton (and the Heathcliffs and Mr. Darcys who inspired them), this person manages an ancestral estate with dazzling acumen, broods upon love affairs, and discusses the high-minded ideas of the day. But there's one key difference: This person is Anne Lister (Suranne Jones). Lister, nicknamed "Gentleman Jack," is a woman, an actual historical figure, and "the first modern lesbian" (via Historic England).
The remarkable Lister, who inherited Shibden Hall, was a fierce intellectual and a world traveler (via BBC). She was also a committed diarist who left behind millions of words, many encrypted, detailing her business interests, family ties, and romantic escapades. "Gentleman Jack" captures Lister's multifaceted life with tremendous aplomb. As she charts out a new future for Shibden Hall, she also contends with heartache, ventures out across Europe, and, most prominently, falls in love with Ann Walker, the real-life woman who became her wife. Suranne Jones is a revelation as Lister, blending genius, daring, sorrow, and confidence into a character who recalls the Simon Bassets of the world, yet she stands entirely on her own. When you see her stride across the verdant countryside, swinging her elegant walking stick, you will finally understand the true meaning of swagger.
The Pursuit of Love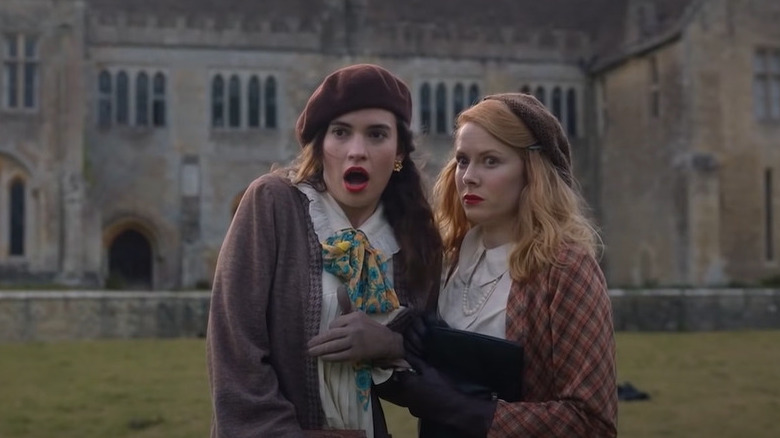 BBC
Linda (Lily James) and Fanny (Emily Beecham) are technically very lucky. They're cousins, best friends, and born to a family of the British peerage. Unfortunately, said family is also deeply flawed. Fanny's mother, "The Bolter," is an infamous flake, and Linda's father is a violent blowhard with a particular hatred for educated women. Surrounded by luxury and strangeness during the potent interwar years, Linda and Fanny learn to make their own fun. But childhood doesn't last forever — especially not for Linda, who longs to fall in love.
"The Pursuit of Love" and "Bridgerton" share a devotion to passion, family drama, and the excesses of the British aristocracy. But "The Pursuit of Love" offers a bit more edge and a focus on deep (if troubled) female friendship. Fanny and Linda's world is often beautiful, but it's never without a dark underbelly. Lovely weddings are to terrible men, gorgeous apartments are shattered in the Blitz, and grand romances fall apart when someone else comes along. Through it all, Fanny and Linda endure ... but not always intact. Linda's desire for big, sweeping emotion becomes especially strained as children, bereavement, and fascism enter the picture. Yet neither she nor Fanny abandons the titular pursuit — even when love reveals itself to be very different than what they imagined.
Anne with an E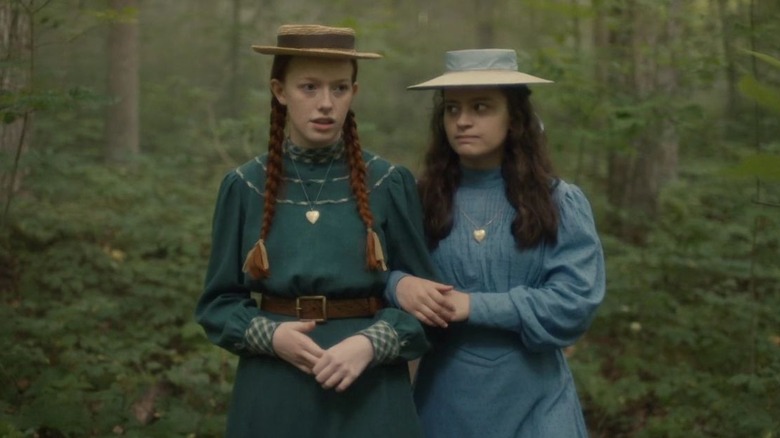 Netflix
One of the great delights of watching "Bridgerton" is being whisked away to the past. "Anne with an E" offers the same sort of experience from a very different perspective. This big-hearted series adapts Lucy Maud Montgomery's classic book, "Anne of Green Gables." Anne (Amybeth McNulty), a young orphan with a boundless imagination, ends up finding the family she's always longed for with Marilla (Geraldine James) and Matthew Cuthbert (R.H. Thomson), a middle-aged brother and sister who need an extra pair of hands around the farm. Though they requested a boy, they come to love Anne, who settles into the idyllic world of late-19th century Prince Edward Island as though she were born to it.
Those familiar with Montgomery's book will find Anne's story somewhat changed. "Anne with an E" addresses the frustrations of puberty, the traumatic reality of Anne's orphan past, and the struggles of First Nations people in a forthright way that the book — or any previous adaptation — decidedly does not. But Anne's indomitable spirit shines as brightly as ever, no matter what trial stands in her path. This strikes a "Bridgerton"-esque balance: The injustice and sorrows of the era are present but never for long. Moreover, the series' focus on young adolescence is an intriguing contrast to the world of the London ton, as is its setting. Canada's wild beauty is a far cry from English manor houses, but it's every bit as enchanting.
Lost in Austen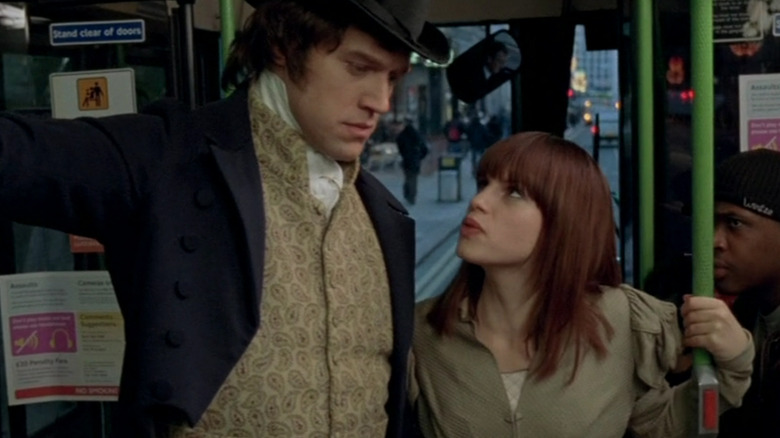 ITV
It's hard to watch something like "Bridgerton" and not imagine yourself floating through those elegant halls. "Lost in Austen" makes that fantasy entirely real by sending modern woman Amanda Price (Jemima Rooper) into the world of Jane Austen's "Pride and Prejudice" and Elizabeth Bennet (Gemma Arterton) into 21st-century London. Amanda is a devoted fan of the novel and keen to keep its storyline on track. But the heart wants what the heart wants, and what Austen fan doesn't want Mr. Darcy?
Like "Bridgerton," "Lost in Austen" delights in ruffling the Regency era's feathers. Caroline Bingley (Christina Cole), for example, gains a backstory that would've been utterly impossible to include in the 19th century: She is exclusively attracted to women, though she still intends to marry Darcy. Amanda also gets to fulfill many fans' wildest dreams when she knees Mr. Collins in the crotch, asks Mr. Darcy (Elliot Cowan) to jump into a pond (recalling an immortal moment from 1995's "Pride and Prejudice"), and promises Mrs. Bennet she will save their family from poverty with her fat stacks of 21st-century cash. 
But the true strength of this series is its genuine heart. Amanda loves "Pride and Prejudice" out of dissatisfaction with her own life, while Elizabeth comes to love the modern world for the same reasons. It's a delight to see them fulfill their dreams, both within and beyond the boundaries of Austen's legendary work.
The Sex Lives of College Girls
As Regé-Jean Page put it in his "Saturday Night Live" monologue, "Bridgerton" is "a bit of a racy show." People get frisky all over town, with all sorts of people, in all sorts of ways. Sometimes, servants listen at doorways. Other times, it results it scandalous pregnancies. One thing is clear through all these trysts: Just because they live in ye-olden-times, that doesn't mean they don't behave naughtily.
Similar behavior runs through "The Sex Lives of College Girls," a bawdy comedy with a big heart. This HBO Max original follows four female freshmen of Essex College as they attend "naked parties," explore dating apps, and navigate the wide, weird, and wild world of Friday night ragers. Anyone who loves the colorful characters of "Bridgerton" will fall for the main foursome. Bela Malhotra (Amrit Kaur), a wannabe comedy writer eager to leave her good-girl past behind, and Leighton Murray (Renee Rapp), a snooty legacy student with a big secret, shine especially brightly. Their escapades get complicated, as anyone who's ever known or been a college kid might guess. Romances crumble, flings sour, and heated words are often exchanged — just as they are among Daphne and Simon's ilk. If you're looking for more raunchy, goofy, warm-hearted good times, you're bound to love spending a semester with the girls of Essex.