Why Claire From Premonition Looks So Familiar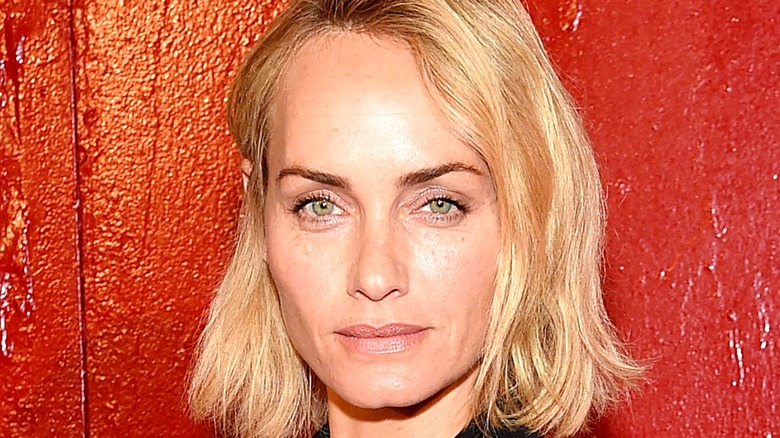 Jamie Mccarthy/Getty
The fragmented, puzzle-box supernatural thriller "Premonition" is currently making waves on Netflix, nearly 15 years after its original release. Like any good mindscrew movie, it starts from a highly bizarre, highly intriguing premise: A woman is informed that her husband has died in a tragic accident, only for her to wake up the next day and find him still alive ... only to then realize that she's hopping back and forth uncontrollably between past and future. Can she take enough control over her own circumstances to avoid her husband's doom?
The cast is led by one very recognizable face: Sandra Bullock in one of those quintessential mid-2000s Sandra Bullock roles that made her a superstar, her intense, steadfast commitment to the emotional stakes of the situation keeping the movie grounded even as the wild twists and turns pile up. She's surrounded by a capable ensemble with several more actors of note, such as Nia Long and Peter Stormare. And then there's the one actor who plays Claire, the film's third lead after Linda (Bullock) and her husband, Jim (Julian McMahon). Do you feel like you recognize Claire from somewhere? If so, you've come to the right place. Here are a few other roles where you may have spotted this actor before.
Amber Valletta is a world-class supermodel turned actor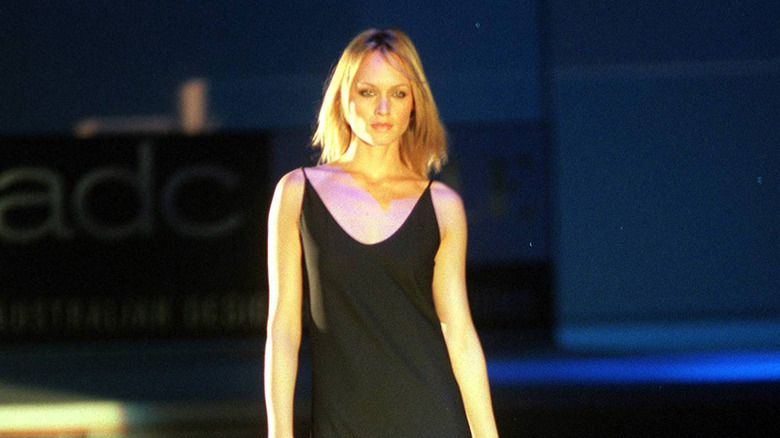 Patrick Riviere/Getty Images
Very few were doing it like Amber Valletta in the 1990s. The Phoenix-born actor actually began her career not as an actor but as a fashion model (via Film Reference). After starting in the industry in 1989 at age 15, she rose meteorically: By the end of the '90s, she'd modeled for Giorgio Armani, Valentino, Calvin Klein, Gucci, Versace, Prada, and Fendi, appeared a whopping 11 times on the cover of Vogue (via New York Magazine), and been named as one of the magazine's "Modern Muses" in the November 1999 cover issue.
Which isn't to say that her post-2000 career has been anything less than equally resplendent on the modeling front. But it is true that her focus has pivoted somewhat in that interim: Starting with her first visible film roles at the turn of the century, she began to dedicate herself more and more to her second calling of acting, of which "Premonition" is but one notable example.
She got her breakthrough as an actor in the horror What Lies Beneath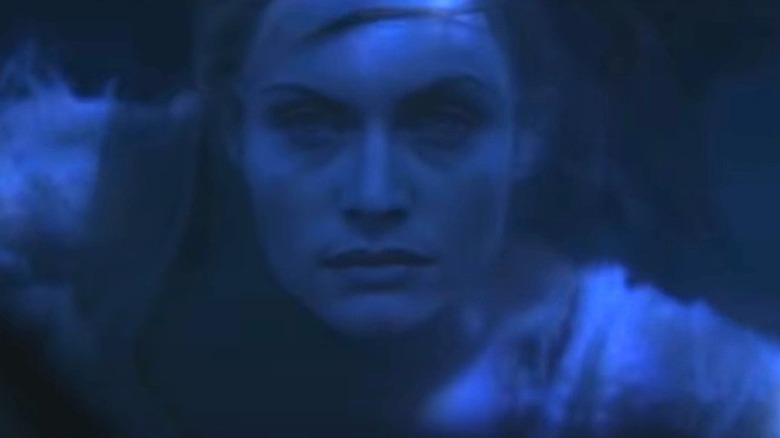 Dreamworks Pictures
American filmmaker Robert Zemeckis is nothing if not prolific, and the 20+ films he's made as a director over the course of a 45-year career include some inarguable classics of the American film canon, such as "Back to the Future," "Who Framed Roger Rabbit," and "Death Becomes Her." But they also include some efforts that aren't as well remembered nowadays, and one of them is "What Lies Beneath," a horror flick starring Harrison Ford and Michelle Pfeiffer released in 2000.
The film, which focuses on the marital crises faced by the central pair of Dr. Norman Spencer (Ford) and his wife, Claire (Pfeiffer), would be quite in line with the dark domestic dramas that were all the rage in the late '90s and early '00s, if not for the supernatural presence haunting the Spencers' Vermont lake house. That presence, Madison Elizabeth Frank, a young murder victim from Norman's past, is played by Amber Valletta, in a role that took full advantage of both her eerie beauty and her relatively similar appearance to that of Michelle Pfeiffer.
She proved her comedy chops in Hitch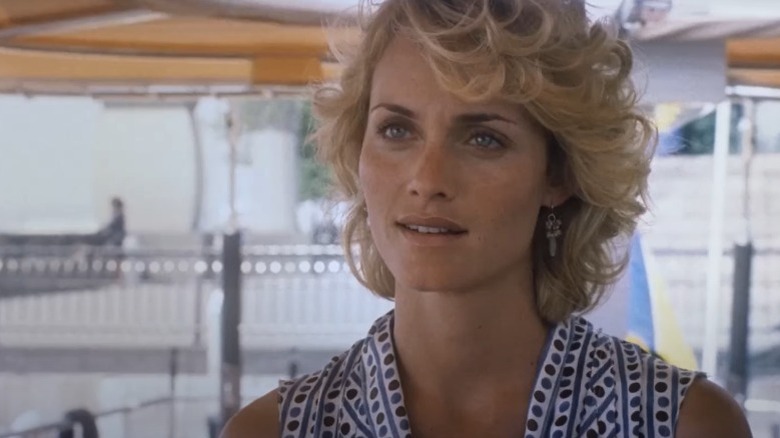 Sony Pictures Releasing
A lot of the films and series Amber Valletta has starred in since her pivot to acting — from "What Lies Beneath" and "Premonition" to more conventional horror films like James Wan's "Dead Silence" — place her within tense, somber, almost suffocating milieus, in keeping with the aura of mystery and otherworldliness in which her generation of supermodels was shrouded. But one of her biggest film roles was nothing of the sort: In 2005's "Hitch," she proved she could acquit herself just as well with a lighter role.
The Will Smith-starring romantic comedy, a resounding box office success at the time, tells the story of a professional "date doctor" — a man who advises other men on how to attract the interest of the woman they are pining for. One of the most important arcs in the movie is that of Hitch's client Albert (Kevin James), a shy, awkward accountant who wants to win the heart of the wealthy and famous heiress Allegra Cole, played by Valletta.
Hitch helps Albert get his foot in the door, but the rest of the relationship blooms genuinely, with Allegra letting Albert in on a dorkier side of her personality that the rest of the world doesn't know. Thanks to the improbable chemistry between Amber Valletta and Kevin James, Allegra and Albert's story helps drive home the film's guiding belief that the most important thing in love is being yourself.
She played the protagonist's wife in Gamer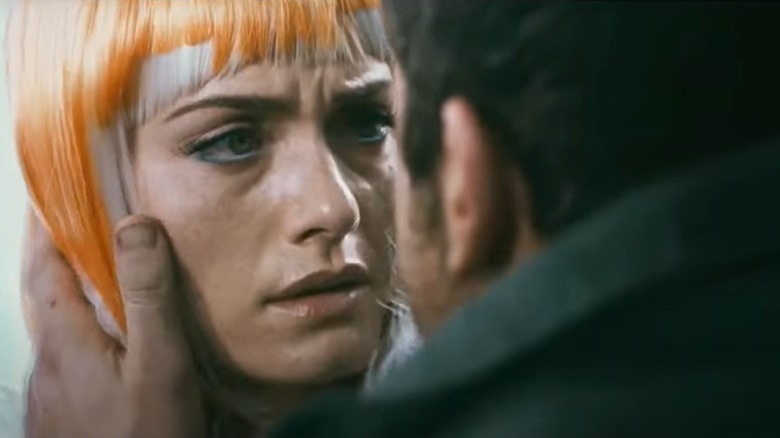 Lionsgate
The kooky 2009 sci-fi actioner "Gamer" was both poorly reviewed and commercially unsuccessful upon its original release. However, like the rest of the output of filmmaking partners Mark Neveldine and Brian Taylor, it has since garnered a cult following, courtesy of its unique, explosive, sensorially overwhelming approach to cinematic action.
The film's original negative reception certainly didn't come as a fault of casting; after all, the star-studded ensemble includes, in addition to lead Gerard Butler, such heavy-duty names as Michael C. Hall, Kyra Sedgwick, Logan Lerman, Terry Crews, Ludacris, and John Leguizamo. Notably, it also includes Amber Valletta in one of her most visible film roles.
Set in a world in which brain tissue-replacing nanites allow players to control real humans as "avatars" in video games, "Gamer" sees Valletta play Angie Tillman, a struggling actor who works as "Nika," a controllable character in a massive simulation game called "Society." The wife of protagonist John Tillman (Butler), a death row inmate who dukes it out for life or death with fellow prisoners in the first-person shooter game "Slayers," Angie spends the movie fighting for custody of their daughter Delia (Brighid Fleming), striving to be reunited with John, and struggling to retain her autonomy.
She had a recurring role as Lydia Davis on Revenge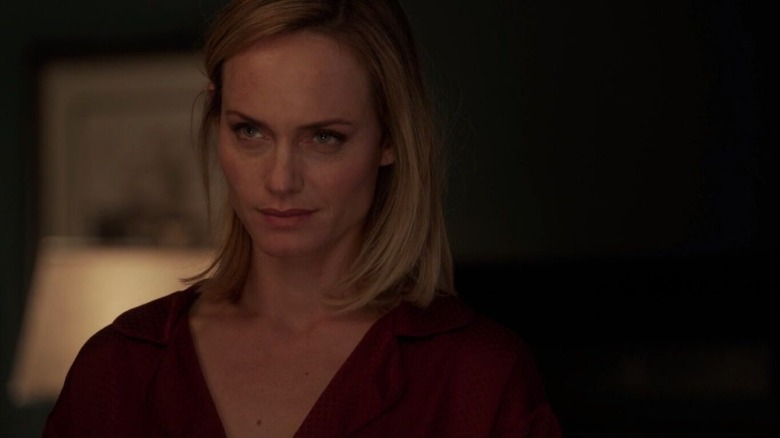 ABC
When we think "primetime soap," it's hard to conceive of a series that served as a more shining example of the genre than "Revenge." The four-season ABC drama broke Nielsen viewership records not matched since "Lost" (via TV by the Numbers) and had millions of households across America hooked on its story of gradual, patiently executed vengeance.
Amber Valletta's character, Lydia Davis, had a rather honorable post in the series as the first person to be marked for revenge by protagonist Amanda Clarke/Emily Thorne (Emily VanCamp). The former secretary of Emily's wrongfully imprisoned, since-murdered father David Clarke (James Tupper), Lydia accepted a $10 million bribe to lie on the stand against him. Knowing this, Emily devises a plan to ruin Lydia's life by exposing her affair with Conrad Grayson (Henry Czerny), thus destroying her friendship with Emily's archnemesis Victoria Grayson (Madeleine Stowe) and sending her careening on a downward spiral.
The bulk of Valletta's participation on the show happened during its first season, between 2011 and 2012. However, as actors on soap operas do, she also made a surprise return in Season 3.