Are Jason Bateman And Laura Linney From Ozark Friends In Real Life?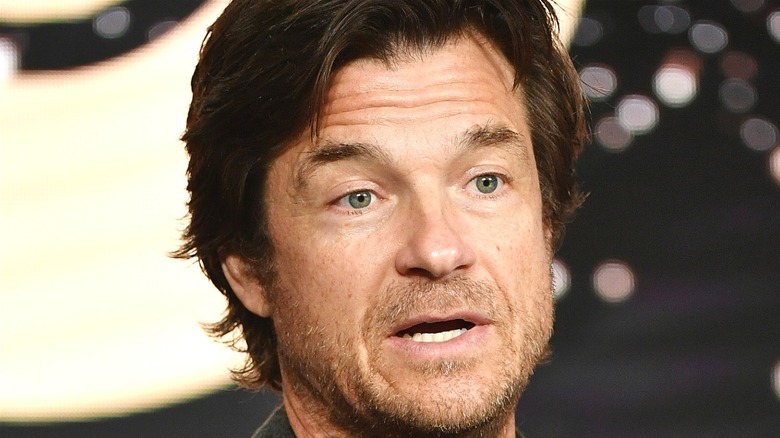 Amy Sussman/Getty Images
Jason Bateman and Laura Linney portray married couple Marty and Wendy Byrde on the Netflix crime drama "Ozark." The long-awaited Part 1 of the hit series' fourth and final season drops on the streaming service on January 21.
The seemingly mild-mannered accountant, his wife, and their children flee from Chicago to the Ozarks region of Missouri after Marty's former partner steals from the leader of a powerful cartel. While rife with financial opportunities, the picturesque vacation destination is filled with unsavory drug dealers, dirty politicians, and other low-life criminals who constantly threaten the Byrdes. 
At the start of Season 1, Mary and Wendy's marriage is on tenuous ground, held together by their shared goal of survival, but throughout the series, they reconnect as they build their criminal empire. However, by the end of Season 3, the two find themselves again at odds as Wendy, corrupted by power and greed, refuses to walk away. Marty realizes Wendy is the biggest obstacle he faces in getting out of the Ozarks alive.
Bateman and Linney, both award-winning actors, have talked openly about their on-screen working relationship, but are the "Ozark" costars friends in real life?
Jason Bateman and Laura Linney have a good working relationship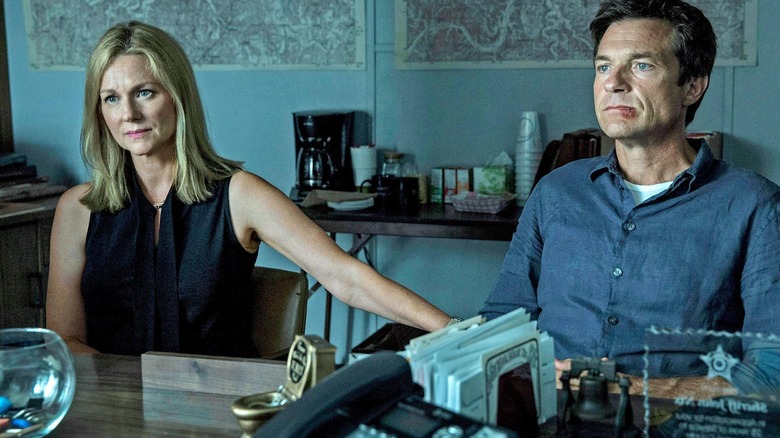 Netflix
When Jason Bateman and Laura Linney discuss their working relationship, there's no doubt they have mutual respect for each other's talent. Still, the off-screen relationship between the two stars appears to be all business. In 2018, Linney had this to say to ET about Bateman: "I love coming to set and seeing like, how is he going to handle this monologue? How is he going to do [this]? How is this going to fly out of his mouth? and it's a really unique skill."
Bateman has paid his dues, starting as a teen heartthrob and evolving into a great comedic star in projects like "Horrible Bosses," "Arrested Development," and "Office Party," as well as a critically acclaimed dramatic actor, director, and producer. In 2018, 2019, and 2020, Bateman's work on "Ozark" garnered him three Emmy nominations for Outstanding Lead Actor in a Drama Series. His skills behind the camera were also recognized, and he won in 2019 for Outstanding Directing for a Drama Series.
Elaborating on his on-set influence, Linney told ET, "Our company is happiest when he is directing. The set runs the best, we're all comfortable, there is a sense of trust that we're taken care of, and as an actor, it's the same thing."
The costars appear to be closer than friends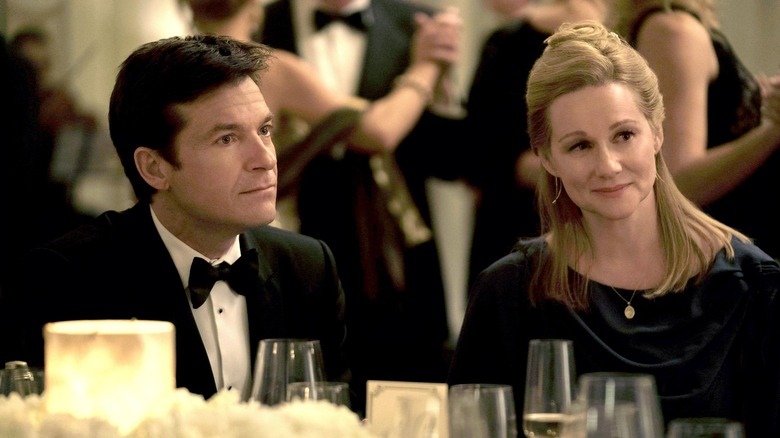 Netflix
In a 2019 interview with Gold Derby, Jason Bateman addressed the question of what it's like collaborating with Laura Linney as both an actor and director. "With Laura, there's a brevity of conversation. We finish each other's sentences. I can come in after a take and say, 'That was great. What about if...' and she might not even let me get [to] it. She'll go, 'I know what you're gonna say,'" Bateman responded. 
Bateman also praised Linney for having "many great ideas" and her ability to self-direct. Linney is an accomplished actress on both the big and small screens. She is a three-time Oscar nominee and a seven-time Emmy nominee (and two-time winner). She's garnered two nods for outstanding lead actress in a drama series for her role as Wendy on "Ozark."
Aside from the business of making "Ozark," neither Linney nor Bateman offer any personal anecdotes, inside jokes, pranks, or stories of time spent together when not on set. However, during a 2020 appearance on an episode of the Variety and iHeart podcast "The Big Ticket," Linney made her feelings for her cast and crew members clear, saying, "I love this part. I love this job. I love the people I work with. It's an exceptional experience."