Isabela's Voice Actress From Encanto Is Gorgeous In Real Life
In the new Disney film "Encanto," Isabela Madrigal is protagonist Mirabel's (Stephanie Beatriz) accomplished, elegant older sister. Gifted with the ability to make flowers and plants spring up at her command, Mirabel envies her because of her cool grace under pressure and her seemingly flawless relationship with Mariano Guzmán (Maluma). 
But Mirabel soon learns that Isabela labors under her mother's expectations. The mask of perfection she wears is a false one, and Isabela must let go of it and admit to her own flaws — including a long-held grudge against Mirabel — if she wants to achieve wholeness and help Mirabel heal the family rift that threatens to rob the whole Madrigal family of their powers and leave the family torn asunder forever.
The actress behind Isabela's sweet tones has a lot of experience in the recording booth as well as on both television and film sets. And she also happens to be quite a beauty in real life.
Diane Guerrero is an accomplished actress and voiceover artist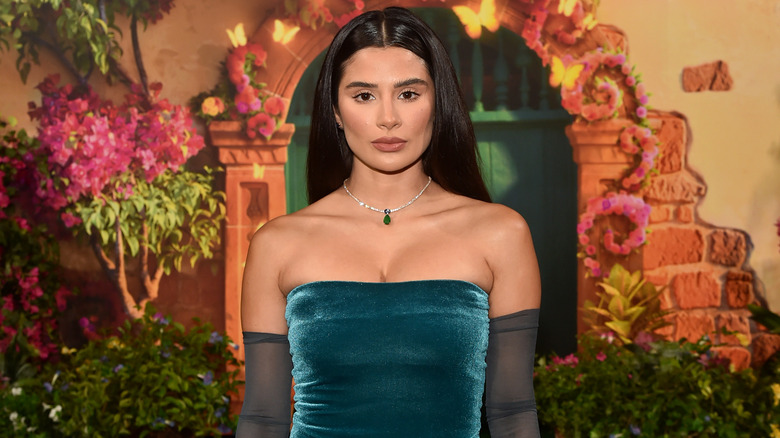 Alberto E. Rodriguez/Getty Images
Diane Guerrero is no stranger to screens both big and small. The lovely actress first attained fame as inmate Maritza Ramos on Netflix's prison drama "Orange is the New Black," and she portrayed this character for 57 episodes from 2013 to 2019. She also played Lina, Jane's best friend, for 24 episodes of the CW's Telenovela dramedy "Jane the Virgin" and was a regular on the CBS sitcom "Superior Donuts" as Sofia.
Currently, Guerrero portrays Crazy Jane on the HBO Max series "Doom Patrol." She also appeared as the character on the CW superhero series "DC's Legends of Tomorrow." Guerrero is also set to portray Maria Elena Holly — wife of rock legend Buddy Holly — in the upcoming biopic "Clear Lake," according to Entertainment Weekly.
Guerrero's role as Isabela in "Encanto" isn't her first effort as a voice actor — she shows up as Vestia in five episodes of the Disney Channel animated series "Elena of Avalor," and portrayed Jessica Cruz in the DC Animated Universe film "Justice League vs. the Fatal Five." 
Guerrero previously told Looper that she relates to Isabela's quest for perfectionism.  "I think that, in a sense, for me, I used this idea of perfection as a survival technique," she said. "And it did help for some of the tougher experiences and challenges in my life. But after a while, that gets exhausting and it's not sustainable." Perfect or not, Guerrero is definitely just as lovely as the character she portrays.