Anchorman Star David Koechner Arrested On New Year's Eve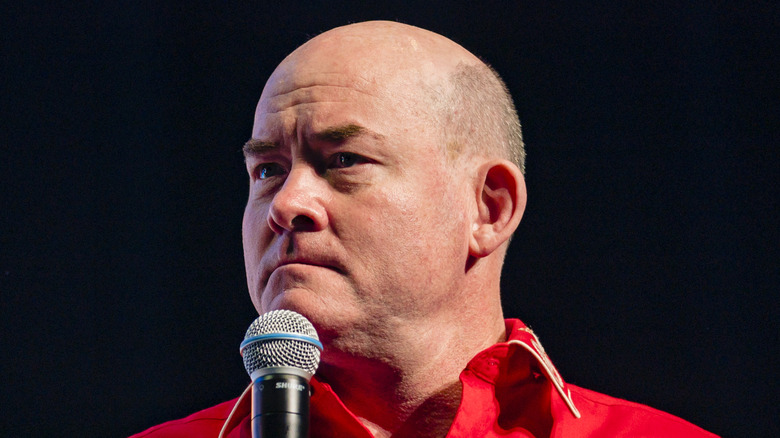 Kyle Rivas/Getty Images
Actor David Koechner was arrested on the afternoon of Friday, December 31, with a suspected DUI charge. Koecher is primarily best known for his work in comedic films and television shows. The actor's most prominent roles include his performance as Champ Kind in "Anchorman: The Legend of Ron Burgundy" and its sequel, "Anchorman 2: The Legend Continues," as well as Todd Packer on NBC's "The Office."
Koechner served as a member of "Saturday Night Live" throughout 1995 and 1996. He has also had dozens of roles throughout film and TV over the past 27 years, according to his IMDb profile. In addition to his work in the "Anchorman" film franchise and "The Office," he has appeared on popular television shows including "The Goldbergs," "American Dad," and "Regular Show." His work in film includes roles in "Talladega Nights: The Ballad of Ricky Bobby," "Krampus," and "Final Destination 5."
Here's what we know about Koecher's arrest at the time of reporting.
Koechner spent the night in jail following his arrest
According to TMZ, the first outlet to report this news, police pulled "The Office" alum David Koechner over in Simi Valley, California after receiving calls regarding an "erratic driver." Police administered a field sobriety test, which Koechner failed, leading to his arrest. While there have been no reported injuries as a result of Koechner's actions, TMZ's report claims the actor had allegedly struck a street sign while driving under the influence.
According to records from the Ventura County Sheriff's Office (via Yahoo! News), police arrested Koechner close to 3 p.m. PT on December 31. The actor spent the night in jail but was released early the next day on January 1 at 5:49 a.m. PT. Yahoo! News also reports that the actor was given a court date of March 30. It is unknown if these events will interfere with Koechner's upcoming comedy tour, which is set to run from January 6 to May 21. So far, neither Koechner nor his representatives have made any statements regarding the arrest.