The Most Paused Vi And Caitlyn Moment In Netflix's Arcane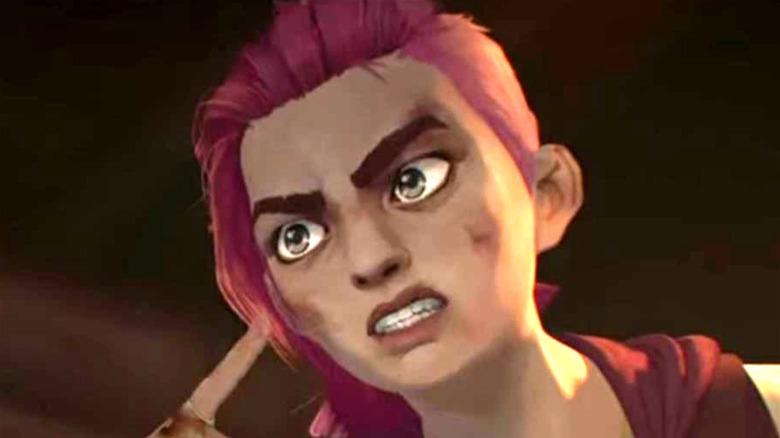 Netflix
Netflix's "Arcane" is an exceptional video game adaptation that is chock full of colorful characters and awe-inspiring scenes awash in vibrant and glowing hues. Currently holding a rating of 100% on Rotten Tomatoes, "Arcane" is a bombastic tale of two drastically different cultures and sisters. One on the main locations and contrasting ways of life is Zaun, an undercity of danger and freedom, while the other is Piltover, a city of progress and enlightenment. At a point in the history of the show, a war broke out that saw the two factions reach a cease-fire, and an unstable armistice currently stands between the sides.
The main characters of the show, sisters Vi (Hailee Steinfeld) and Jinx (Ella Purnell), hail from Zaun, and their childhood sees them eke out a living on the unforgiving streets of the undercity. Along the way, they cross paths briefly with the founder of "Hextech," Jayce (Kevin Alejandro), and then later with Caitlyn (Katie Leung), a police officer from Piltover who comes from an aristocratic and powerful family. An unlikely friendship quickly forms between Caitlyn and Vi, leading to a clash between the sisters. But what was the ultimate paused moment between Caitlyn and Vi, two fan-favorite characters, in the smash-hit "Arcane"?
Vi and Caitlyn protect each other from Jinx's gunfire
Towards the epic culmination of "Arcane" Season 1, there is a scene from Episode 7, "The Boy Savior," that involves Jinx opening fire with her trademark chain gun at Caitlyn on the bridge to Piltover. This causes a quick, "blink and you'll miss it moment" where both Caitlyn and Vi show their true feelings with rapid and unconscious action. The scene shows Caitlyn instinctively wrap her arms around Vi to protect her from incoming fire, while Vi's instinct is to push Caitlyn away from said hail of bullets.
The scene plays out in just a few seconds, and in these brief moments a tremendous amount of character work takes place. Fans of "Arcane" are shown how quickly the two characters have grown close in the fact that both are instantly drawn to protect the other, which is a far cry from their original meeting in Stillwater Prison. Both Vi and Caitlyn are partners in the source video game and featured extensively in promotional materials for "League of Legends," so this interaction will likely continue to blossom and become more fleshed out as the series progresses.