The Real Reason Roach Had To Die In The Witcher Season 2
Netflix
Netflix's "The Witcher" is an uber-popular fantasy series that honors the video games and novels that came before it. Starring Henry Cavill as Geralt of Rivia, a lone-wolf warrior with a penchant for swearing, grunting, and hunting ferocious monsters, the show is full of magic, drama, and bloody violence. At the end of the day, what more could we ask for?
That being said, any series that involves conflict and battles will have unwanted casualties, regardless of how much one enjoys fake bloodshed. When it comes to baddies and grotesque creatures, viewers can sit and applaud Geralt's sword-wielding and slashing exploits. However, the death of his noble steed, Roach, in Season 2 didn't go down so well among viewers — and who could blame them? It was heartbreaking to watch.
As sad as it was to see Roach's demise, it was necessary. At least that's the view of executive producer and showrunner Lauren Schmidt Hissrich, who opened up about the decision to kill off Geralt's horse during a recent interview.
Why Roach had to die in The Witcher Season 2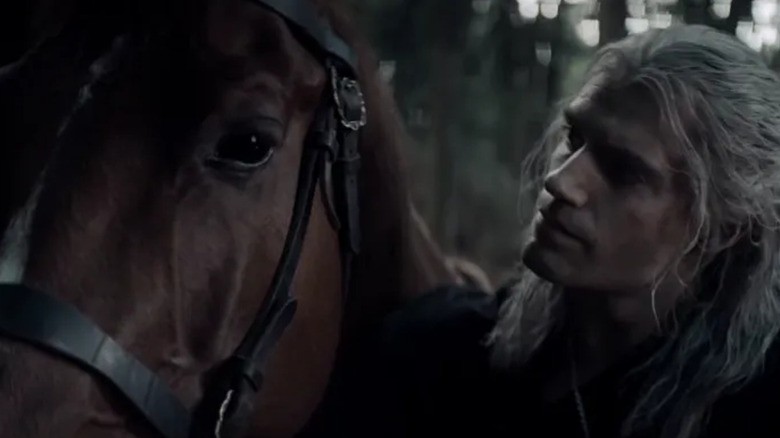 Netflix
Due to his abnormally long lifespan compared to his beasts of burden, Geralt of Rivia has paired up with several horses in "The Witcher" lore, all of which he's named Roach (per ScreenRant). This is one aspect of the character that the Netflix series doesn't intend to change. In fact, the death of Roach in Season 2 was key to highlighting this aspect of the franchise's history.
While speaking to Yahoo, Lauren Schmidt Hissrich revealed that the timeline in "The Witcher" Season 2 meant that Roach was old, and she didn't want him to go out without a major moment. "[We] realized that we didn't want him just to disappear off-screen between stories," Hissrich noted. "[If] we were going to let go of Roach, we wanted to make him have a hero moment."
Hissrich went on to explain that she also wanted to establish the importance of the relationship Geralt has with all of his horses, similar to the way it is in the books. "I think that one of the things I love that is so indicative to me of Geralt's character is just how pure and true his relationship is with these horses, and yet also how he understands that they go on and he needs to choose a new one," she added.