Odd Taxi Movie Release Date, Characters And Plot - What We Know So Far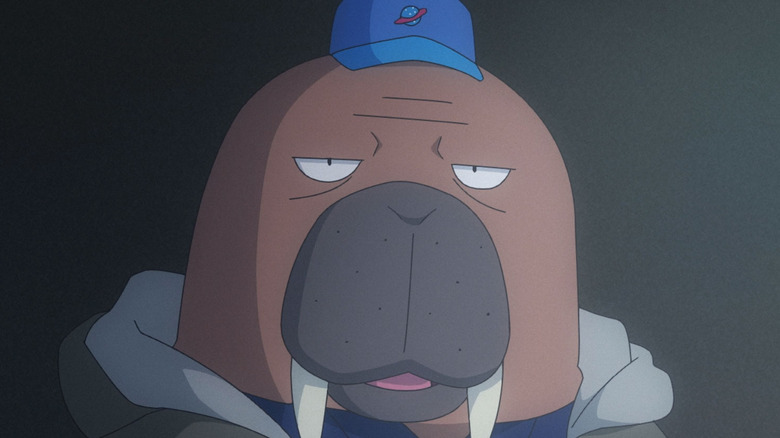 OLM/Crunchyroll
Forget Uber or Lyft if you're in dire need of a ride, call the odd taxi every now and then. You may be introduced to the most enigmatic walrus cab driver you'd ever meet. At least, you could do that if we were in the same universe as "Odd Taxi," the thrilling whodunit mystery anime set in a world full of anthropomorphized animal characters. It's perfect for fans of other popular series like "Baccano!" and "Durarara!!" 
Upon release this past year, "Odd Taxi" made waves for its unique style and story, even making the honorable mentions in The New Yorker's "Best TV Shows of 2021" article. Seriously, if you like anime and haven't checked it out, it's a mere 13-episode watch that's definitely worth your time. But if you have already seen "Odd Taxi" and loved it (which you probably did), then you'll be delighted to learn that the series is receiving a film adaptation. 
While news on this forthcoming film — which will be called "Odd Taxi: In the Woods" — is extremely recent, the creators of "Odd Taxi" have already laid out a release schedule. Along with that, since the film is an adaptation of the series, we already have a good grasp on its characters and plot. So, without further adieu, here is what we know so far about the "Odd Taxi" movie.
When will the Odd Taxi movie be released?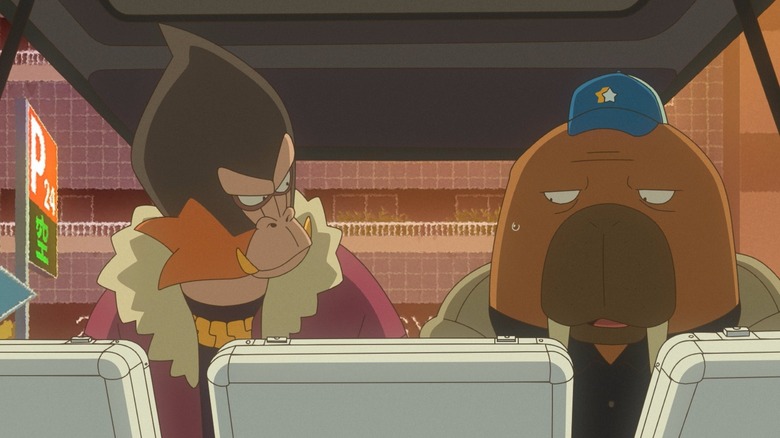 OLM/Crunchyroll
Because the "Odd Taxi" series presented itself as a fully independent story with no sequels or spinoffs, many fans expected that they had seen the last of Odokawa (the aforementioned enigmatic walrus) and his friends upon episode 13's conclusion. However, the official "Odd Taxi" YouTube channel thwarted these expectations by releasing a surprise teaser trailer for the film on Christmas day 2021. The trailer shows off many things, including the film's strange cast of characters, but the biggest reveal is the official release date set for April 1, 2022.
However, this release date only applies to Japan. Non-Japanese fans out there are likely going to endure a bit of a wait before they can see the "Odd Taxi" gang back in action. Luckily, Crunchyroll has it covered. Shortly after the initial announcement of the "Odd Taxi" film, the company announced that it will be streaming the movie on its platform. Unfortunately, Crunchyroll did not specify when it would offer the movie, but promised more details in the future.
Who are the characters in the Odd Taxi movie?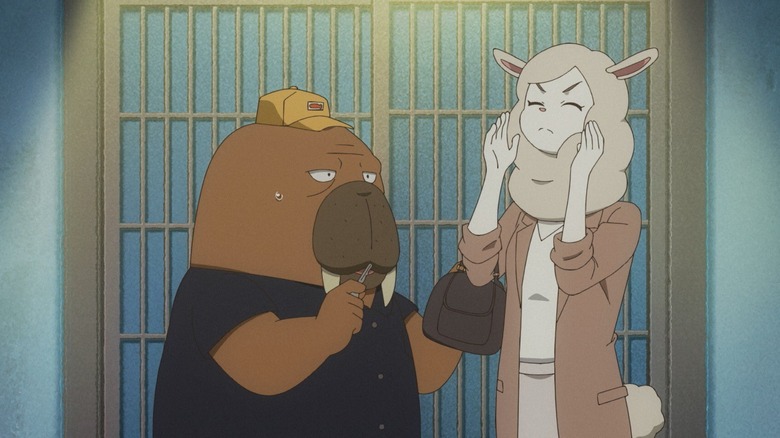 OLM/Crunchyroll
One of the greatest strengths "Odd Taxi" has to offer is its unique cast of characters, of which there are far too many to list. Of course, we've mentioned Hiroshi Odokawa, the 41-year-old walrus who serves as the murder mystery's unlikely hero. Odokawa is an odd figure (voiced by Natsuki Hanae and Mike McFarland) with the peculiar ability to recognize others even with their face covered. He picks up a lot of weird people in his cab, and over the course of the "Odd Taxi" anime, it ends up getting him in more trouble than he bargains for.
Notable figures who Odokawa encounters on a daily basis include his high school friend, Eiji Kakihana (Kappei Yamaguchi/Lucien Dodge), his doctor, Ayumu Goriki (Ryouhei Kimura/Daman Mills), and Goriki's nurse, Miho Shirakawa (Riho Iida/Lauren Landa). Through Odokawa, however, all of them become tangentially involved in a murder plot involving the likes of the small-time thug Dobu (Kenji Hamada), a pop-idol superfan named Shun Imai (Koudai Sakai/Sean Chiplock), the rising social media hippo Taichi Kabasawa (Takashi/Zeno Robinson), and many, many more (via IMDb). Depending on what sort of adventure Odokawa will go on in the upcoming film, many of these characters will likely make an appearance.
What is the plot of Odd Taxi: In the Woods?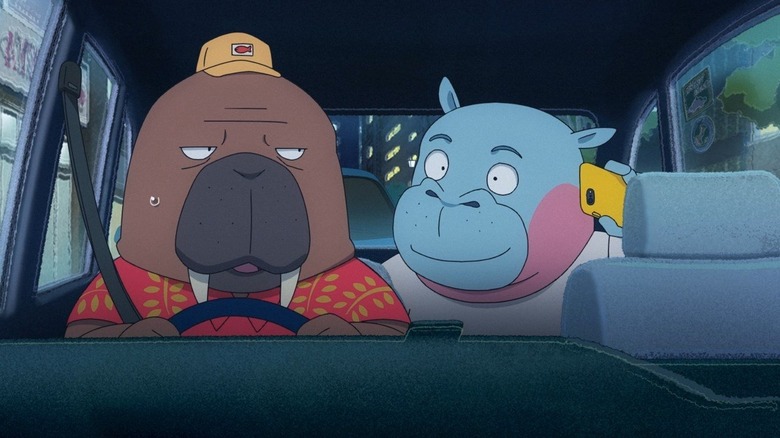 OLM/Crunchyroll
There are many cabs in the bustling streets of Tokyo. However, only one of them is driven by Odokawa. When a young high school girl goes missing, Odokawa ends up being the last person she ever makes contact with after he picks her up in his cab. As Odokawa performs his nightly shifts in the city, his customers all turn out to be connected (however loosely) to the girl's disappearance.
Dealing with gangsters, pop-idol superfans, washed-up comedians, and shady record label executives, the everyman Odokawa manages to hold his own against the confusing tide of potential suspects and accomplices. At the same time, Odokawa's personal life begins to pick up as he forms a burgeoning romance with Miho Shirakawa, the alpaca nurse who works at his doctor's clinic. 
Over time, Odokawa and his friends manage to weave their way to the heart of the mystery at hand, as well as the truth behind Odokawa (who always seems to be a bit more than he appears). Though the original series ends on one stunner of a cliffhanger, the movie promises to show us exactly what happens after those crucial final moments that leave Odokawa's fate up in the air.