Daniel Radcliffe Reveals Richard Harris' Hilarious Reaction To Fawkes The Phoenix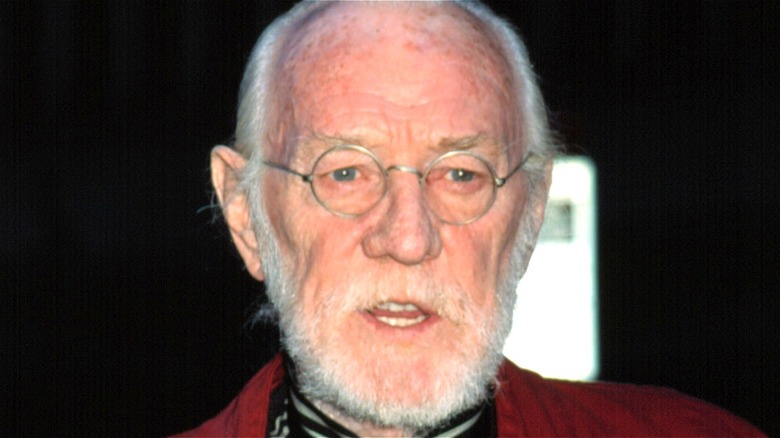 Everett Collection/Shutterstock
The "Harry Potter 20th Anniversary: Return to Hogwarts" special is a delightful trip down memory lane for fans of the Wizarding World. Almost as long as a "Harry Potter" movie itself, the reunion featured all the famous faces you'd expect to see from the popular franchise. Daniel Radcliffe, Emma Watson, and Rupert Grint were at the center of it all, but their famous co-stars also appeared to offer behind-the-scenes stories and anecdotes.
Also along for the reunion ride were the four directors who helmed one or more "Harry Potter" films. Chris Columbus directed "Harry Potter and the Sorcerer's Stone" and "Harry Potter and the Chamber of Secrets" and sat down with Radcliffe to discuss the start of the franchise. Columbus and Radcliffe laughed about many of their good memories but had a particular chuckle over a long-running gag with Richard Harris, who played Albus Dumbledore in the first two films. It all revolved around Fawkes the Phoenix and Harris' hilarious response to encountering the bird.
Richard Harris thought Fawkes was real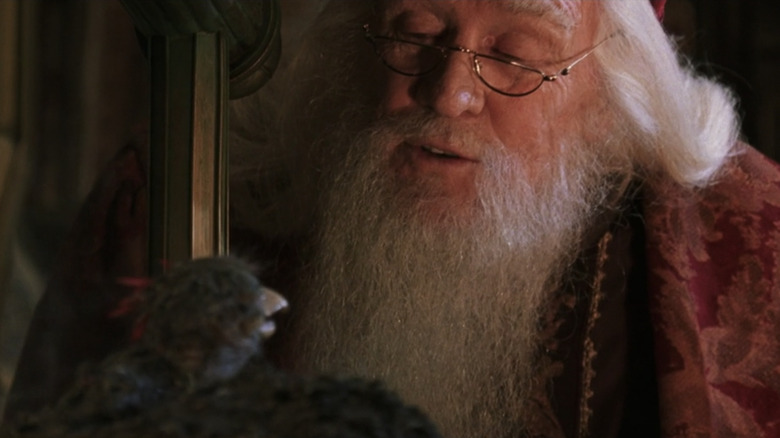 Warner Bros.
Phoenixes aren't real, unfortunately. Richard Harris apparently didn't know that. Chris Columbus and Daniel Radcliffe remembered the moment the late actor approached the animatronic bird during filming and recalled how taken he was with Fawkes. "Richard came in, and looked at the phoenix, and said, 'Wow, they train these animals marvelously these days,'" Columbus said as Radcliffe grinned and pinched his nose.
It was too funny to everyone around, so they kept up the charade, and no one ever corrected Harris and told him Fawkes was fake. Radcliffe also noted how the team controlling the bird started to mess with Harris as well. "'Cause they had a camera inside the eyes, so they could see Richard looking at it, and then they were like, 'Well we won't wanna break the spell, so we'll just keep the bird reacting and moving,'" Radcliffe said. He went on to say the joke had Harris totally convinced, and no one ever let him know it was actually animatronic. The late actor also thought he built a relationship with the bird and thought Fawkes would respond to him.
"Harry Potter 20th Anniversary: Return to Hogwarts" is now streaming on HBO Max.