The Harry Potter Cast Confirms What We Suspected All Along About Robbie Coltrane's On-Set Behavior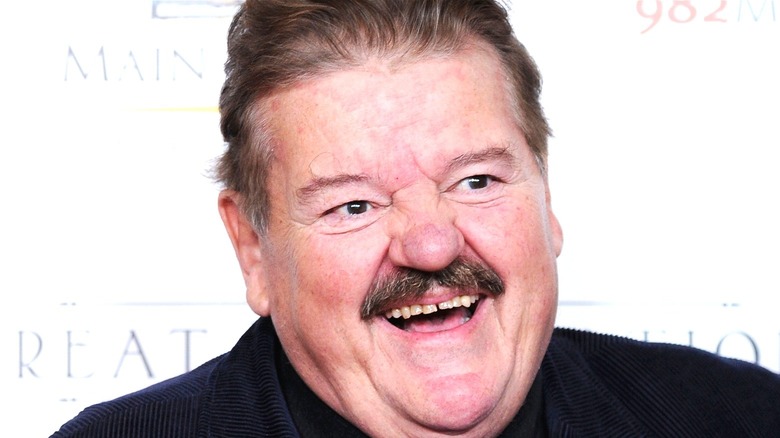 Ilya S. Savenok/Getty
According to the stars of the film franchise, one of the most beloved characters in "Harry Potter" is just as warm and kind off-screen as he was on-screen.
HBO Max rang in 2022 with an incredible release for fans, debuting a "Harry Potter" reunion special featuring all of your favorite actors and plenty of reminiscing about what it was like to make this epic eight film franchise. In particular, the younger set of actors who grew up on the set — including Daniel Radcliffe, Emma Watson, Rupert Grint, Tom Felton, Matthew Lewis, Bonnie Wright, Evanna Lynch, and more — had a lot of revelations about what it was like to work with the adult cast members, many of whom are some of the most decorated performers in British film and television history.
From Maggie Smith to Helena Bonham Carter to actors who sadly passed away like Richard Harris, Richard Griffiths, and Alan Rickman, the then-child actors had the opportunity to work with some of the best living actors of their time. When it comes to Robbie Coltrane, who plays the friendly Hogwarts groundskeeper Rubeus Hagrid, you probably won't be surprised at what the young actors had to say about him. Here's what it was really like to work alongside Coltrane on the "Harry Potter" films.
Robbie Coltrane is basically Rubeus Hagrid in the real life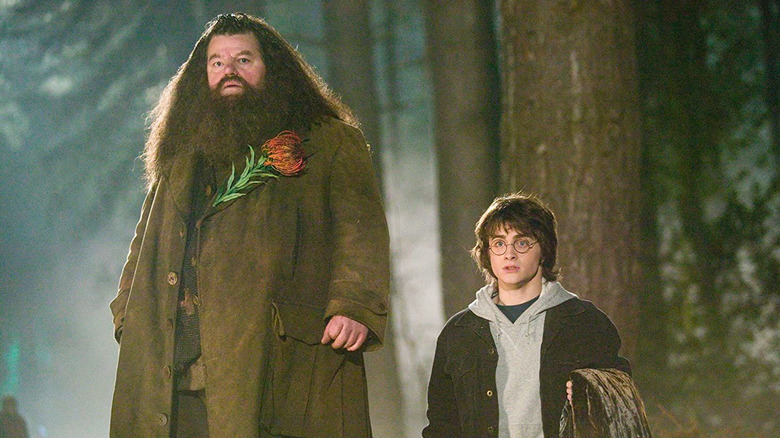 HBO Max/Warner Bros.
"I don't think any of the kids had the capability of understanding the gravity of who they were dealing with at the time," Chris Columbus, director of the first two "Potter" movies, tells audiences during the reunion. "The British royalty of the acting world." Among those giant names, one person got a ton of shoutouts — Coltrane, who shared a ton of scenes with Radcliffe, Watson, and Grint in particular.
"The adult actors came in and were, like, the mischief, in a funny way" Watson recalled, before specifically mentioning Coltrane. "He was such a kid," Grint agreed. "So immature and just... so much fun."
"He loved making us laugh, and he was incredibly good at it," Radcliffe said, accompanied by a video of Coltrane doing a super-silly voice. After that, the reunion brings Watson and Coltrane, who share a hug and snap a photo together before reminiscing together about their time on set. As Watson points out, the two spent a lot of time together filming in Hagrid's hut, and Coltrane even admits that he probably saw the trio more than his own children.
Clearly, even after twenty years, the bond between Coltrane and the trio is as strong as ever, and his, as Watson points out, "warmth and kindness" made all of the difference for the young actors. All of Hagrid's best moments in the original series, as well as the reunion, are streaming on HBO Max now.