Jennifer Lawrence's Transformation Game Is Beyond Impressive
This content was paid for by Netflix and created by Looper.
Jennifer Lawrence is one of the most esteemed actresses of her generation, and in Adam McKay's new social satire "Don't Look Up," she reminds audiences why she's such a celebrated talent. Lawrence stars in the film as Kate Dibiasky, a PhD candidate in astronomy who stumbles upon the discovery of a lifetime — a comet the size of Mount Everest that's heading straight for Earth.
Unfortunately, apart from her professor, Dr. Randall Mindy (Leonardo DiCaprio), and NASA's Dr. Oglethorpe (Rob Morgan), no one seems to care ... and some don't even believe that her findings are real. Throughout the story, Kate experiences a massive range of emotional reactions, from the sheer terror of her discovery to endless frustration over how little her warnings are being heeded to fleeting moments of hope amid all the chaos. In other words, Lawrence gets to show off the many facets of her award-winning range and razor-sharp humor.
In addition to tapping into her considerable talents to bring Kate's unique perspective to life, Lawrence has a pretty transformative new look for the pic. She sports stark bangs and bright red locks, as well as a pair of rock star nose rings and some laidback threads and shoes. Even her accessory game is completely true to her character, including a pair of rings that form a mini-constellation right there on her finger. After consulting with a real-life astronomer, NASA's Dr. Amy Mainzer, Lawrence decided she wanted to give the character a fierce, take-notice type of exterior. And what results is a look that's just as loud and unique as Kate is on the inside, a perfect compliment to her personality.
Throughout the film, Lawrence truly embraces Kate Dibiasky's spirit, and even though the character's signature look is like nothing we've ever seen on the actress before, she completely pulls it off. Of course, this isn't the first time the actress has nailed a new look in her film career. Here's a look at why Jennifer Lawrence's transformation game is beyond impressive.
Turning into a mutant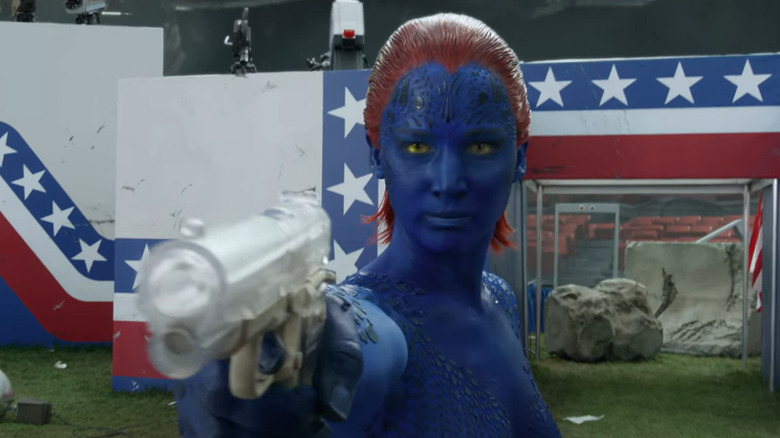 20th Century Fox
When Lawrence first introduced herself to the watching world — from her earliest roles in a "Super Sweet 16" promo for MTV and a guest stint on "Monk" to her first series role as Lauren Pearson on "The Bill Engvall Show" — the actress stuck to her natural look. Her flowing blonde hair and radiant natural complexion were on full display early in her career, even as she began to break into the mainstream, as with her Academy Award-nominated work in "Winter's Bone," which featured her as a rugged young lady who fights for her family's survival in the dangerous world of the Ozarks.
However, Lawrence soon proved that not only could she take on a new look, she could still shine through a head-to-toe transformation. Her turn as Raven, aka Mystique, in the "X-Men" prequel series required her to be drenched in blue prosthetics and detailed makeup, sport a slicked red wig, and wear yellow contact lenses to become the iconic mutant. Even though she was virtually unrecognizable whenever she had this intricate full-body costume on (and she's not the first famous woman to sport the skin-tight Mystique suit), Lawrence's seminal talents still radiated through to make the role her own in each film in the series.
The girl on fire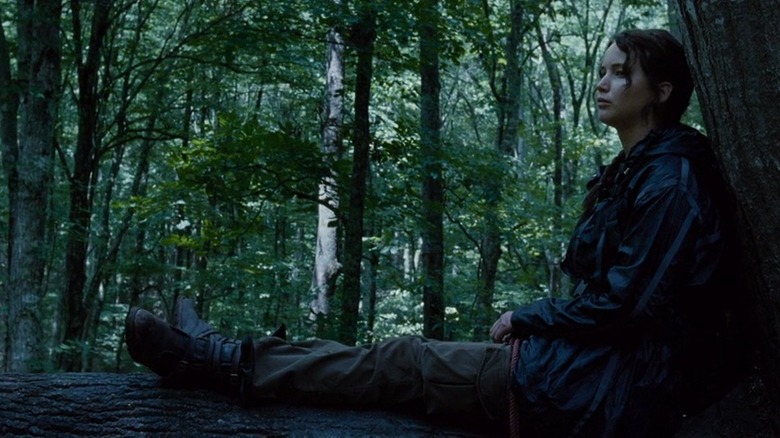 Lionsgate
After her first trip to franchise land, Lawrence's star power continued to rise when she nabbed the leading role of Katniss Everdeen in "The Hunger Games." Not only did the part require her to get very comfortable with a bow and arrow, the beloved character's signature weapon, but she also had to change up her look quite a bit to fit the role.
To become Katniss Everdeen on-screen, Lawrence's hairstyle took on a darker hue and was styled into the delicate plaits that are so often described in Suzanne Collins' books. She also had to sport the threadbare wear of the poorest District 12 commoners and appear undernourished but still strong and capable of putting up a fight in the arena. Over the course of the story, Lawrence was eventually outfitted with some more elaborate fashions of the dystopian future, from meticulously crafted gowns to impress the Capitol crowds to some very fierce battle gear. Whether she was wearing her mother's tattered blue dress or spinning around in an outfit that literally turned to flames, Lawrence always brought the same ferocity and determination that made Katniss the face of a revolution.
Jennifer Lawrence is a true chameleon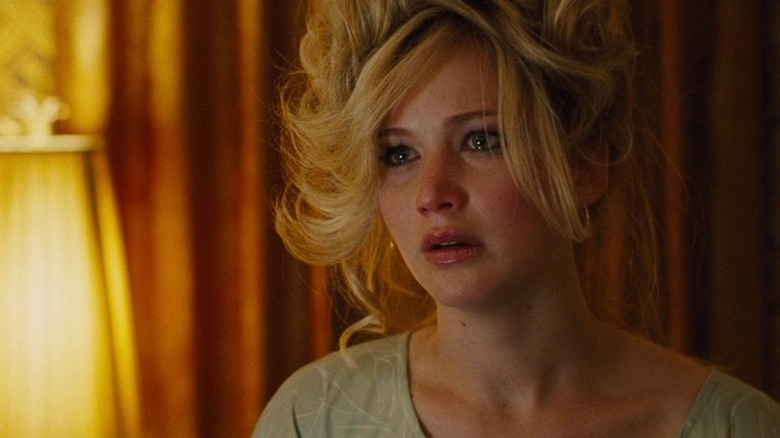 Sony Pictures
In the years since the sharp-witted actress first became a household name, Lawrence has continued to adapt her look to fit the mold of her cinematic characters. In her Academy Award-winning role as Tiffany in "Silver Linings Playbook," for instance, she sported dark hair and thick eyeliner, along with a funereal black style to represent her constant state of mourning over a deeply personal loss.
Then, in "American Hustle," she oozed with confidence and the feisty attitude of Rosalyn Rosenfield, and even when her character was having a meltdown in dish gloves and a disheveled updo, she never missed a beat in displaying Rosalyn's rowdiness. Lawrence also stunned with vintage waves and '30s fashions in the period film "Serena," and she managed to bring some consistency to a sweeping array of different locks and looks in her portrayal of the Russian spy Dominika Egorova in "Red Sparrow."
Put simply, there's no appearance that's off limits for Lawrence, as she can clearly embrace change and make any aesthetic alteration work for her and still consistently deliver quality performances on-screen.