How Ariana Grande's Amazing Improv Changed Don't Look Up
Netflix
This content was paid for by Netflix and created by Looper.
Even though the subject of society basically shrugging off impending global calamity is deadly serious, there are loads of laugh-out-loud moments to be found throughout Adam McKay's apocalyptic satire "Don't Look Up." One such point of levity is Ariana Grande's role as pop superstar Riley Bina, whose televised makeup and engagement session with her rapper beau, Scott Mescudi's DJ Chello, overshadows what should be the biggest story of all time — the nine-kilometer-wide comet that's now hurtling through Earth.
It's not precisely Riley's fault that she takes up all of the day's attention with her good gossip just before Dr. Randall Mindy (Leonardo DiCaprio) and Kate Dibiasky (Jennifer Lawrence) go on a hit morning show to warn the world of impending doom. But she does subsequently take it upon herself to pitch into their efforts to publicize the matter on her social media platforms. She even headlines a comet awareness concert and debuts her own stunning ballad to encourage any doubters in the crowd to look up and see the dangers for themselves.
As Riley, Grande exhibits some razor-sharp humor, and she's completely in on the joke when it comes to the meta elements of her character. In fact, the singer-actress' star power made a bigger impact on the film than you might expect. Here's a look at how Ariana Grande's amazing improvisation skills changed "Don't Look Up."
Shooting for the moon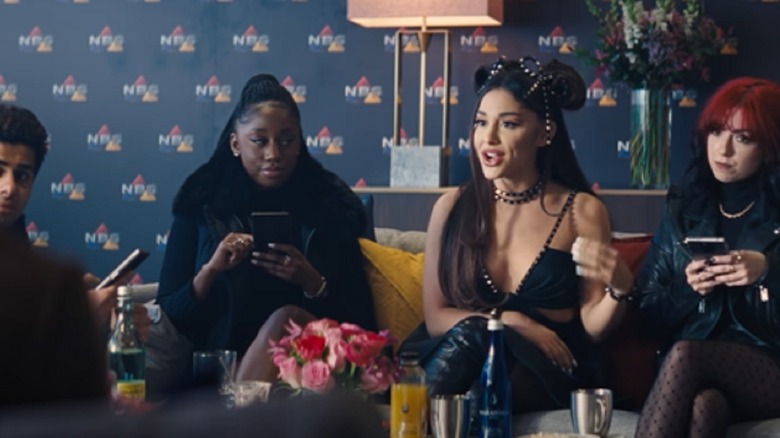 Netflix
Before "Don't Look Up," Grande was certainly no stranger to the screen scene. In fact, she first earned fame by portraying the beloved children's television character Cat Valentine in the Nickelodeon series "Victorious" and "Sam & Cat." Even as her music career soared, Grande continued to flex her drama chops with work in shows like "Scream Queens," "Hairspray Live!" and "Kidding," along with roles in films like "Zoolander 2" and "Men in Black: International." So, when she got the chance to star in Adam McKay's film, Grande jumped at the opportunity, saying, "Adam's one of my comedy heroes, and I was jumping out of my skin when he pitched me the idea of playing this pop star who's kind of in this yucky tabloid frenzy. Playing this little part and getting to work with Adam and this beyond incredible cast was such a special experience."
Of course, Grande came into the film with more experience than just her previous screen work — Grande herself is a global music sensation just like Riley. So for McKay, it was a no-brainer to pick her for the part. "It made sense to have the biggest pop star in the world play the biggest pop star in the world," McKay explained. "The thing people tend to forget is that Ariana Grande is also a professional actress." Indeed, McKay has revealed that not only did Grande hold her own among some of the most esteemed actors in all of Hollywood — including Oscar winners Leonardo DiCaprio and Jennifer Lawrence, to name a few of the all-stars she shares the screen with — but she also managed to add something new to McKay's script and the music by composer Nicholas Britell.
Ariana Grande's stellar contribution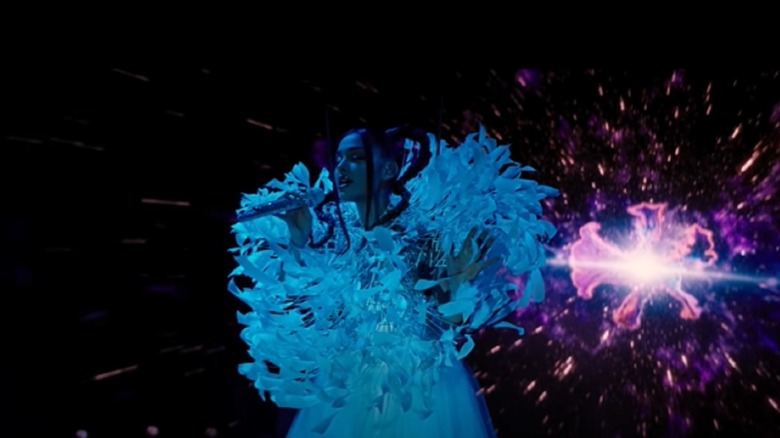 Netflix
After Grande was cast as Riley Bina for "Don't Look Up," she more than delivered on what McKay hoped she'd bring to the pic. The writer-director recently bragged of her work, saying, "We got her on set for her first scene with Leo and Jen, and she's improvising lines. I knew she'd nail the song, but I didn't know she could improvise in scenes."
Her ability to ad-lib especially came in handy when it came to her musical contribution to the pic with the film's original song, "Just Look Up." According to composer Nicholas Britell, the song began with his choice to make the song a melody, and after he put together a few notes, Grande up and ran with the song during the demo. "In my first studio session with Ari," Britell remembered, "I played her the chords, and 30 seconds later, she was in the booth laying some stuff down — just improvising because we didn't have any lyrics at the time — and we basically had the song right there."
In fact, the version of the song we hear in the pic actually contains a lot of the lyrics Grande came up with on the fly during her first rehearsal. "It was crazy," Britell said, "She has such a profound musical sensibility and a facility, to say nothing of the incredible musicianship of her voice. The thing that really was remarkable to me was the immediacy of her ability to capture the feeling of the song and execute it."
A galaxy of talent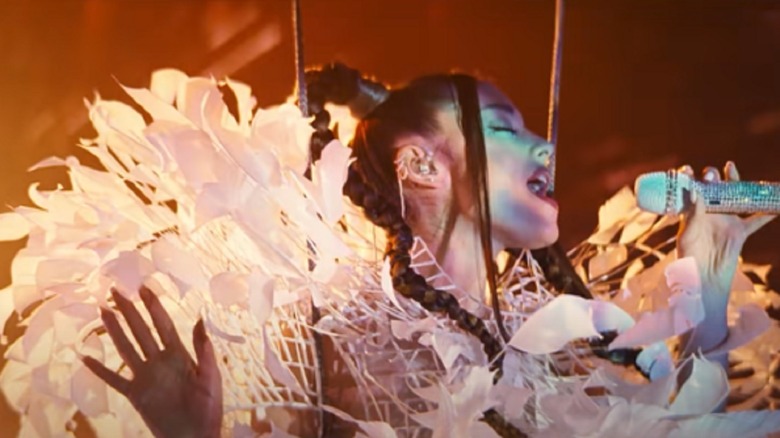 Netflix
Adam McKay can point to several instantly classic lyrics from "Just Look Up" that Grande deserves all the credit for. "She's funny. ... She gets it. [Grande's] best improv was when she sang the song for the first time," McKay explained. "She's the one who added all that stuff at the end about [how] we're all going to die. 'Turn off that s***box news,' you know, 'it's really coming.' That was her riffing on the first scratch track of the melody line that Nick Britell brought her. And the second I heard it, I was like, 'Oh, that's going in the movie.'"
Indeed, not only did Grande's darkly hilarious lyrics make it into the song, but the moment she performs it for the benefit concert ranks among McKay's favorite moments in the entire movie, as he said, "You pretty much have the biggest pop star in the world singing beautifully we're all going to die. Every time I see it, it's just this hilarious cognitive dissonance with it."
Grande eventually worked with songwriter Taura Stinson to put the finishing touches on the lyrical side of the song, and Kid Cudi wrote the critical verse for his character DJ Chello. By the time it was all done, Grande was pleased to see her initial concepts make it into the final edits. "I thought Nick was going to take little bits and pieces of the idea and paste little pieces of it together," she said of her creative feat, "but he actually ended up using almost the whole first take in its entirety. I was so surprised and just so thrilled that he liked it that much!"
Indeed, between her sublime acting skills and incredible vocal range, don't plan on looking away from Ariana Grande whenever she's owning the screen in "Don't Look Up."