Tony Hale Talks Poupelle Of Chimney Town, His Favorite Kid's Movie, And Actors He Looks Like - Exclusive Interview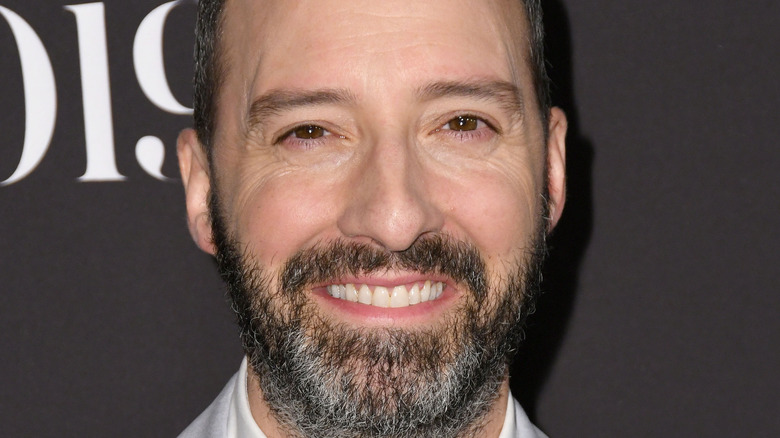 Quinn Jeffrey/Shutterstock
You almost certainly know actor Tony Hale for his performance as Buster Bluth on "Arrested Development" and as Gary Walsh on "Veep," but what you may not realize is just how prolific a voice actor he is. Arguably, his most well-known role is as trash-turned-toy Forky in "Toy Story 4," but he's played just about every type of cartoon character from DC villains like Dr. Psycho in "Harley Quinn" and "Joker in "Batman Ninja" all the way up to the gastric emission of a giraffe centaur in the Netflix musical series "Centaurworld."
Recently, Hale took on the role of Poupelle, a man made almost entirely from trash, who teams up with young loner Lubicchi (Antonio Raul Corbo) as they work to solve the mystery behind Lubicchi's lost father. Why is Chimney Town a town of chimney in the first place and what happened to the rest of the world outside the town's tiny island?
Looper sat down with Tony Hale to find out why he took on this project. We learned what kid's movie he clings to for comfort, and we found out a tiny bit about his upcoming film, "Hocus Pocus 2."
Forky, Poupelle, and David Schwimmer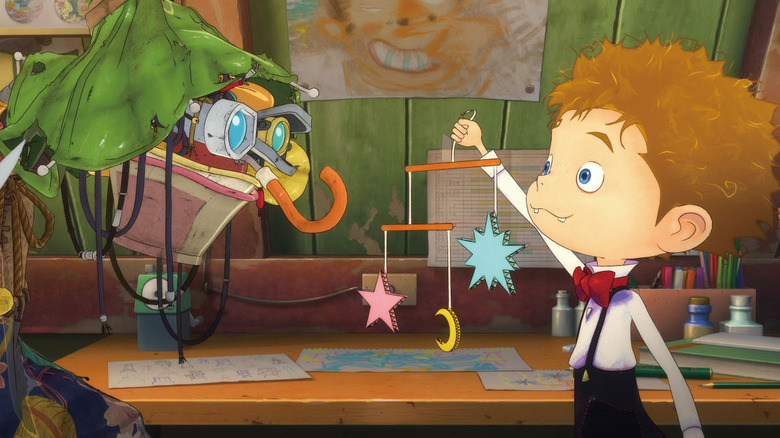 STUDIO4ºC
Tony, you're playing a man made of garbage, who most people hate, at least at first. What drew you to this particular role?
I don't know if you've had a chance to see the animation, but it is just so stunning. And it's based on this very popular Japanese children's book of the same name. And it's just a really, really sweet, powerful, beautiful story. Most children's books have that kind of simple truth attached to them. And I just saw the animation, I was like, good night. This is beautiful, beautiful.
It's stunning, I agree. But I think there's something really hopeful too, which I think is also very true of a lot of children's stories. And it made me think about the time that we're living in and how we're all trying to sort of reach and get through this moment. Is there a particular role that sort of stands out to you that you're like, helped you reach beyond where you started to find success?

I would do commercials for many, many years in New York and I was just kind of labeled a commercial actor. And my type was the quirky guy, not all there. I was saying once on [The Late Show with Stephen] Colbert ... somebody described me as a not so good looking David Schwimmer. And I said, "What if somebody doesn't think David Schwimmer's good looking? Then I'm screwed." I was always seen as a commercial actor and I always wanted to do comedy and sitcom. And so I would say Arrested Development was kind of that kind of breaking through that I was really super grateful for.
Your character Poupelle, did you find yourself connecting with him even though he is a man made of literal garbage?

Well, it actually hit me this morning that I played Forky [in "Toy Story 4"], who loved trash, and then there's this character who's made of trash. So I don't know what that's saying about my inner self, but he was just ... Wasn't understood at first, and just had a real tender, hopeful heart to him. I think we can all resonate with just kind of feeling misunderstood, and somebody, this little boy, finally seeing Poupelle and who he was and that trust. And then it just really takes that one person to kind of continue on.
Centaurworld and Tony Hale's favorite kid's movie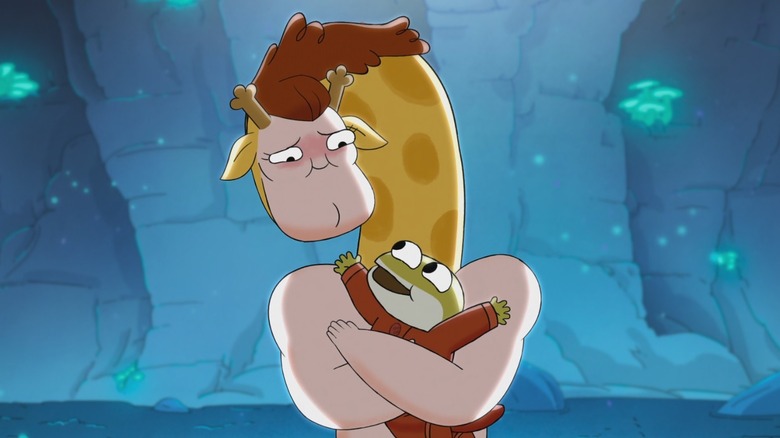 Netflix
That's a beautiful story. I love the voice work that you do for "Toy Story" and there's a show that I really love that you appear on called "Centaurworld." You're playing the fart of a giraffe centaur. It's a beautiful show, truly touching. But, wow, man. What?
Well, first of all, don't limit my skills.
Never would.

Okay. And it's so fun, though, because with animation, I think they ... I don't even know how it was pitched to me, but it was like, "Okay, so you're going to be this guy's fart." And I was like, "All right, sign me up." I mean, when are you ever asked to do that. It was Josh Radnor and I was voicing his fart. And then I think I was his father as well. I think I played his father. So I was a fart and a father.
There's a reason we call fathers the old fart.

That's right. That's right.
Now we understand.

Nice. Nice connection.
All comes back around. People are watching a lot of comfort movies right now, which is usually a favorite movie. And I was curious, it might be animated since you have all these animated things that you've done, but do you have a favorite movie that you feel like you've been revisiting to sort of comfort yourself lately?

I do a lot of YouTube trails, where I just get the biggest laugh out of these surprise videos, where people are surprised. There's just all these compilation videos. Gosh, it makes me laugh, really, really hard. "Goonies" is always a comfort movie for me, because I just remember that from my childhood. The lead guy had asthma and I have asthma and he carried around his inhaler and I always connected them. I think my wife and I are going to watch "The Player" tonight, because we haven't seen "The Player" in so long and somebody mentioned it the other day and we were like, "Man, I haven't seen that in forever." So I'm excited about revisiting that.
Tony Hale on Hocus Pocus 2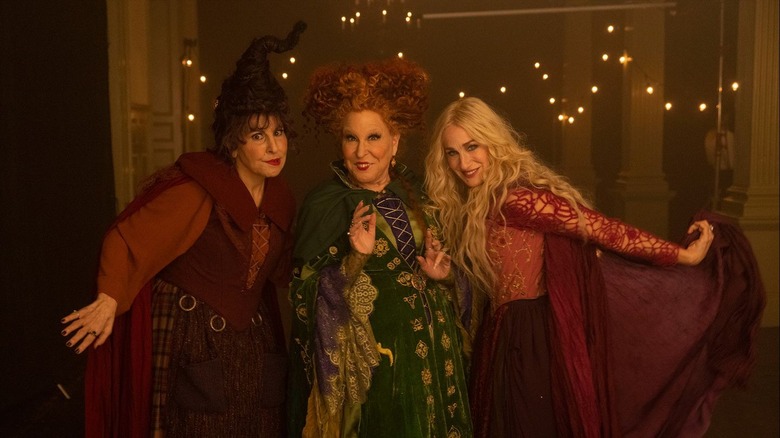 Disney+
Can you say anything about "Hocus Pocus 2?" It's genuinely one of the most important moments in queer cinema ever, the first movie, I mean. And now here's the sequel that literally everyone wanted and didn't think we'd get. And here you are in that sequel.
And here I am. What can I tell you? They released that image of the three witches. I don't know what I can tell, man. I don't know. I know that there's actually this Instagram, have you seen it? It's a "Hocus Pocus" guide, or something, that's out, like a behind the scenes thing, which anyways, they're dropping kind of some spoilers. I don't know, man, that Hocus Pocus world, it's pretty secretive. If I say something, I might leave this call and then somebody would kidnap me, take me to a far off land and I won't be able to leave.
Can you say it was fun?
I did have a great time. I did have a great time. And I will say this, the character I play, just working across from those witches, like Sarah Jessica and Bette Midler and Kathy Najimy. I actually worked with Kathy on "Veep," so it was fun to work with her again. But that's just one of those moments where you're like, "Huh, what's up, 'Hocus Pocus' witches? I'm working across from you."

"Poupelle of Chimney Town" is now playing in select theaters.