Keanu Reeves' Matrix Co-Star Wants To Join The John Wick Franchise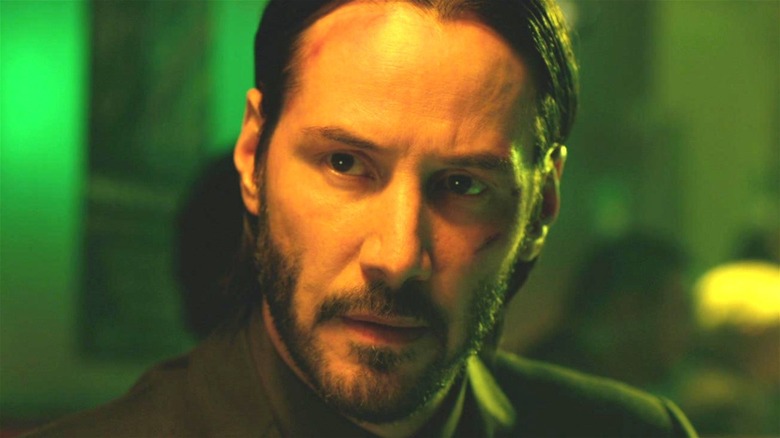 Lionsgate
Before Keanu Reeves was famous for mowing down hordes of cheaply-dressed mafia goons in the "John Wick" franchise, he was famous for another franchise. You may have heard of this little indie series, which goes by the name of "The Matrix" and recently released its fourth installment, "The Matrix Resurrections," after spending 18 years on the back burner. Both franchises paint Reeves' characters as gun-toting badasses taking on insurmountable odds, albeit in very different ways. However, "The Matrix" is a bit distinct because it puts less focus on Reeves' Neo, despite him being the protagonist.
Case in point, Reeves' "The Matrix" co-star Carrie-Anne Moss has a role of equal importance to the events of the original "The Matrix" trilogy as Neo. Her character, Trinity, pulls just as much dramatic weight and has her fair share of awesome fight scenes. Heck, Trinity is arguably as iconic as Neo ever was. Even so, Reeves is generally considered a more high-profile actor, and part of that is thanks to his work in "John Wick." If you think Moss is jealous, however, you'd be wrong. Reeves' "The Matrix" co-star has actually gone on record saying she wants to join the "John Wick" franchise, just as fellow "The Matrix" star Laurence Fishburne did before her.
Moss would sign the contract to be a contract killer in the next John Wick
Carrie-Anne Moss got candid about her desire to join Keanu Reeves in the "John Wick" franchise in a recent interview the duo did with People. Moss expressed her love of the action-heavy franchise and Reeve's particular method of acting, sharing, "I really started to understand Keanu's outrageous gift for telling stories through his body," Moss continued, proclaiming, "I didn't fully understand that until I went deep into 'John Wick' with one of my children." 
Reeves countered Moss' kind words with his own trademark positivity, thanking and complimenting Moss on her own unique acting style. When People asked if Moss could ever join the "John Wick" series as an assassin, both actors expressed genuine excitement at the idea. When Moss told Reeves that she'd "love it," he replied, "Be careful what you wish for. I'm on it now."
Thankfully, Moss doesn't seem too intimidated by the stunt-heavy action franchise. Moss, like many other "The Matrix" stars, did her own stunt work for the sci-fi franchise, meaning she has plenty of experience when it comes to action sequences. Her only comment on the stunt work needed for "John Wick" was a determined "I'll start practicing." Needless to say, "John Wick" fans probably wouldn't be upset to see Moss play the part of a killer-for-hire, especially if her new character is as badass as Trinity.