The Don't Look Up Cameo That Has Everyone Talking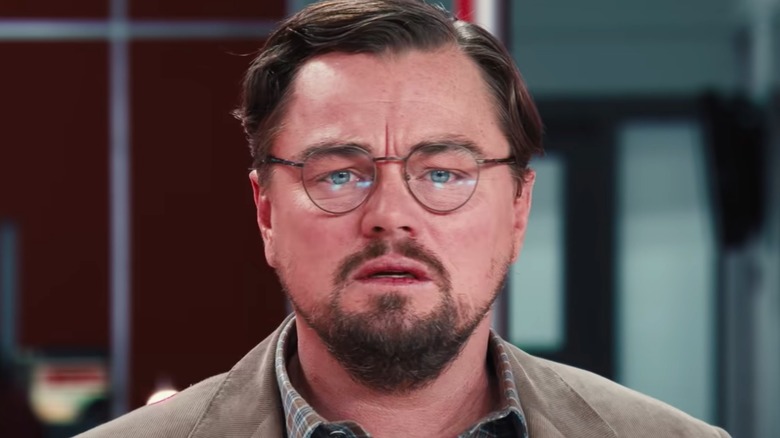 Netflix
Contains mild spoilers for "Don't Look Up"
Netflix's hilarious sci-fi comedy "Don't Look Up" takes a number of social issues and puts them under a mercilessly satirical lens, leaving very few things unscathed — yet delivering plenty of laughs along the way. As astronomers Kate Dibiasky (Jennifer Lawrence) and Dr. Randall Mindy (Leonardo DiCaprio) try to warn the world about an impeding comet that could destroy life as humanity has come to know it, they find themselves banging their heads against various political and social divides that get more and more ludicrous as the plot proceeds. 
"Don't Look Up" is a strong story, and the fact that it has a ludicrously stellar cast only adds to the allure. Apart from DiCaprio and Lawrence, the movie features stars ranging from Meryl Streep and Cate Blanchett to Timothée Chalamet and Jonah Hill, among many others. With all the instantly recognizable actors the movie throws at the viewer, it's only natural that you might have missed one particularly notable cameo. 
Chris Evans continues his cameo-friendly ways in Don't Look Up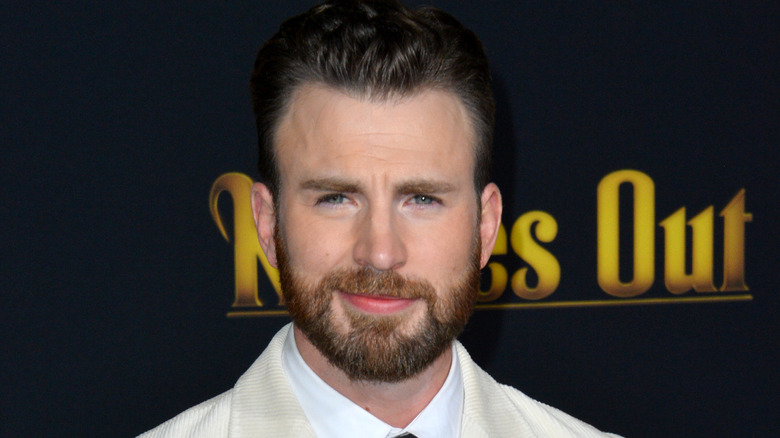 Featureflash Photo Agency/Shutterstock
As the plot of "Don't Look Up" unfolds, you briefly see a Hollywood star called Devin Peters promoting a film called "Total Devastation," which is clearly inspired by the impeding comet disaster the movie — "Don't Look Up," that is — centers on. As he's interviewed about the subject, the actor does his level best to avoid taking a stance on the whole comet thing in an effort to stay on everyone's good graces. Hiding behind Peters' expensive sunglasses and fashionably ill-fitting knit cap is none other than very real A-lister Chris Evans, who clearly has a hoot playing the action star who just wants everyone to get along (and watch his movie). 
As you might expect, fans have been ecstatic about the discovery that Evans is in the movie. "Despite being a cameo, Chris Evans as Devin Peters is a memorable parting gift from 2021," Twitter user @safeforchris wrote. "HELP I didn't realize that that was Chris Evans omg," a shocked @GracegewinggG tweeted after finding out about the well-disguised cameo.
Evans appears to cultivate a reputation as a guy who's always game for a neat cameo. He delivers brief, comedic Captain America appearances in Marvel Cinematic Universe movies "Thor: The Dark World" and "Spider-Man: Homecoming," and has a hilarious reaction shot cameo in Ryan Reynolds' "Free Guy." Judging by his 30-second turn in "Don't Look Up," he's all too happy to keep delivering these short, fan-pleasing appearances.