Is Netflix's The Harder They Fall Based On A True Story?
Netflix
"The Harder They Fall," a Revisionist Western film by director Jeymes Samuel, was released to limited theaters on October 22, 2021 before being released to Netflix on November 3, 2021. Written by Samuel and Boaz Yakin, the film follows outlaw Nat Love (Jonathan Majors) as he brings together his gang to get revenge on his enemy Rufus Buck (Idris Elba), who is being released from prison. Of course, Rufus has his own gang to round up, making for a more equal — and more interesting — fight in store.
To go with the compelling synopsis, the film features a star studded cast, to say the least. Starring alongside Majors and Elba are Regina King, LaKeith Stanfield, Zazie Beetz, Edi Gathegi, RJ Cyler, Danielle Deadwyler, and Delroy Lindo, amongst a few others.
Notably, "The Harder They Fall" is one of the few Western films out there with an all-Black cast. To make it even more notable, all of the major characters in "The Harder They Fall" are based on real-life historical figures — despite the message at the beginning of the film letting viewers know that the "events are fictional." So who were these real-life cowboys — and how accurately did the film portray them?
The real lives of Nat Love and Rufus Buck looked different than on screen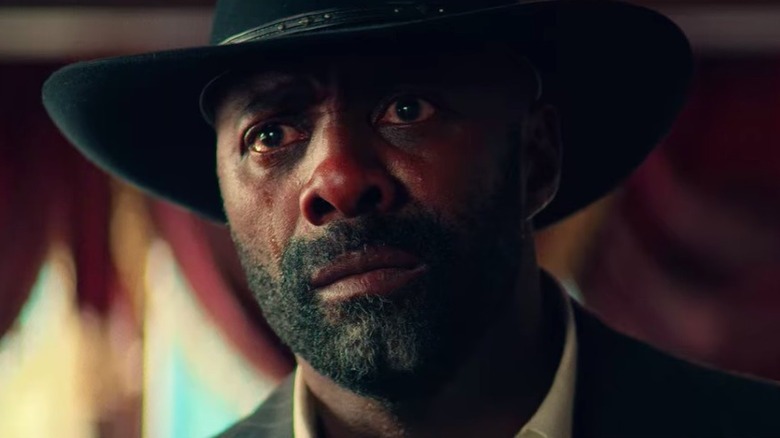 Netflix
In a Netflix Tudum article that spotlights the real-life figures behind the film, Nat Love is described as "a ranger, not an outlaw." While, in the film, Nat spends his whole life waiting to avenge his parents, in reality, Love was born a slave and later freed. He then "worked on ranches and rode in rodeos, getting the nickname Deadwood Dick" because of his experience working at a ranch in Deadwood, North Dakota.
A Time article adds that just about all the information we have on Love comes from his 1907 autobiography, "The Life and Adventures of Nat Love, Better Known in the Cattle Country as 'Deadwood Dick.'" However, because few sources have backed up his claims, it's unclear how much of it actually happened or if it reflects how Love wanted to be remembered. In the book, Time details, Love writes of riding as much as 100 miles a day, as well as "befriending other cowboy icons like Buffalo Bill and Billy the Kid."
We do know that Love never came into contact with his film nemesis Rufus Buck. In fact, as reported by Time, Buck, son of a Black mother and a Creek Indian father, died at the age of 18 when the gang he was a part of was caught and sentenced to death. Thus, while Buck was involved in many serious crimes — including murder and rape — he did not kill Nat Love's parents and incite a future war between the two men.
Liberties were taken with several characters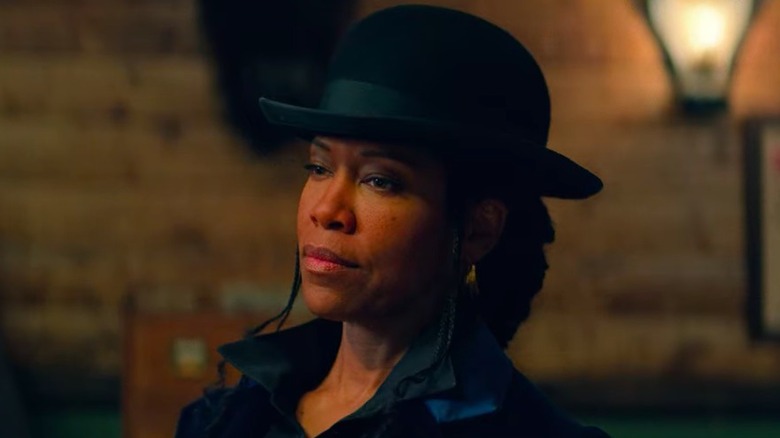 Netflix
In the film, Stagecoach Mary (Zazie Beetz) is a saloon owner and performer who falls for Nat Love. In real life, while Stagecoach Mary may not have met and fallen in love with Nat Love (that we know of), she did indeed own a saloon, according to Netflix Tudum, but it ultimately failed, along with an attempted laundry business. After that, she became the first Black woman to work as a mail carrier. Meanwhile, there is little information out there about the real Treacherous Trudy, played by Regina King on screen, but there is a record of her working as a pickpocket in the San Francisco area and getting arrested.
The film's Jim Beckwourth (RJ Cyler) is a member of Nat Love's crew and is indebted to Nat after Nat saved his life. According to Netflix Tudum, Beckwourth was born a slave but was freed by his white father, leaving him to roam where he pleased, and later became an honorary chief of the Crow Native Americans. Another of the film's devotees to Nat is Bill Pickett (Edi Gathegi). In real life, Pickett acted alongside cowboy movie star Tom Mix in 1922's "Crimson Skull" and 1922's "The Bull Dodger."
The film also introduces Wiley Escoe (Dean Cole), the greedy man who takes over as mayor of Redwood City when Rufus goes to jail. In real life, Escoe was also in a position of power, as one of the Black deputy US marshals — however, it's unclear if he ever abused his power like the film version of Wiley did as mayor.
Some characters have pretty accurate portrayals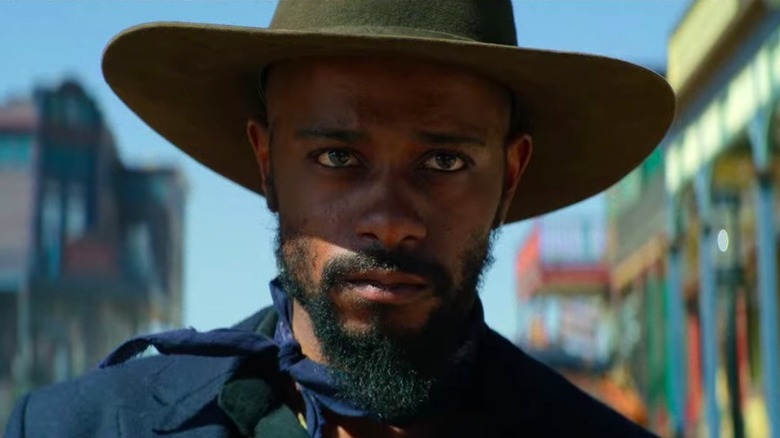 Netflix
While the story remains fictional, with many liberties taken on the characters, there are a couple of examples of the real counterparts' lives matching up fairly well to their on-screen depictions.
Firstly, Cherokee Bill (LaKeith Stanfield) in the film is a ruthless man unafraid of committing crimes, making him a vital part of Rufus's team. The real Crawford Goldsby, aka Cherokee Bill, was also a criminal and engaged in numerous different robberies throughout his lifetime, targeting everything from banks to trains.
Next, Bass Reeves (Delroy Lindo) is the film's US Marshal who works with Nat Love in his plan to kill Rufus Buck. The real Bass Reeves was also a US Marshal — the first of African American heritage in Arkansas, to be exact. Allegedly, in his position as Marshal, Reeves killed about a dozen outlaws and arrested over 3000 of them. According to the Netflix Tudum, Reeves is even said to be the inspiration for the Lone Ranger.