Low-Budget Horror Movie Gems That Flew Under The Radar In 2021
There are hundreds of scary movies coming out every year. Why? It's because horror is one of the most profitable film genres. These pictures can be made on a relatively low budget while having a good chance to hit really big at the box office. That said, limited funding also means that many of them never get the opportunity to reach a wider audience, even if they're actually pretty neat.
2021 brought us a bunch of great horrors that quickly became popular, thanks to several streaming service options and theaters opening up for business again. Features like Zack Snyder's zombie epic, "Army of the Dead," Edgar Wright's bloody retro trip back to 1960s London with "Last Night in Soho," or John Krasinki's follow-up to his nail-biting directional debut, "A Quiet Place Part II." We even got the long-anticipated "Candyman" sequel and the "Fear Street" trilogy, based on the novels of the famous author R.L. Stine.
Yet, there were several other frightening flicks released this year that didn't quite get the attention they deserve. They flew under the radar despite delivering entertaining, disturbing, and even thought-provoking stories with solid performances and effective scares all around. They also did all that with moderate financial resources.
Here, we gathered some of the overlooked horror gems of the year that you might've missed out on.
Psycho Goreman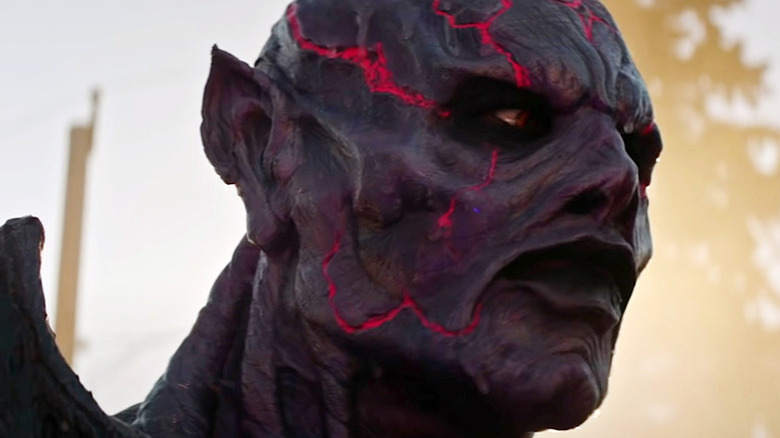 Dystopia Films
Steven Kostanski's movie, "Psycho Goreman," is easily the silliest horror-comedy of the year. Its titular character — an alien warrior, who was sent to Earth to be imprisoned for trying to destroy the entire galaxy — is a terrifying yet darkly funny monster. It's no surprise that most critics praised the picture for its inventiveness and insane humor. Kostanski created an original and amusingly over-the-top fantasy set in the '90s, using weird costumes and some cheap yet impressive creature design.
"Psycho Goreman" is 90 minutes of pure madness where the human characters are secondary to every monster. The fight sequences evoke a classic '90s vibe, which can sometimes remind us of the laughable live-action television show "Power Rangers." But beyond its colorful looks and goofy beasts, the best aspect of the movie is its self-awareness and mad humor. It makes fun of everything and everybody if there's a time and space for it. And, naturally, in a bonkers movie like this, there's always a chance to get even crazier.
The Boy Behind the Door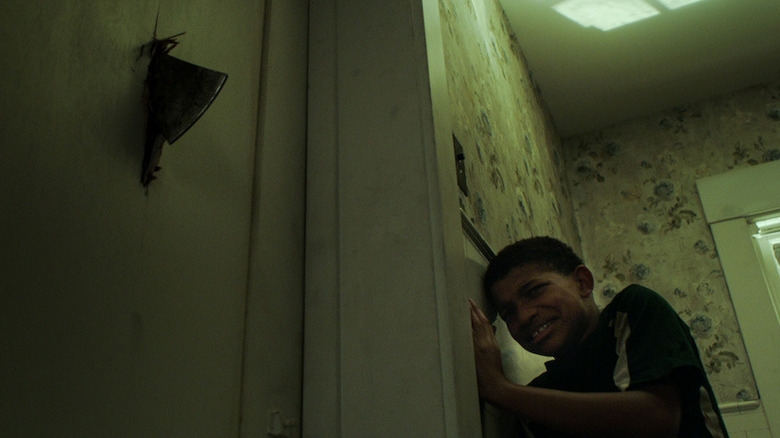 Shudder
It's never easy to pull off a film that portrays children as both victims and heroes — especially while working on a restricted budget as unknown directors in the industry. Yet David Charbonier and Justin Powell somewhat miraculously managed to achieve that in this slasher-thriller, which attained an outstanding critical response.
The plot follows two 12-year-old boys who get kidnapped on their way home from school. Later on, Bobby (Lonnie Chavis) and Kevin (Ezra Dewey) wake up inside a car's trunk and realize they've been taken to an isolated house on a hill. While the kidnapper takes Kevin inside, Bobby is able to free himself and tries to flee. But as he hears his best friend scream, he stops and decides to sneak into the house — attempting to save Kevin from a violent and aberrated criminal.
In an interview with Forbes, the directors said they're massive horror enthusiasts, which absolutely comes through in their debut. Right from the beginning, they start to build palpable suspense that gradually turns into an intense mouse-and-cat game by the end. There are beautiful references to classics such as "The Shining" or "The Goonies," and the precision with which the two create a pulsating atmosphere evokes the best work of John Carpenter. Besides their efforts, though, the film truly comes alive due to its two lead performances given by the young actors. "The Boy Behind The Door" is undoubtedly a 2021 treat that deserves more attention.
Blood Red Sky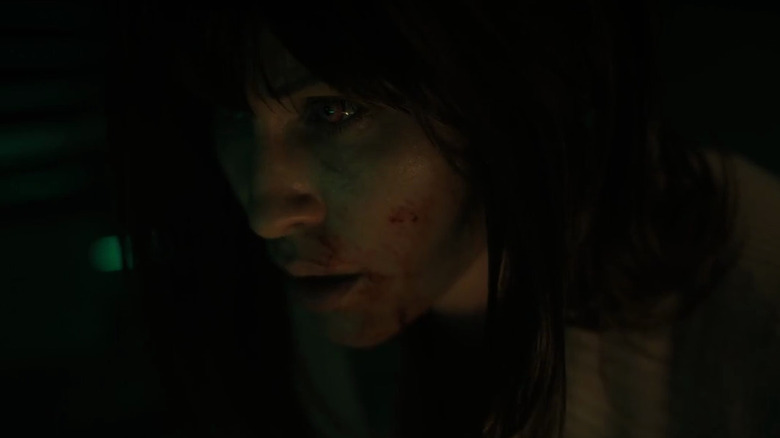 Netflix
Peter Thorwarth's high-concept Netflix picture is a welcome delight for genre fans. In it, a German single mother, Nadja (Peri Baumeister), and her son, Elias (Carl Anton Koch), are about to get on a Transatlantic flight heading to the United States. She seems to be suffering from leukemia and takes this journey in hope of a successful treatment provided by a doctor in New York. However, after boarding with her son, the plane gets hijacked by a group of men who appear to be terrorists. While trying to protect her child, she gets shot by one of them. That's when we learn that she doesn't actually have leukemia and can't die by ordinary bullets — because she's slowly turning into a vampire.
Once the story is set in motion, the feature picks up the pace and refuses to slow down until the last minute. "Blood Red Sky" is a blast that will satisfy viewers as long as they're able to maintain a suspension of disbelief for the entire ride. Unfortunately, its second-half displays too many unnecessary twists and weak plot points, which somewhat undermines the overall quality. Nevertheless, even with those poor choices, "Blood Red Sky" is one of the pleasant surprises of the year.
Antlers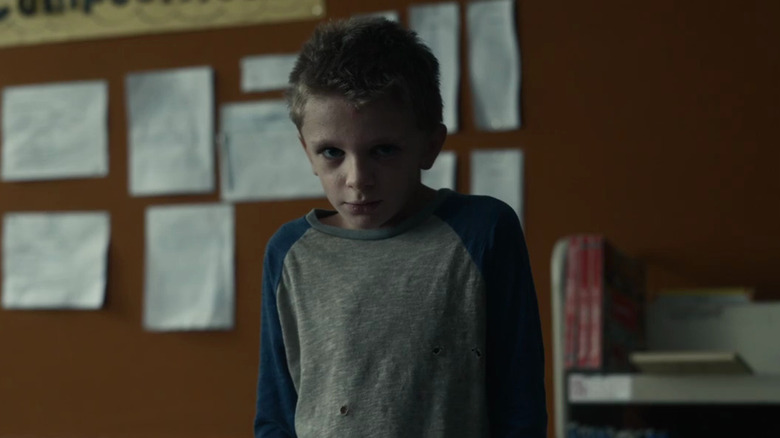 Fox Searchlight Pictures
On the surface, Scott Cooper's creature feature is a pretty straightforward folklore horror. It's set in a small Oregon town, where locals are mysteriously disappearing only to later turn up dead — brutally killed by an unknown animal. Lucas (Jeremy T. Thomas), a 12-year-old boy, knows what's slaying the townsfolk — he feeds it with roadkill at his own home. His teacher, Julia (Keri Russell), is alarmed by Lucas's poor appearance and at the upsetting drawings he makes in class. She decides to investigate what's going on with him, all  while developing a bond with the shy student. Soon, she learns that the two have more in common than she imagined.
If you're willing to look beyond the usual frights, you'll find that "Antlers" is a lot more ambitious than it seems at first. The script is based on an indigenous myth and includes elements of body horror that portray abuse, past regrets, and profound grief. Although the grim and frightening atmosphere provides the groundwork for effective jump-scares, the movie's primary aim isn't just to be chilling. There's a theme here, exploring guilt, loss, and mental scars caused by years of domestic abuse. Although Cooper's monster flick isn't as "elevated" as it means to be — and doesn't always hit the right notes — it still makes for gripping cinema as a complex and atmospheric horror.
Till Death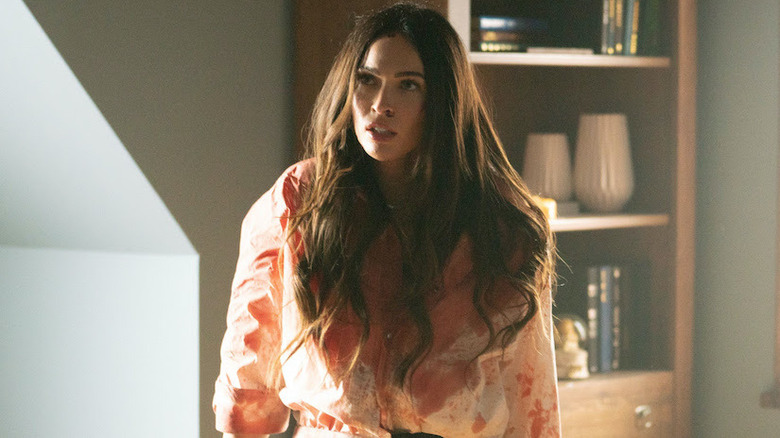 Screen Media
If you ever doubted that Megan Fox could lead and dominate a rather serious thriller/horror, this is her chance to prove you wrong. In S.K. Dale's directorial debut, Fox plays Emma, a young woman stuck in an unhappy marriage that makes her life miserable. She's having an affair with her husband's business partner, Tom (Aml Ameen), but decides to end it right before their wedding anniversary. For the special occasion, Emma's husband, Mark (Eoin Macken), takes her to the lake house in Westchester, where they used to visit frequently. There, the two make up after Mark asks for a second chance. Yet the following morning, Emma finds herself handcuffed to her husband, who shoots himself in the head in front of her. Left to find a way out from this mess, she realizes that Mark knew about the affair, and this is his twisted revenge on her. Add to that a crazy stalker from the past, and the recipe is complete for a cat-and-mouse game in the middle of nowhere during a freezing cold winter.
Although the story is far from inventive, the script uses the standard genre tropes smartly. There's a slowly brewing suspense here, one turns tension and fear into a bloody entertaining battle. And at its center, Megan Fox is up for the task to carry this flick on her shoulders from beginning to end without flinching even once.
Lamb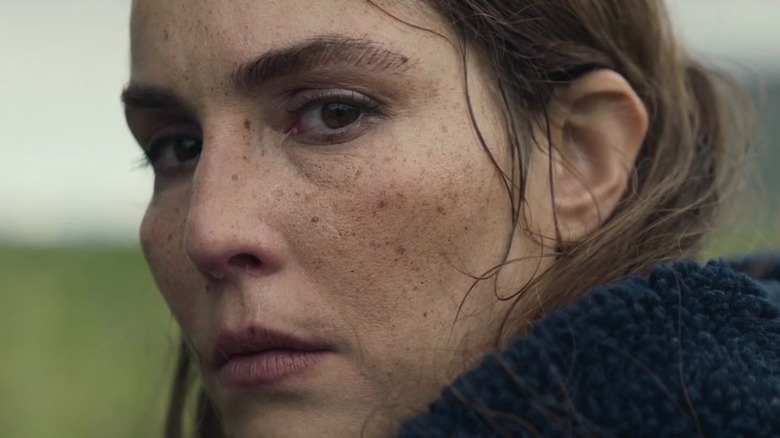 A24
In his feature debut, Valdimar Jóhansson builds a narrative around a mystery. Maria (Noomi Rapace) and Ingvar (Hilmir Snær Guðnason), a childless couple, live their life on an isolated farm in Iceland. One day, as their sheep gives birth to a baby lamb, they discover that it's half-human. Jóhansson refuses to show the hybrid to the viewer until we understand why the couple treats it as if it was their own absolutely normal child. They give it a human name and nurture it as an infant. When a family member calls them out on this insanity, they don't want to acknowledge how delusional their approach is. But sooner or later, they have to face reality and the consequences of their actions.
"Lamb" is one of the most disturbing pictures of 2021. For most of its runtime, it isn't gory, scary, or violent — it's just deeply troubling. Evidently, there's something abnormal and ill about this setting. We can feel it throughout, yet until everything unfolds before our eyes, we are unsure what it really is. But by the time we arrive at the finale, Jóhannsson made sure that we're prepared to comprehend what he was getting at all along. The ending is well worth the attention invested in this bizarre little film — which tells a bold and intriguing story that will leave us with existential questions to think about for at least a few days.
Werewolves Within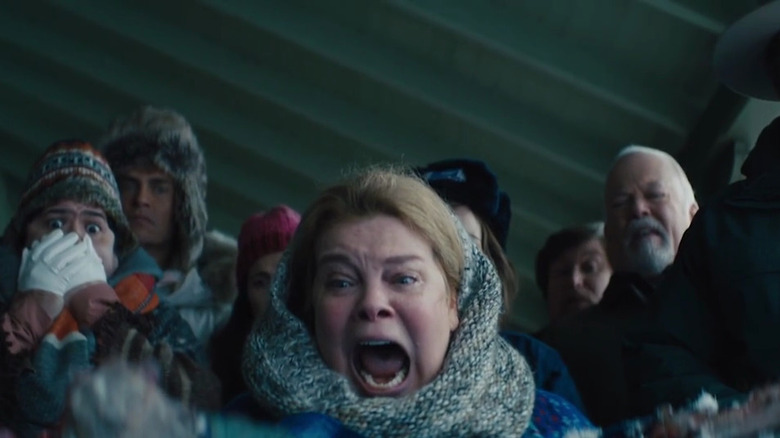 IFC Films
Josh Ruben's horror-comedy is a goofy genre piece. The story is set in a small Vermont town, following a group of people divided over a pipeline proposed by a smug businessman — not that they need a reason for arguing, though. Thus Finn Wheeler (Sam Richardson), a forest ranger, is sent to Beaverfield to maintain peace among the residents as much as possible. But the poor fellow is down on his luck since his assignment quickly turns into a nightmare. Soon, he finds himself trapped in an old hotel in the middle of a snowstorm, forced to investigate which one of these fools is the Werewolf out for blood and human flesh.
"Werewolves Within" includes many conventional horror clichés, but turns them into hilarious gags. It showcases an adorable love interest, juicy gossip, a missing dog, and a mandatory "get-the-hell-off-my-property" scene, among other familiar ingredients. It's a classic whodunnit premise that doesn't miss any chance to make fun of horror movie tropes and the typically ignorant characters that come with them. For any fan, this well-written, smartly directed piece of cinema is an absolute delight.
Come True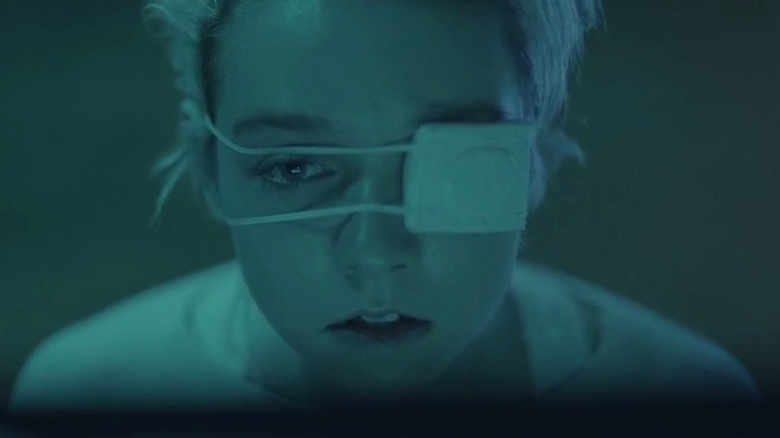 IFC Midnight
Anthony Scott Burns' sci-fi horror is a 100-minute-long surreal vision. Its plot is only secondary to its trippy visuals. Sarah (Julia Sarah Stone), a teenage runaway, decides to take part in an obscure sleep study. A group of scientists try to closely observe the dreams of volunteers with pioneering technology. Sarah quickly realizes, though, that these people are using her for an immoral experiment that can turn into a lethal threat at any point.
"Come True" works best when it lets us discover these dark, startling fantasies alongside the characters in this eerie world of unease, fright, and terror. Descending into that ambient atmosphere filled with mutilated bodies and amorphous objects is a truly unique experience. It evokes some unsettling feelings, and the black and white visuals begin to play with our minds the more time we spend in them. Burns' feature is as unconventional as filmmaking gets.
Vicious Fun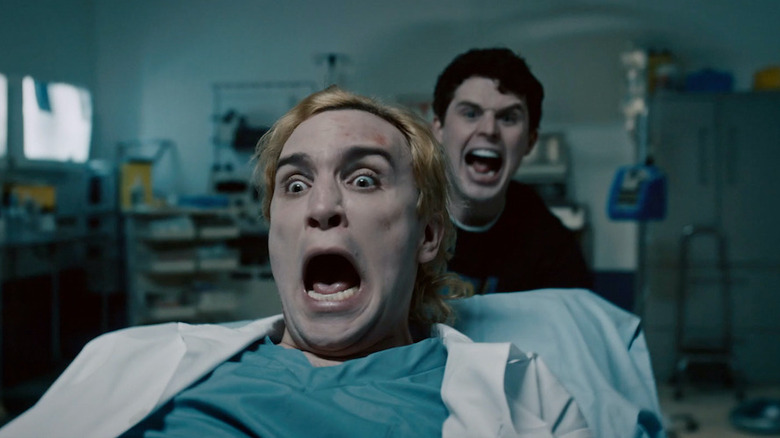 Shudder
Shudder's "Vicious Fun" is a kooky take on serial killers. Cody Calahan's horror-comedy cleverly plays with stereotypes and employs an original approach to turn every expectation on its head. Nobody is safe in this Canadian feature, which takes place in a Chinese restaurant in the '80s. There, we witness a secret group session for serial killers — with the addition of a horror magazine critic, Joel (Evan Marsh), who ends up in this meeting by coincidence. The members mistake him for a different killer, who was supposed to be attending for the first time. As Joel realizes that he's in a bad place at an even worse time, he attempts to blend in by impersonating a murderous taxi driver character he created for a screenplay. It doesn't take long until the lunatics find out that he's not who he says he is — and that's when the gorefest kicks in.
A self-help meeting for evil murderers is quite the unconventional idea. Calahan leans into it hard and lets his imagination blossom in ways we would never expect. From meta jokes to creative killings, nothing is off the table here — and the unusual approach totally pays off. "Vicious Fun" is a treat with excellent comedic deliveries and a twisted sense of humor that's in full crazy mode from beginning to end.
The Djinn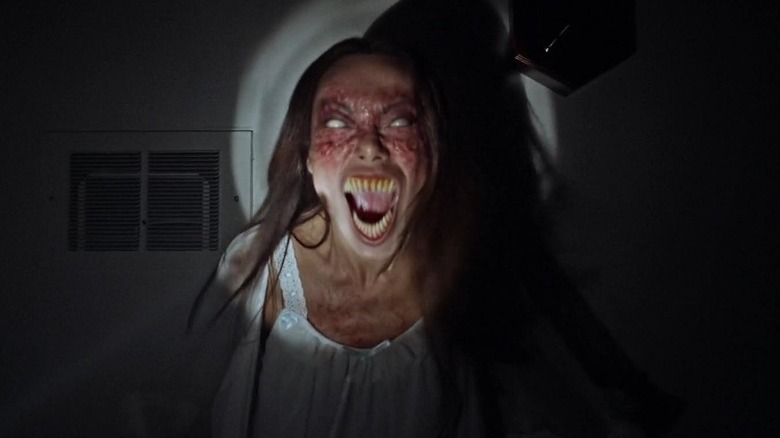 IFC Midnight
IFC Midnight's supernatural horror comes from the same writer-director duo that brought us "The Boy Behind The Door." Yet this time, their low-budget film is even more minimalistic in its execution than their previous one.
"The Djinn" takes place in 1989, inside a small apartment. A mute boy, Dylan (Ezra Dewey), and his father just moved in after the death of his mother. In one of the rooms, Dylan finds an old mirror and a book that describes how to summon a paranormal entity from Arabian mythology called the Djinn. When his dad leaves for work, Dylan sets up everything for the ritual of summoning, using sign language to communicate his wish. Later, when the creature appears in the form of a humanoid, Dylan learns that it came for his soul — and it will take blood and sweat to stop it.
Single-location movies are always tricky and require vast creativity to make them gripping for the audience. Although "The Djinn" couldn't deny its modest production values, the creators were able to stuff it with thrilling scares, an engaging story, and a solid lead performance from Ezra Dewey. It's far from perfect, but considering how little it was made from, genre enthusiasts will surely appreciate all of its efforts.
The Night House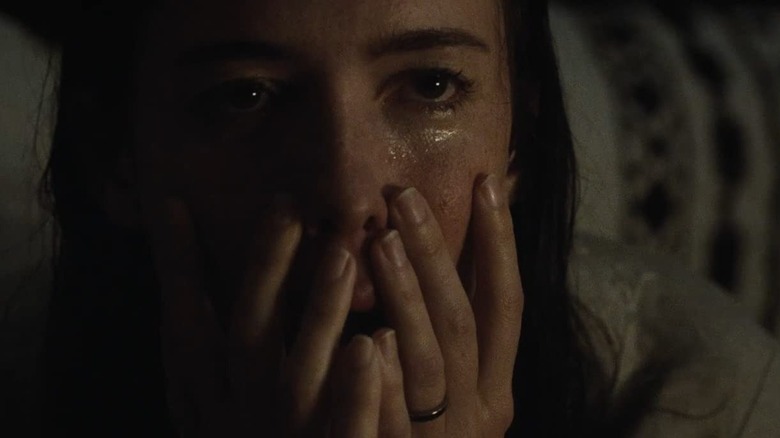 Searchlight Pictures
Searchlight Pictures' haunted house flick is David Bruckner's most ambitious finished project yet. It's a culmination of his previous works. It stars Rebecca Hall as Beth, a young widow who just lost her husband, Owen (Evan Jonigkeit), to suicide. While trying to understand why he killed himself, she discovers odd secrets from his past and suspects that he had an affair. These revelations lead to an investigation, and Beth begins to experience inexplicable occult occurrences, and a recurring invisible presence that frightens her. Something is lurking in Owen's past, but finding it out will undoubtedly put her in great danger.
Bruckner's film is a daunting psychological study that attempts to convey grief and depression from an angle that brings these themes uncomfortably close. Elevated horrors tend to tackle these kinds of subjects and portray them in a distinctive and thought-provoking way. "The Night House" perfectly fits into that category as a supernatural horror, which digs deep into our brain as it slowly moves forward and reveals its unexpected twists. It's heavy on the mind and requires a thorough watch to fully grasp every aspect of it, but its conclusion won't leave you hanging.
Willy's Wonderland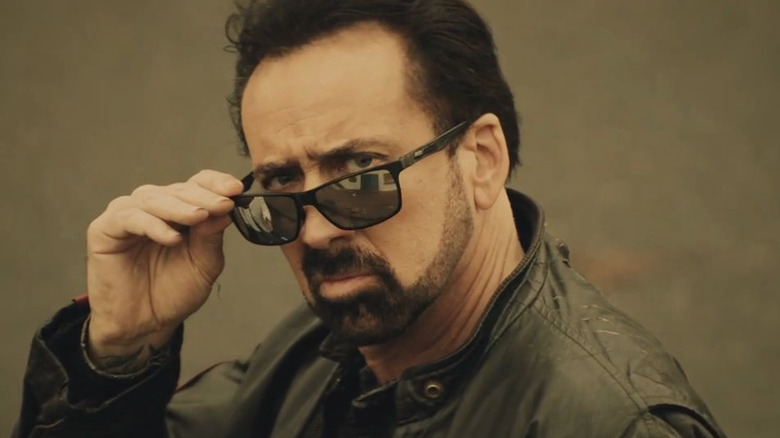 Screen Media
Nicolas Cage usually delivers at least one movie that flies under the radar every year. He loves original ideas, directors who think outside the box, and isn't afraid to get involved on any level. Besides starring in the lead role in Kevin Lewis's horror-comedy, "Willy's Wonderland," he was also one of the producers. It's not hard to see why: The film is a totally wild ride that knows no limits.
The story is set in Hayesville, Nevada, where a drifter (Nicolas Cage) ends up having to work a night shift in an abandoned family entertainment center as a janitor. He gets quite methodical about the job, even though the place's animatronic mascots attempt to brutally murder him — several times! Cage plays the character without any lines yet has no trouble being a savage badass, as we've come to expect from him.
But it's not just him that makes this independent horror one of the best guilty pleasures of the year. The script has just enough amusing turns and jokes that Lewis tells beautifully — creating a chilling, retro atmosphere that defines the vibe throughout. Despite its moderate production values, "Willy's Wonderland" manages to look cool and vibrating without giving a sense of how cheap it actually was to make. Although the action sequences could've used a more elaborate and creative choreography, it is still a pleasant surprise that deserves a place in the best low-budget gems of the year.