It's Time To Talk About That Nivellen Scene In The Witcher Season 2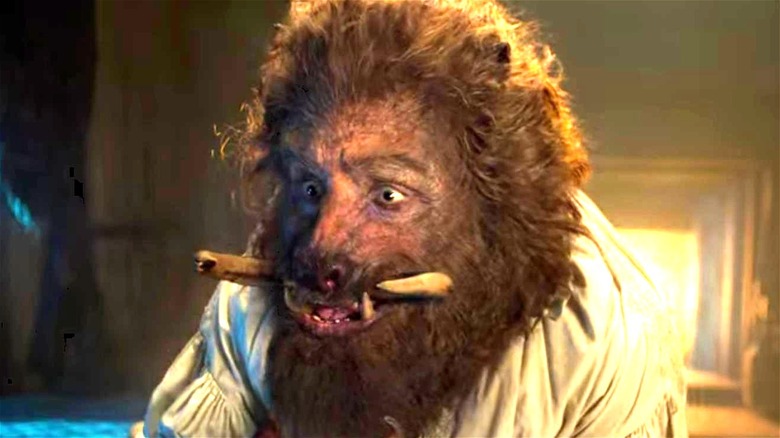 Netflix
The following article discusses matters of sexual assault that can be sensitive to some readers, as well as spoilers for "The Witcher" Season 2. 
It wasn't long before Kristofer Hivju found his way to another fantasy series. After Hivju portrayed the incomparable Tormund Giantsbane on "Game of Thrones," he was then cast in "The Witcher" as Nivellen. Nivellen is a character from Andrzej Spakowski's books about Geralt of Rivia (played by Henry Cavill). Taken from the short story "A Grain of Truth," Nivellen appears as a former friend of Geralt's who has been cursed to appear as a beast.
The story is remarkably similar to that of "Beauty and the Beast." Nivellen is a highborn who was cursed by a priestess to live out his life in that form unless the curse could be broken. But of course when it comes to the mythology of "The Witcher," there is always a twist on a well-known tale. Nivellen appears as a friend to Geralt, but very quickly Geralt becomes suspicious of what is going on in Nivellen's abandoned manor. In the final scene of the episode, Geralt and Ciri (Freya Allan) come to understand a critical point in Nivellen's past.
Nivellen faces consequences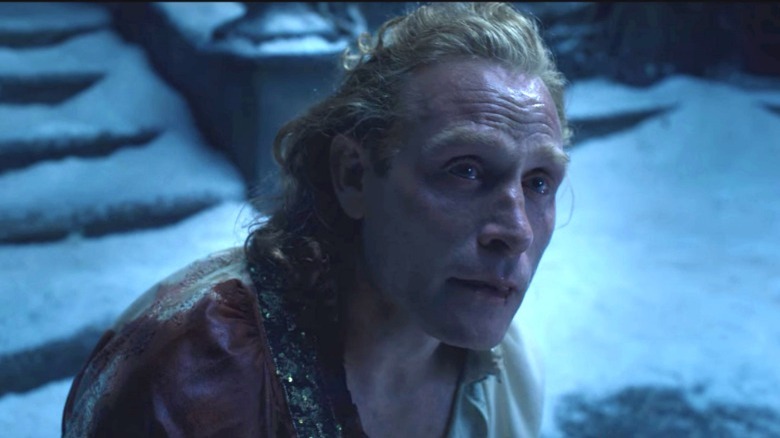 Netflix
When Geralt first encounters Nivellen, the specifics of his transformation are heavily glossed over. Nivellen implies that he was cursed because he destroyed a priestess's temple but says nothing more on the matter. The last scene reveals the truth. The real reason that the priestess curses Nivellen is because he raped her. Geralt and Ciri are visibly disturbed by this information. That is the intent of the story, as some fans on Reddit have pointed out. "The number of people who would forgive a rapist because he seems nice, or because 'he didn't mean it' really makes me feel safe being a woman," posted u/moumerino in a sarcastic comment.
The original content of the story involved Geralt essentially ignoring Nivellen's crimes. "Geralt simply handwaves his friend raping a priestess and [the] story gets on without addressing the issue. Which just doesn't work (especially in current era) and if anything the show improved on this issue," commented u/lich_king_97. Instead of a straight adaptation of the story, "The Witcher" updates this for modern audiences. Nivellen reaps consequences for his actions. Geralt does not give him the swift death he asks for — instead, Nivellen has to pay for what he has done. If he wants release, Geralt advises that he has to do it himself.
If you or anyone you know has been a victim of sexual assault, help is available. Visit the Rape, Abuse & Incest National Network website or contact RAINN's National Helpline at 1-800-656-HOPE (4673).
Ciri feels responsible for killing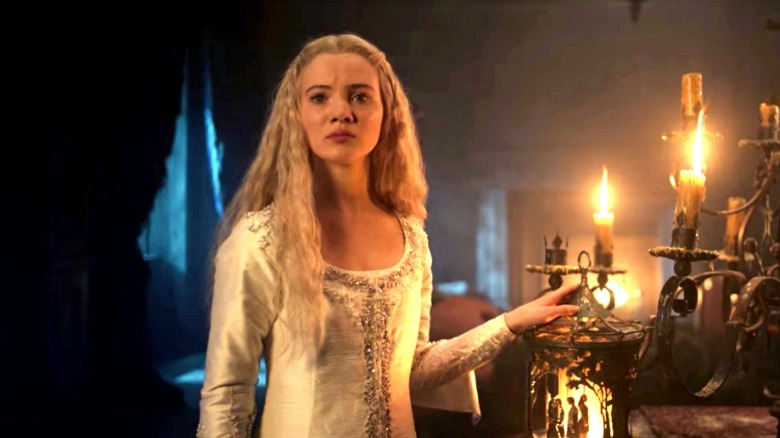 Netflix
Nivellen's crimes are past forgiveness, but Ciri's feelings are complex in this matter. She attempts to see the good in Nivellen because of her own battles with darkness. "Ciri was trying to be understanding because she herself killed people. You can make an argument that killing is sometimes justifiable, such as self-defence or when it is a mistake (like what happens with Ciri when she blacks out and wakes up to find out she killed someone). There is no sane argument where rape can be justified," argued u/No_Lawfulness5422.
Ciri's Elder blood gives her a power that she cannot control, but this is a different situation than what Nivellen has done. While Ciri has killed, it has only been in self-defense. In Season 1, Ciri is forced to use her powers as a last resort when attacked. This did ultimately kill her assailants, but it was justifiable. In the world of "The Witcher," characters live hard lives and have to make difficult decisions. Geralt often grapples with right and wrong when his sword is involved.
Nivellen gets no such excuses. Sexual assault is a choice and not acceptable in any situation.  While Ciri may feel guilt over what she was forced to do in a harsh environment, this is by no means comparable to Nivellen, who demonstrated weakness and violence for violence's sake. This is a moral that is easily translated into the modern world when more and more survivors of abuse are revealing themselves.