The Simpsons Crossover Episode That Sparked Behind-The-Scenes Controversy
With a few notable exceptions, "The Simpsons" isn't a series that is particularly known for its crossovers, especially in its earlier seasons. More recent episodes have featured the titular family having brief flings with characters from "Family Guy" and "Futurama," but before that, the series seldom let its characters mix with other franchises in any major way. There might be good reasons for this, as one instance of an early crossover episode sparked some behind-the-scenes controversy amongst the creative team behind "The Simpsons."
The episode in question was Season 6 Episode 18, "A Star Is Burns," which featured a prominent crossover appearance by the character Jay Sherman. Sherman, played by Jon Lovitz, is the protagonist of the ABC (and later Fox) cartoon series "The Critic," which was created by ex-"Simpsons" writers Al Jean and Mike Reiss, as well as executive produced by "The Simpsons" producer James L. Brooks. On the surface, it seems like this was a win-win situation for both "The Critic" and "The Simpsons," as the former received some much-needed exposure from the episode. However, "The Simpsons" creator Matt Groening felt differently.
Why Matt Groening hated "The Critic" crossover episode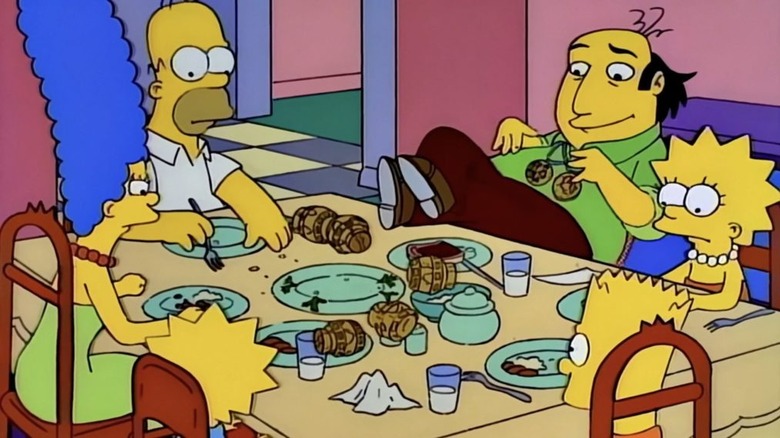 Fox
Though Matt Groening's beef with "A Star Is Burns" became a well-documented event shortly after the episode aired in 1995, much of the dispute still remained behind the scenes. According to the L.A. Times, during the episode's production, Groening had secretly hoped that James L. Brooks would change his mind and nix the episode before it was released. When this didn't happen, Groening had his name taken from the credits and made his opinion public.
"I don't want any credit or blame for 'The Critic' and I feel this [encroachment of another cartoon character] violates the Simpsons' universe," Matt Groening said to the Times. " 'The Critic' has nothing to do with 'the Simpsons' world."
Obviously, Brooks took Groening's words negatively. He said he was "furious" with Groening for taking the issue up with executives at Fox and making the matter public even after they changed the episode to better suit his wishes. However, those weren't the last of his harsh words. "He is a gifted, adorable, cuddly ingrate," Brooks said. "But his behavior right now is rotten. And it's not pretty when a rich man acts like this."
Al Jean and Mike Reiss were likewise disappointed by Groening's actions. Regardless, the episode itself performed well (scoring an 8.6/10 on IMDb), and "The Critic" is seldom (if ever) thought of as a Matt Groening series, making Groening's concerns somewhat moot in retrospect.