What Star Wars Fans Might Not Know About Skywalker Ranch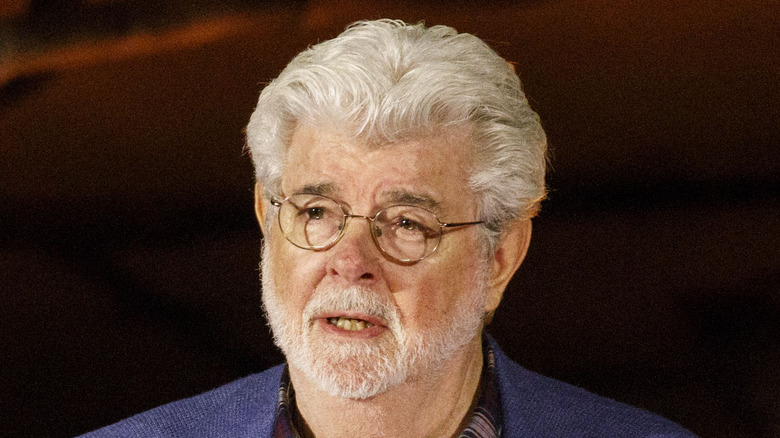 Bloomberg/Getty Images
We may receive a commission on purchases made from links.
The Star Wars franchise began with an idea George Lucas had in 1971 for a space fantasy. It is well known that Lucas initially wanted to remake "Flash Gordon." However, when he couldn't get the rights, he started work on what would become 1977's "Star Wars," the film that would be later renamed "Star Wars: Episode IV – A New Hope."
The success of "Episode IV" not only gave Lucas the industry credit needed to create 1980's "The Empire Strikes Back" and 1983's "Return of the Jedi," it also started a franchise that made Lucas a lot of money. Though there is no document presenting Lucas's net worth over time, as of 2021, he is estimated to be worth $6.4 billion.
While we fantasize about what we would do if we suddenly became rich overnight, Lucas decided to create a one-of-a-kind movie ranch that would eventually be named Skywalker Ranch. As we'll soon see, not only is Skywalker Ranch more than just a generic studio, it embodies much of what makes Lucas and Star Wars unique — and has also been a frequent site of moments important to the business side of Star Wars.
Creating Skywalker Ranch - Why?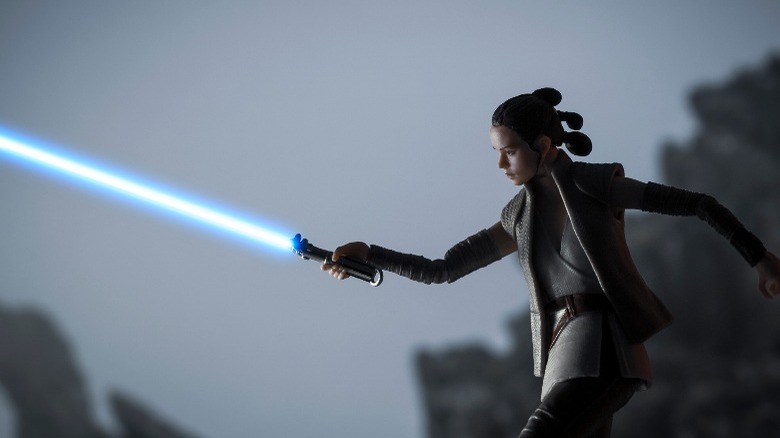 Willrow Hood/Shutterstock
In a 1992 Entertainment Tonight segment, George Lucas gave Leonard Maltin a tour of Skywalker Ranch. Early on, Lucas explains that his career had been spent working out of garages and rented houses so often that he was normalized to working in spaces that felt more like a home than an office. As Lucas said, "I've always worked either out of my house or out of a big old rented house that we used to do our films in and it just seemed appropriate to continue that tradition."
Wanting this space to function as a creative retreat as well as an ongoing site for film production, Lucas created what Maltin deemed "the ideal work environment." As he put it, "It's homey. It's beautiful. It's aesthetically pleasing. It has everything you could want in high-tech" — and everyone is "just a few feet from some of the most advanced technical equipment in the world."
Maltin built on this point by communicating that Skywalker Ranch is about 20 miles from the Golden Gate Bridge, which makes a statement. "But it's not a statement for show, it's a statement for a purpose," he argued. "The purpose being the stimulus and the comfort for people who want to do their job well."
So, while Lucas doesn't actually live at Skywalker Ranch, it was always designed to feel like a home away from home for all who work there and visit. Moreover, the fusion of bleeding edge entertainment technology nestled in a pastoral landscape, in many ways, embodies George Lucas's love of deploying new technologies to craft classically structured narratives.
Skywalker Ranch is MASSIVE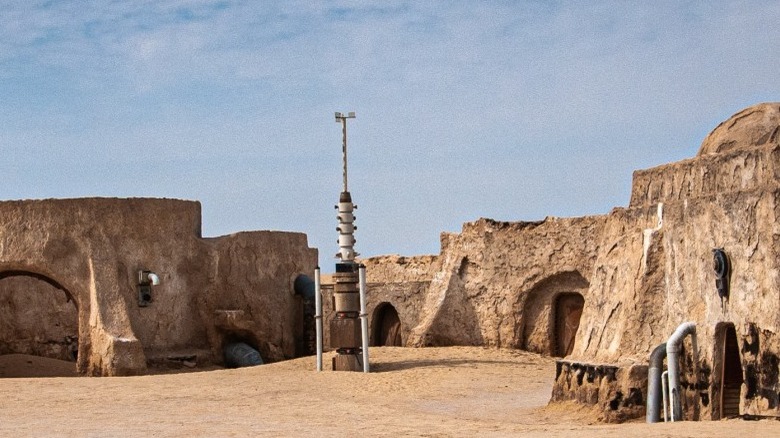 Luca DAddezio/Shutterstock
It's difficult to understand just how much land Skywalker Ranch covers. Lucas initially purchased about 1700 acres in 1978. Following this, he would buy neighboring properties until the Skywalker Ranch reached its current size of 6000 acres.
To understand just how massive that is, the island of Manhattan is about 10,890 acres, which means that Skywalker Ranch is roughly 55% the size of Manhattan. For another comparison, Disneyland Park only occupies about 500 acres, making Skywalker Ranch over 12 times bigger — so big that it has its own fire department.
The size of this ranch is only highlighted by how little of it has been developed. According to a 2007 article from the Marin Independent Journal, only about 15 acres have buildings on them. "The Skywalker Ranch complex, including administrative offices, film storage and guest accommodations, sits on about 15 acres of the property," it notes. "Most of the remainder is under an agricultural conservation easement."
The Summit at Skywalker Ranch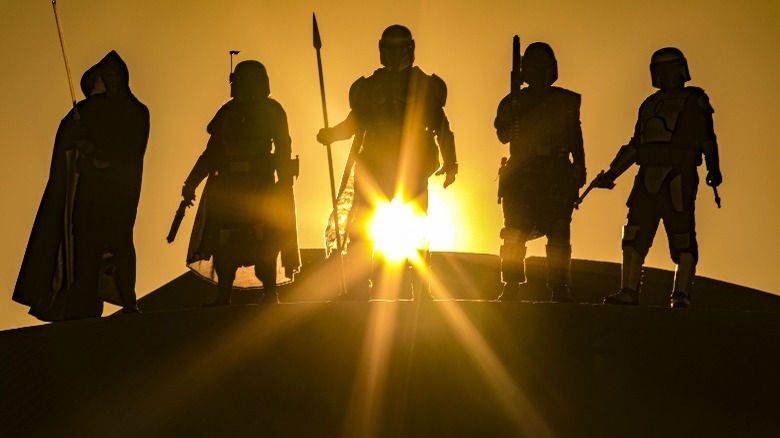 Daniel Knighton/Getty
As Lucasfilms evolved, the emphasis of Skywalker Ranch shifted from post-production to a retreat for creative workshopping. As the homepage for Skywalker Retreats explains, "The facilities were originally custom-designed to accommodate the creative, technical and administrative needs of Lucas's production company. In 2018, Summit Skywalker Ranch was reimagined as a creative retreat for likeminded businesses to stay and experience the Skywalker vision."
So this space could be described as a hotel. However, that does little to fully describe the facilities of the Summit, which was inspired by Frank Lloyd Wright. It has 56 guest suites, with two being signature suites, and all of them customizable to the liking of individual guests. Guests at the Summit also have access to three main common spaces, the David Lean Theater, a gallery, and a spa.
It's all very fancy, but the depth of and variety of options at the Summit specifically and Skywalker Ranch in general are so much more.
The Force is strong with these wines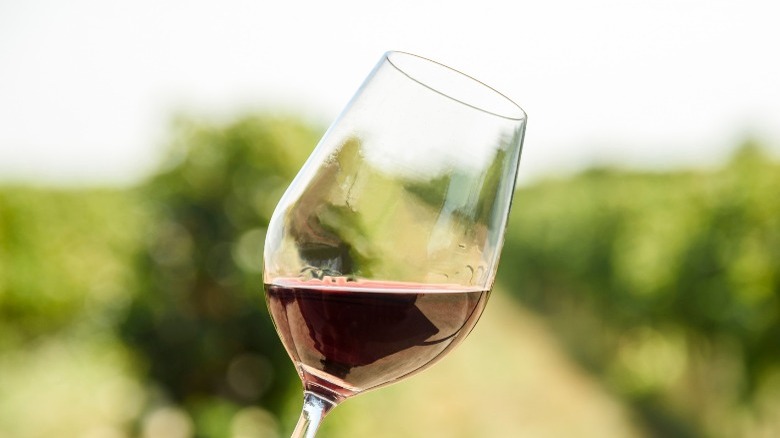 Hitdelight/Shutterstock
Skywalker Ranch not only offers its own wines, it has its own vineyard. Simply named Skywalker Vineyards, this 26-acre section of the ranch was established in 1991, although Lucas' interest in wineries goes back much further. As the winery's website states, his "vintner dreams can be traced back to his childhood in Modesto, California. Surrounded by vineyards — the fragrance of fermenting grapes permeating the air — the small Central Valley community was imbued with the culture of grape growing and wine making."
These wines may not come from a galaxy far away, but they are Star Wars-themed. For example, there's Skywalker Pinot Noir, Skywalker Chardonnay, and Skywalker Rosé. And inspired by the Summit venue, the winery now sells Sommità-Italian based wines.
Continuing Lucas' love of bridging the old with brand-new tech, the winery is described as "a place where majestic architecture meets cutting edge technology."
And of course, Skywalker Vineyards sells gift sets. They include far more than wine, however, because Skywalker Ranch does more than just produce alcohol.
It's a functioning ranch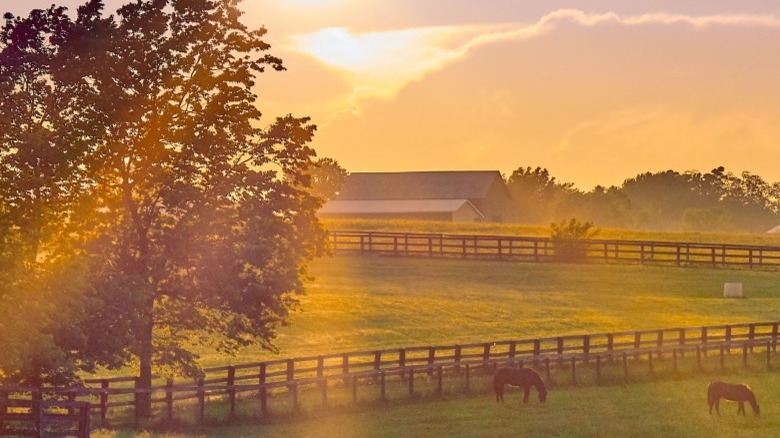 Patrick Jennings/Shutterstock
George Lucas didn't just want Skywalker Ranch to look like a ranch, he wanted it to be fully functional. So not only does it produce its own wine, it makes its own olive oil and honey, it has an organic garden for seasonal produce, and even raises Wagyu cattle.
The ranch produces two types of standard olive oil: Skywalker Marin and Skywalker Italian Olive Oils. It also presses an extra virgin olive oil called Il Convento Sul Trasimeno. This type of olive oil has a history going back to 1566, when Capuchin monks began to cultivate the plant variety.
It's difficult to know which food is specifically served at Skywalker Ranch's restaurants, but we can get an idea from the restaurants outside the ranch that source food from it. For instance, the Sessions at the Presidio is a San Francisco restaurant that's operated by Skywalker Ranch and located in the Letterman Digital Arts Center, a relationship that has enabled Sessions to build a menu with produce from the ranch.
As Tessa McLean wrote for SFGate in May 2021, "Since its opening in 2015, the farm-to-table gastropub has always had a unique relationship with Skywalker Ranch, another Lucasfilm workplace in Marin County. Through the working ranch, the restaurant sources many fruits, vegetables, herbs and even olive oil directly from its organic garden to be featured in dishes. Even the burger on the menu uses Wagyu beef from the ranch."
Unique library, gallery, and collections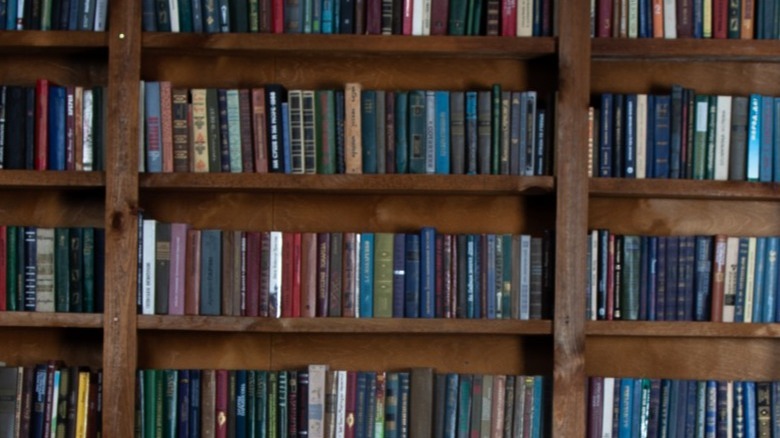 Mimma Key & Real_life_Studio/Shutterstock
The Skywalker Ranch is also home to one-of-a-kind resources, the most well-known of which is the Lucasfilm Research Library. Initially established in 1978 at Lucasfilm's Los Angeles offices, the library moved to Northern California in 1981, and then to its present location in the Main House of Skywalker Ranch in 1985. The library's materials come from various places, including the Paramount Studios research collection and the Universal Studios collection.
In a 2012 interview, Jo Donaldson, who was then the manager of the Lucasfilm Research Library, provided some crucial insights into its policies as well as its collection. For instance, it has over 27,000 books from the 1880s to present; more than 17,000 audio and video assets; more than 600 files of pictures from the 1800s to present; and thousands more pieces of archival materials. Sadly, Donaldson explained that "library materials can be checked out by Lucasfilm employees, but are not available to the general public."
However, other entertainment industry professionals can gain access to these archives. As Donaldson said, "We also contract out our research services to non-Lucasfilm productions. Our collection is used by production and fashion designers, hair stylists and makeup artists working in film, theater and television. Some noteworthy productions we have worked on include: 'J. Edgar,' 'Lincoln,' 'The Great Gatsby,' 'Dark Shadows,' 'Iron Man,' 'Good Night and Good Luck,' 'Memoirs of a Geisha,' 'Charlie and the Chocolate Factory,' 'Moulin Rouge,' 'Chicago' and the television series 'Big Love.'"
Bringing Indiana Jones to television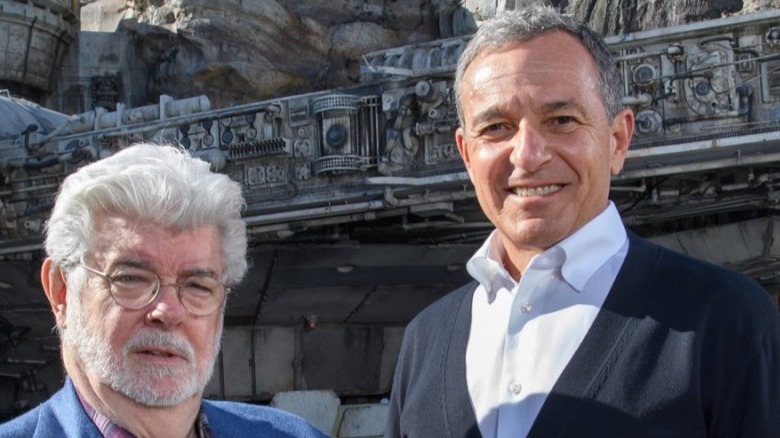 Handout/Getty & Handout/Getty Images
Given that Skywalker Ranch was built to conduct business, it makes sense that it's also been the site of some big business deals, two of which involve former ABC and Disney chief Bob Iger talking to George Lucas. The first of them took place in 1989.
"Twin Peaks" is now known as a critically acclaimed show with a cult following. And if you think the show is weird now, you have no idea how unusual it is that it aired on ABC. The fact that David Lynch — who was known as a film director at the time — was producing a show for a mainstream network sent shockwaves through the industry. Soon, every TV executive wanted to get a blockbuster movie director to helm a show. Bob Iger was no different, and reached out to many filmmakers, including George Lucas.
As Iger writes in his memoir, "The Ride of a Lifetime," he met with Lucas at Skywalker Ranch. This meeting would lead to Lucas delivering "The Young Indiana Jones Chronicles" to the network. "I met with George and he pitched an idea for a show that would follow a young Indian Jones as he traveled around the world," recalled Iger. "'Each episode will be a history lesson,' George said. Indy would interact with historical figures like Churchill and Freud and Degas and Mata Hari." Though the show only lasted two seasons, Iger added that "George had been grateful at the time that I'd given the show that chance."
The meeting at Skywalker Ranch that led to "The Young Indiana Jones Chronicles" helped form the relationship that would lead to the biggest deal of Lucas' career — and one of the biggest in Hollywood history.
Bringing Star Wars back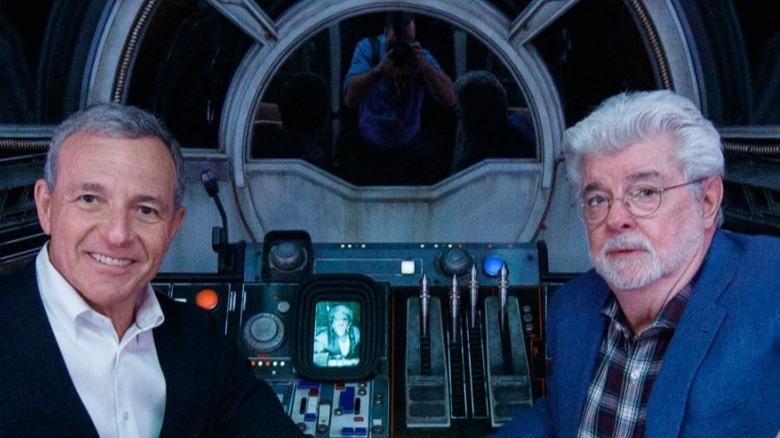 Handout/Getty
In the fall of 2012, George Lucas tilted the axis of the entertainment industry by selling Lucasfilm to Disney for an eye-popping $4 billion. It's a relationship that's had its ups and downs, with Lucas publicly acknowledging his disappointment over Disney neglecting to use his story outline for what became a sequel trilogy; given that Iger was crafting his memoir following the release of the second installment in that trilogy, "The Last Jedi," the book serves as an interesting documentation of the fallout. It's fascinating in retrospect to note that Iger's second meeting with Lucas at Skywalker Ranch was filled with tension.
As the first chapter of the sequel trilogy, "Episode VII – The Force Awakens," took shape and it was clear that it would completely ignore Lucas' suggestions for future movies, Lucasfilm chief Kathleen Kennedy and director J.J. Abrams visited Lucas at the ranch and told them about the next movie. As Iger writes, "George immediately got upset as they began to describe the plot and it dawned on him that we weren't using any of the stories he submitted during the negotiations." It was a sour turn that Iger admits could have turned out differently.
"I could have talked through this with him and possibly avoided angering him by not surprising him," Iger continued. "Now, in the first meeting with him about the future of Star Wars, George felt betrayed."
Still used for creative endeavors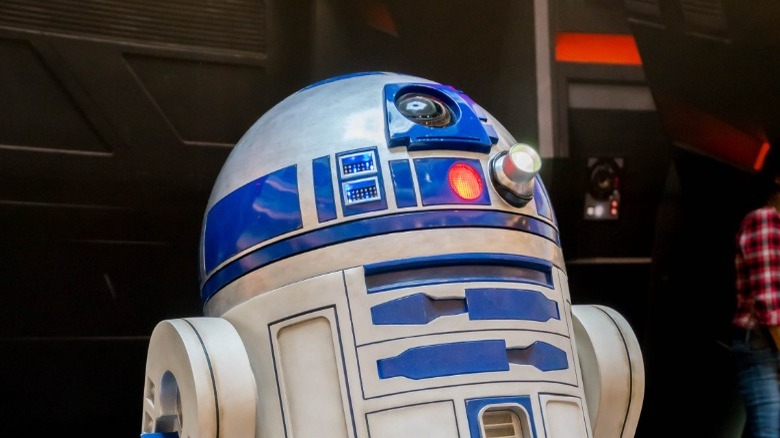 Faiz Zaki/Shutterstock
Despite all the changes that have taken place at Lucasfilms, Skywalker Ranch is still a home for creative projects. For instance, the 2015 computer-animated jukebox musical fantasy "Strange Magic" was produced at the ranch. And while Lucas may not own Star Wars himself, it's nice knowing that many future Star Wars projects are still being developed at Skywalker Ranch.
In a video designed to introduce fans to the next era of the franchise, the announcement trailer for "Star Wars: The High Republic" followed a team of writers on a retreat at Skywalker Ranch that included creatives such as Justina Ireland, Claudia Gray, Daniel José Older, Cavan Scott, Charles Soule, and more, all of whom pitched and developed ideas that would become "The High Republic."
Additionally, Skywalker Sound, which is located at the ranch, still works on movies, with some of its recent projects including "The Suicide Squad," "Vivo," "Black Widow," and "Eternals."
Lucas fights back with charity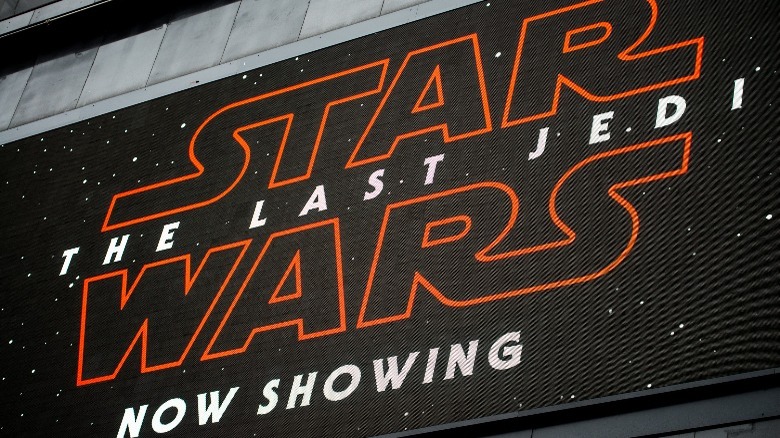 John Gomez/Shutterstock
For years George Lucas has wanted to expand the production capabilities of Skywalker Ranch by building a full film studio. This studio was to be built in a property called Grady Ranch, which historically neighbored Skywalker Ranch and Lucas purchased in 1988. With much of Skywalker Ranch dedicated to pre-production and post-production, a studio would enable live-action films to be created entirely at the ranch. According to a 2012 New York Times piece, the facility would have been "a 269,701-square-foot digital studio." For context, 269,701 square feet is equal to 6.19 acres.
Lucas' neighbors didn't like this, and every time he tried to get permission to build this new studio, they found ways to delay the permits. "With the project seemingly winding its way toward approval, a group of residents in Lucas Valley resurrected a defunct homeowners' association last summer," Norimitsu Onishi wrote for the New York Times. Lucas ultimately canceled plans to build a studio and replaced them with plans to build low-income housing on his property. As SFist reported, he "filed a proposal to build 224 units on land next to his home. With 120 two-and three-bedroom homes for low-income workers and 104 residences for pensioners, it would be one of the largest affordable housing projects in the Bay Area. Also in the plans: a community center and pool, an orchard, and a farm or garden."
One upset neighbor claimed that Lucas pushing to build low-income housing was "inciting class warfare." Sadly, as of 2020, according to Andrew Chamings of SFGate, "eight years later, that housing project is still embattled and unbuilt."
Random facts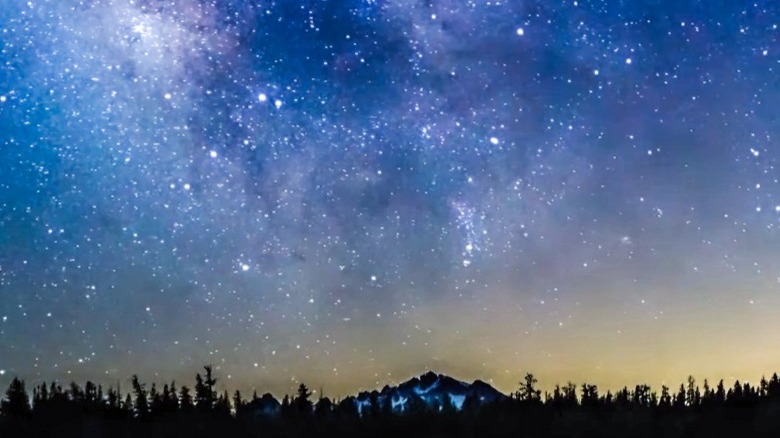 JohaPlay/Shutterstock
There are dozens (if not hundreds) of aspects of Skywalker Ranch that are not fully known by the public due to the area's secrecy. As such, we know tidbits of things, but lack all the information needed to put them in context. For example, Skywalker Ranch is bordered by Lucas Valley Road — named after John Lucas, who was a landowner in the early 20th century and has no familial connection to George Lucas.
It's also rumored that President Ronald Reagan was denied a visit to Skywalker Ranch. When the U.S. government decided to create a defense system nicknamed "Star Wars," Lucasfilm sued over the name but lost in court. While no public statement has been made connecting the two events, it's easy to connect the dots.
Skywalker Ranch also has an observatory located on one of the property's hills. There aren't any images of it publicly available — the closest that could be found is this overhead shot of the observatory from Google Maps.