Anthony LaRusso's Drastic Change In Cobra Kai Season 4 Explained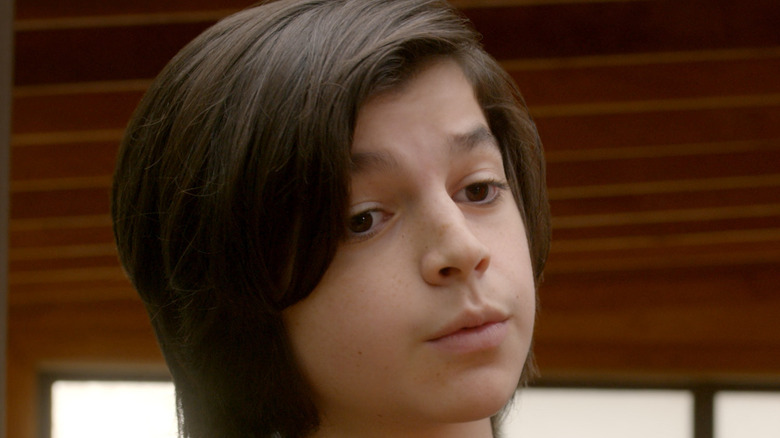 Courtesy of Netflix
Mary Mouser, who plays Samantha LaRusso in Netflix's "Cobra Kai," has appeared in all 40 episodes of the series released so far. While she joins her on-screen parents, Ralph Macchio and Courtney Henggeler, in matching this impressive metric, one central member of the LaRusso family hasn't been nearly as visible as the other members of the series's central family. No, we're not talking about Vanessa LaRusso, the latest LaRusso family cousin to appear in the series, or any of Daniel LaRusso's other long-lost cousins. We're talking about someone inside Daniel's immediate family.
Anthony LaRusso (Griffin Santopietro), who first appeared in Season 1, Episode 2 ("Strike First") was in most episodes of the first season, but his role was later drastically reduced, appearing in three episodes of Season 2 and only a single episode of Season 3. However, in Season 4, the youngest member of the LaRusso clan takes on a more prominent role for the first time since his introduction and also makes a shocking transformation throughout the course of the season. Whereas prior seasons of "Cobra Kai" have depicted Anthony as a bratty-but-friendly youngster, Season 4 sees Anthony adopt a persona unlike anything his parents would ever have suspected.
Anthony is a bit spoiled from the beginning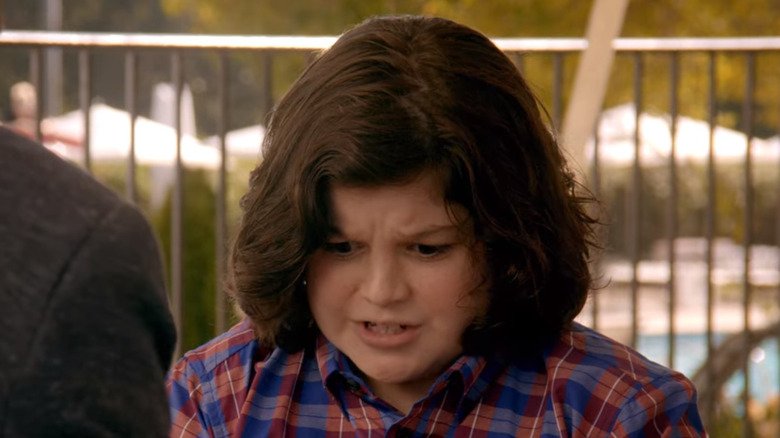 Netflix
Despite his high episode count in Season 1, Anthony doesn't take much of an active role in the first set of episodes. In Anthony's first appearance at the Encino Oaks Country Club, his father recommends that he enjoy the tricks of a performing magician, but Anthony insists that he remain focused on a video game. When Daniel instead suggests that Anthony join him in an opportunity to win a prize, Anthony remains unenthused, only replying, "I'm thirsty." In response, Daniel invites Anthony to the bar for a soda, but, again, Anthony refuses to avert his eyes from the screen in front of him.
Such behavior is fairly typical of Anthony throughout the first season. Later, when Daniel tries to persuade Anthony to join him in a karate lesson, Anthony responds, "Karate is boring," despite the fact that he is quite literally playing a karate game on his Playstation Vita. Desperate to bond with his son, Daniel pries the handheld console from Anthony's hands. However, Anthony's spoiled behavior knows no bounds. Instead of earning his Playstation Vita back with a simple karate lesson, Anthony simply asks Alexa to order him a new one. One would hope that Anthony has matured in the seasons since...
Anthony is (almost) all grown up now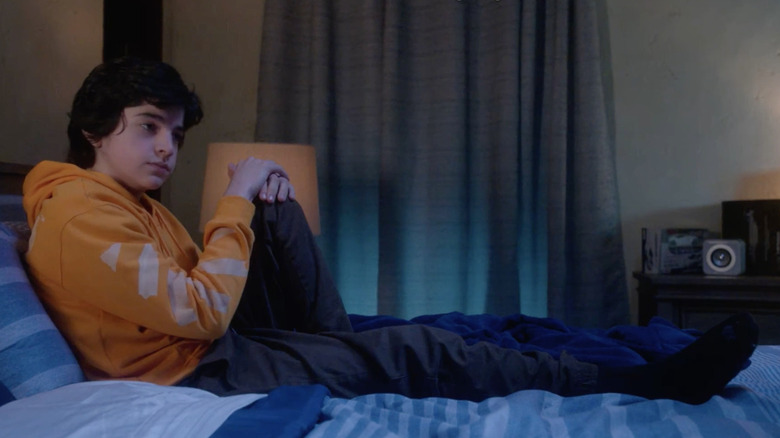 Curtis Bond Baker/Netflix
As is usual for any actor of his age, Griffin Santopietro looks quite a bit different in Season 4 compared to how he looked in Season 1. When he first appeared in "Cobra Kai" Season 1, Episode 2, Santopietro was only 13 years old. Now, the actor is already half-way through high school and going through all of the various changes associated with that age (via Famous Birthdays). In addition to a generous new haircut, the young actor has clearly grown a few inches since we first met him. 
Though those few inches in height don't stop Kenny (Dallas Dupree Young) from smacking him in the face with a basketball in Season 4, Episode 2 ("First Learn Stand"), they will certainly come in handy should Anthony ever follow in his father's footsteps in the legendary All Valley Karate Tournament (as Mr. Miyagi apparently predicted). Let's just hope if Anthony does so, he's not motivated by the same petty feud that caused his father and Johnny Lawrence (William Zabka) to argue for decades. If Season 4 is any indication, it's going to take some time to mend this broken fence.
Anthony bullies Kenny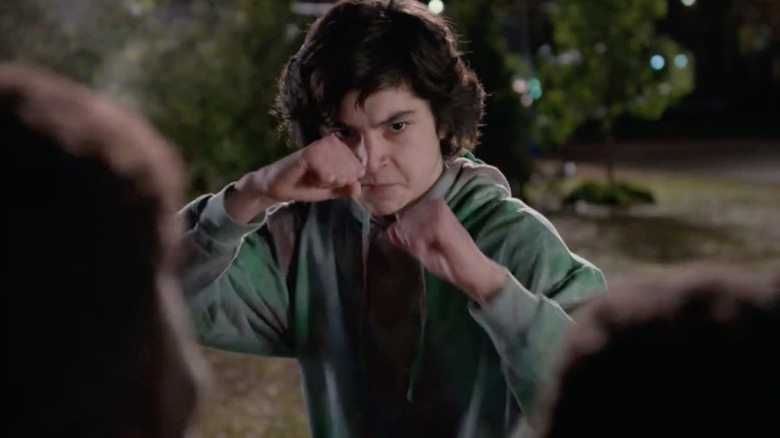 Netflix
It's certainly fortunate that Anthony doesn't seem to experience the same level of bullying that his dad was forced to deal with back in the 1980s. Unfortunately, this is because Anthony has instead taken on the role of the bully and is terrorizing a new character named Kenny. In a scene eerily similar to when Johnny and his friends attacked Daniel after a Halloween party in "The Karate Kid," Anthony and his friends catfish Kenny into wandering around outside at night in an adorably nerdy costume. Just as Daniel once did while dressed as a shower, Kenny runs from the group while dressed as a wizard and finds a fence to jump over. Even though Kenny makes it over the fence (unlike Daniel, who is briefly pummeled by the group before Mr. Miyagi saves him in "The Karate Kid"), he is forced to take refuge in a dumpster. This is just one of a handful of encounters that promises bad blood between the two for sometime and quickly drives Kenny into the Cobra Kai dojo.
In Season 4, Episode 7 ("Minefields"), Anthony attempts his first apology to Kenny, suggesting that they "start over." However, Kenny quickly replies, "I've got nothing to say to you, LaPusso," using a derogatory nickname that one of Anthony's friends first bestowed upon him. Though Anthony is initially genuine in his apology, his kindness quickly turns to outrage when Kenny uses the disrespectful name a second time. Anthony's friends chase Kenny into the library where the young Cobra Kai student proceeds to take one student out at a time, with almost John Wick-style tact. Despite Kenny's attack on his classmates, it's immediately clear to the principal that Anthony was the initial aggressor.
Anthony apologizes, but it's too late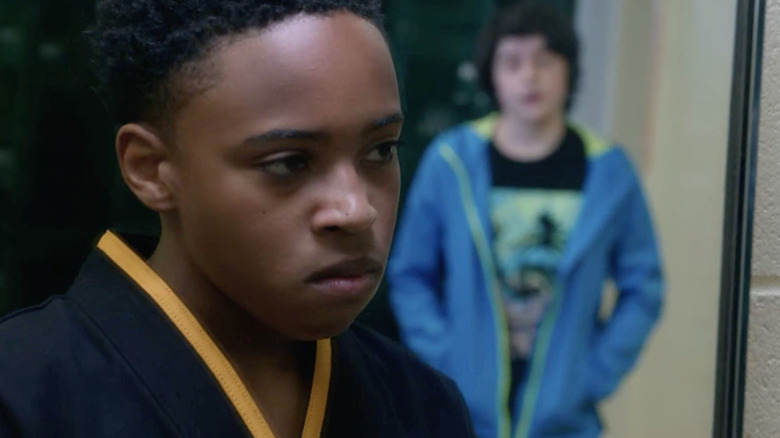 Netflix
When Daniel and Amanda find out about Anthony's behavioral issues, they are stunned. Daniel shoots Anthony a look of absolute betrayal from the principal's office and later destroys his son's tablet in a very Johnny Lawrence-esque manner. While it's unclear if Daniel and Amanda will be successful in turning Anthony's behavior around completely, he is clearly remorseful and attempting to act better by the end of the season. Sadly, it would appear that much of the damage to Kenny has already been done and he is not interested in any reconciliation between the two.
In the last episode of Season 4, Anthony apologizes to Kenny, shortly after the latter's unsuccessful match against Robby Keene (Tanner Buchanan). Feeling betrayed by his mentor and remembering all the times that Anthony made his life a living hell, the young Cobra Kai student feels the need to make sure that Anthony knows his pain. Kenny attacks Anthony and continues to punch him until Robby breaks them up. As he lies on the ground weeping, Kenny tells him, "Get ready for high school next year because you're gonna be in a world of pain."
We'd certainly hate to be on the receiving end of whatever world of torture Kenny and the rest of his Cobra Kai classmates dream up for Anthony next year. We think it's a safe bet that Terry Silver (Thomas Ian Griffith) will be the first to introduce bad ideas into young Kenny's head.