Freya Allan Dishes On Her Biggest Disappointment In The Witcher Season 2
Andreas Rentz/Getty
Contains spoilers for "The Witcher" Season 2
Season 2 of "The Witcher" sees Princess Cirilla (Freya Allan) come much more into her own in terms of personality and skills. The first season had the character running in fear from place to place, and from temporary ally to the next. Her journey is brutal and varied, and she comes across refugees, elves, and relentless enemy soldiers before crossing paths with her destiny by Law of Surprise, Geralt of Rivia (Henry Cavill). Within Ciri is a power that is sought by many different factions and entities in the world of "The Witcher," and some are even willing to commit unspeakable acts to get their hands on the wayward princess.
Traveling to the Witcher home of Kaer Morhen, Ciri and Geralt reconvene with his brother-in-arms and mentor, Vesemir (Kim Bodnia). In this ruined and now mostly-empty keep, Ciri attempts to find something new to believe in, and in the process, begins to undertake several aspects of the training afforded to would-be Witchers. Now far from the defenseless girl from the first season, Ciri has some fighting skills, but the actor who plays her had some words about this new direction.
Freya Allan wishes she got a chance to fight monsters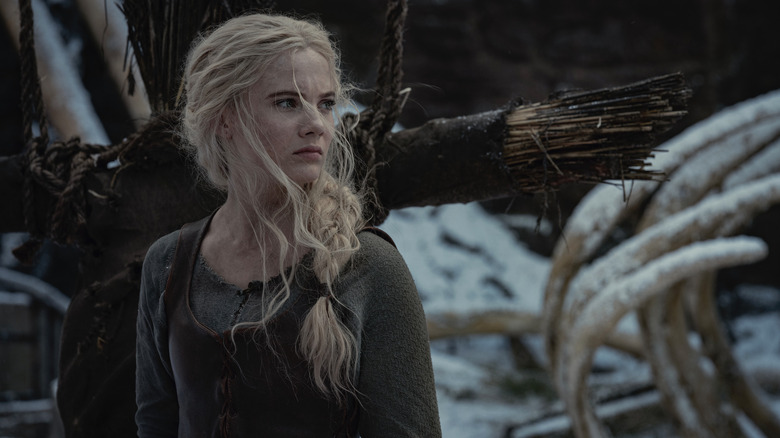 Jay Maidment/Netflix
In a recent interview with TheWrap, Freya Allan said, "It's like every season I'm not satisfied in terms of the fighting. This season I was like, 'Can't I just fight the monster?' and they were like 'No, we have to leave something [for future seasons].'" Fans of "The Witcher" Season 2 know exactly what the actor is talking about, having witnessed her character's obsessive need to get better and train. Her experiences on the bone-breaking training course located outside of Kaer Morhen quickly taught Ciri the power of belief and preservation.
Allan added, "I'm just like Ciri. I always wanna be perfect at it, I always wanna be better, and I always wanna do more than I'm given." The final episodes of Season 2 let Ciri become much more of her own character as she learns to use both blades and sorcery. The magic that Ciri has access to is ancient and immensely powerful, and her natural affinity shocks even the ambitious Yennefer (Anya Chalotra). Besides this arcane acumen, Ciri is able to use her martial skills to defend herself against Nifgaardian soldiers, though as the actor mentioned, she hasn't been afforded a chance to use them against a fearsome beast — yet. She will more than likely get a chance when Season 3 comes out, barring the actions of any sort of errant father.