Sonequa Martin-Green Gives Details On Her Star Trek: Discovery Character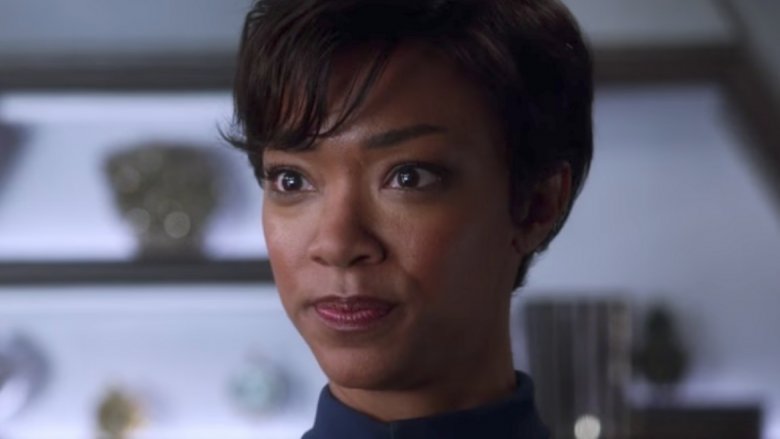 Star Trek: Discovery finally has an official premiere date, which means that more and more details should be coming out about the series soon, with the first bit of scoop already here. Sonequa Martin-Green, who will lead the series, recently offered details on her character to Entertainment Weekly, shooting down a popular fan theory while also revealing a few more tantalizing details about the show's plot.
Martin-Green's character has the mysterious name of First Officer Michael Burnham, and the outlet confirmed that she was given a man's name on purpose. While Martin-Green didn't say why, she did offer this tantalizing detail– her character is fully human, not half-Vulcan as people had previously theorized. She does have a special relationship with the Vulcans, though, as the first human to attend the Vulcan Learning Center and the Vulcan Science Academy. She is also close with Spock's father Sarek (James Frain).
Burnham keeps herself busy working on the U.S.S. Shenzhou, captained by Captain Philippa Georgiou (MIchelle Yeoh). However, she isn't entirely happy with her circumstances. "I have an inner war and it's a journey of self discovery and finding out what it means to be alive, to be human, to be a Starfleet officer, what it means to be a hero," Martin-Green teased, adding that there is "a lot to be discovered" by looking at the inner conflict of "who we are versus who we present ourselves to be." 
Co-showrunner Aaron Harberts, who helms the show alongside Gretchen J. Berg, said that finding an actress who could really sell Burnham's conflicts was extremely difficult, but Martin-Green, fresh off a run on the hit series The Walking Dead, ended up being perfect for the part. "We read a lot of people and they either went way too robotic or and chilly or way too emotional," he said. "What's beautiful about Sonequa's performance is she's capable of playing two, three, four things at once. She's got such a great command of her craft, she's able to be aloof but warm; logical but able to surrender her emotional side to the audience."
Star Trek: Discovery is set to begin its 13-episode run on Sept. 24, streaming on CBS All Access. Martin-Green is backed up by an impressive ensemble cast, including Jason Isaacs, Doug Jones, Anthony Rapp, and Rainn Wilson. While we wait for the show to premiere, see some of the details only true fans noticed in the first trailer.