Is Yellowstone Prequel 1883 Based On A True Story?
Paramount Network's "Yellowstone" — a modern drama about family ties and business battles on a ranch — was given the spinoff treatment with a prequel. Paramount + series "1883" will follow events that occurred over 100 years before the current "Yellowstone" timeline. The new series will follow the ancestors of the Dutton family as they try to scratch out a place for themselves in the American west, bumping up against fellow ranchers and other assorted characters. We know how things will turn out for them thanks to the existence of John Dutton (Kevin Costner) and his clan, but the ride there will likely be anything but predictable. With stars like Tim McGraw and Faith Hill leading the charge, viewers will probably find themselves enamored with a whole new generation of their irascible, always-battling family. 
But is "1883" based on a real story? Were the Duttons a real family, and did they actually settle their ranch near Yellowstone? Did they spawn the mighty cattle ranching barony that wields incredible power over their neighbors? Here's what we know.
No,1883 is not based on a real story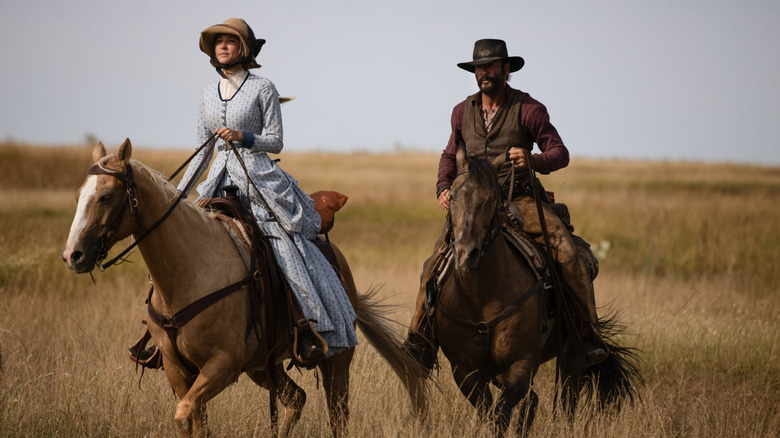 Emerson Miller/Paramount+
Like "Yellowstone," "1883" is not based on a true story. However, according to The Cinemaholic, certain aspects of "1883" are inspired by history. For instance, some of the characters, like Billy Bob Thornton's Jim Courtright and Tom Hanks' General George Meade, were real people but never interacted with a Dutton family. While Courtright and Meade are historical figures, these "1883" characters will be fictitious versions of them.
"1883" is very much inspired by the history of western expansion, and show creator Taylor Sheridan made sure to be as authentic as possible (via Yellowstone's Instagram). While those aspects will be included in the story of the Duttons traveling west, Tim McGraw's James Dutton and Faith Hill's Margaret Dutton are very much fictitious people, as is Sam Elliott's Shea Brennan. 
The first two episodes of "1883" dropped on Paramount+ today. Subsequent episodes will follow every Sunday, with a drop time of 3 a.m. EST.