The Scene In Nocturnal Animals' Script That Brought Ellie Bamber To Tears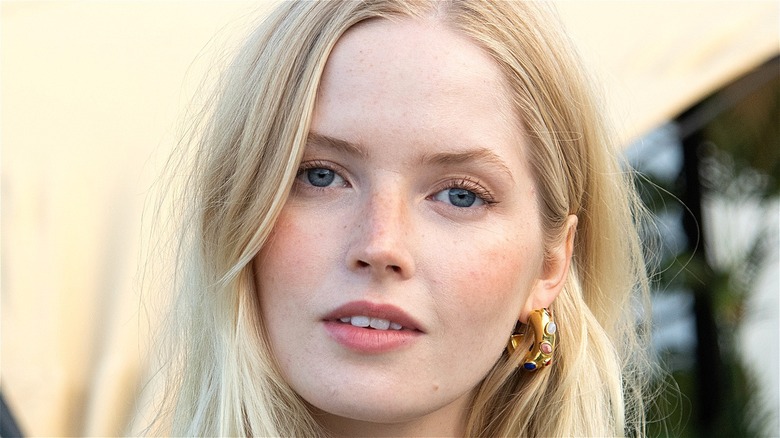 Kirstin Sinclair/Getty
It's safe to say that Ellie Bamber is a major-league player in the crime drama genre. Since her breakout performance in the 2016 psychological thriller "Nocturnal Animals," the British actress has gone on to score a hefty resume of intense roles. These notable parts include playing the German diplomat Angela Kane in the Netflix serial killer story "The Serpent" and model Mandy Rice-Davies in the political drama "The Trial of Christine Keeler" (via IMDB). Her IMDb profile also reveals she's slated to star as the titular character in the 2022 film "The Seven Sorrows of Mary," which tells the story of a kidnapping victim forced to make an impossible choice — a project announced by Deadline back in August 2018.
Directed by Tom Ford, "Nocturnal Animals" is a harrowing feature that nests an unsettling tale within an equally compelling frame story. Bamber plays India Hastings, a character in a novel penned by Edward Sheffield (Jake Gyllenhaal), the ex-husband of insomniac gallery owner Susan Morrow (Amy Adams). As Susan reads his manuscript, the film toggles between the present day, scenes from the shockingly violent book, and flashbacks of Susan and Edward's marriage. The story-within-a-story follows the novel's protagonist, Tony Hastings (also played by Gyllenhaal), as he seeks to avenge the murders of his wife (Isla Fisher) and daughter (Bamber) after both are kidnapped and sexually assaulted by carjackers while on a family road trip.
The small but emotionally gripping role earmarked Bamber's career as one to watch. Though she clearly doesn't shy away from violent subject matter, her performance in one particularly disturbing scene affected the young actress more than she anticipated.
If you or anyone you know has been a victim of sexual assault, help is available. Visit the Rape, Abuse & Incest National Network website or contact RAINN's National Helpline at 1-800-656-HOPE (4673).
Bamber was affected by this Jake Gyllenhaal scene in Nocturnal Animals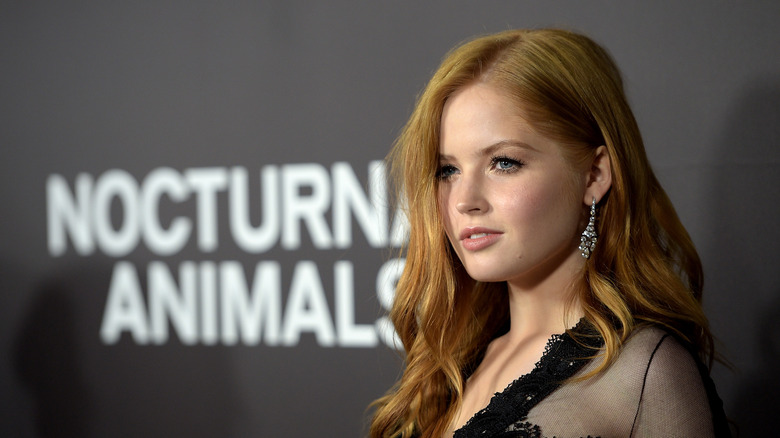 Jason Kempin/Getty Images
According to a November 2016 Glamour interview, Ellie Bamber burst into tears after first reading the script for "Nocturnal Animals" over a bowl of pasta in a café. She recalled to the magazine, "This lovely waiter comes over and says, 'Are you OK?' I was totally gripped by it. [...] It legit took my breath away."
The emotional effect of the script, which director Tom Ford adapted from Austin Wright's 1993 novel "Tony and Susan" (via Goodreads), boiled down to one particular scene for Bamber, which she described while speaking with Harper's Bazaar in December 2016. First, she recalled the audience's reaction to the intensity of "Nocturnal Animals" when the film was screened at the Toronto Film Festival. She commented, "When that scene was finished, and I'm in the back of the car, there were audible gasps. People went [sharp intake of breath], and it was really loud. That's sort of the reaction I had."
She then honed in on one specific scene in the movie, wherein Tony Hastings has a major breakdown while seeking vengeance for the murder of his wife and daughter. The actress told Harper's, "Reading about [Tony's] breakdown is really sad, and how it affects him, and how he feels so powerless. I think if anyone else was in that situation and loved someone that much, they would probably do the same thing."