The Ending Of 1883 Episode 2 Explained
Starring country music singers Tim McGraw and Faith Hill along with legendary actor Sam Elliott, "1883" tells the story of how the ancestors of the Dutton family of "Yellowstone" came to own the largest cattle ranch in the whole United States. With two whole episodes under their belts, "1883" fans have only really just started to get to know the characters at the center of the 19th-century tale. 
In the first episode, James Dutton (Tim McGraw) meets Shea Brennan (Sam Elliott), in some of the most violent parts of Fort Worth, Texas. Shea is a former captain of a Buffalo Division in the Union Army and is traveling with his close friend, Thomas (LaMonica Garrett), with whom he served during the Civil War. The duo are struggling to lead a large group of immigrants into the north-western part of the country, a journey that is best described as perilous. At the same time, James is attempting to move his family in the same direction. While is able to protect himself well, James has a whole five other mouths to feed and he is only one man. Recognizing that they can help each other, Shea and James join forces and depart Texas with the promised land in mind.
Let's dive into the details of the latest episode of "1883" and discover the most important moments of Season 1, Episode 2 ("Behind Us, A Cliff").
Tom Hanks guest stars at the Battle of Antietam
In the first moments of Episode 2, "1883" gives us a brief flashback to the aftermath of the Battle of Antietam, the bloodiest battle of the Civil War and one of the deadliest days in the history of the United States. According to NPR, the battle left more than 23,000 men dead or wounded on both sides. James Dutton awakes on the battlefield, clearly shell shocked from a difficult fight. As he sits up and recognizes the magnitude of loss, he is approached by a number of Union soldiers, including General George Meade, who is portrayed by none other than Tom Hanks. Yes, that's right, if you peered beneath that giant hat and sizable beard, you'd surely recognize one of the most beloved Hollywood stars of our time. 
Meade quietly acknowledges James and sits down next to him. James struggles to find words and, in an effort to help him, Meade simply twice says, "I know," before James erupts into tears. As the two continue to survey the death in front of them, a voiceover by Elsa Dutton (Isabel May) informs us that her father later refuses to speak of the war and even denies involvement, despite clearly having seen the worst of it and spending three years in a Union prison for his trouble. 
Even though the Battle of Antietam occurred a whole two decades prior to the main events of the series, it will be interesting to see if "1883" revisits any part of the Civil War or James's time in prison. It will also be interesting to learn more about how James joined the fight for the Confederacy, especially considering the fact that at least two of his new traveling companions fought for the Union.
Billy Bob Thornton shows up in this episode too!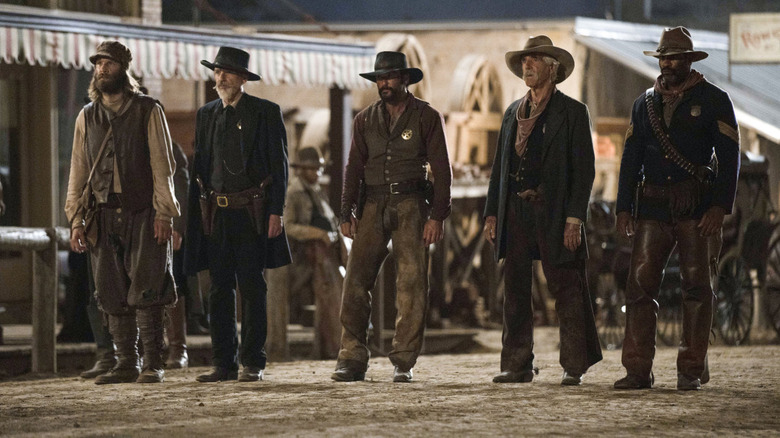 Emerson Miller/Paramount+
This truly is an episode of fantastic guest stars as actor and musician Billy Bob Thornton also makes a notable appearance as Jim Courtright, a sheriff living in the Hell's Half Acre district of Fort Worth, Texas. After a deadly attack at the Dutton family campsite, a handful of men go back to Hell's Half Acre with revenge on their minds. Once in town, the group meets with Courtright. Courtright quickly gives James a badge and leads the posse into the White Elephant Saloon. After allowing Josef the opportunity to identity the various members of the group, Courtright and the other three gun-wielding men proceed to execute each man involved in the attack.
Unlike most of the central characters in "1883," Courtright is actually based on a real person who lived in Fort Worth around this time. According to Robin McClure of OnlyInYourState.com, the lawlessness of the area became so intense in the 1880s that Courtright was known to arrest up to 30 people a night. In 1887, Courtright was shot to death in the street by Luke Short, an owner of the White Elephant Saloon (via Find A Grave). Though Courtright's presence may have brought a modicum of peace to the area, his untimely death certainly signaled that the area had not completely solved its plethora of crime-related problems.
With all of the death and despair in "1883," it's no wonder actor Tim McGraw recently noted that he struggled to keep himself together throughout the filming of the first season.
Elsa has an admirer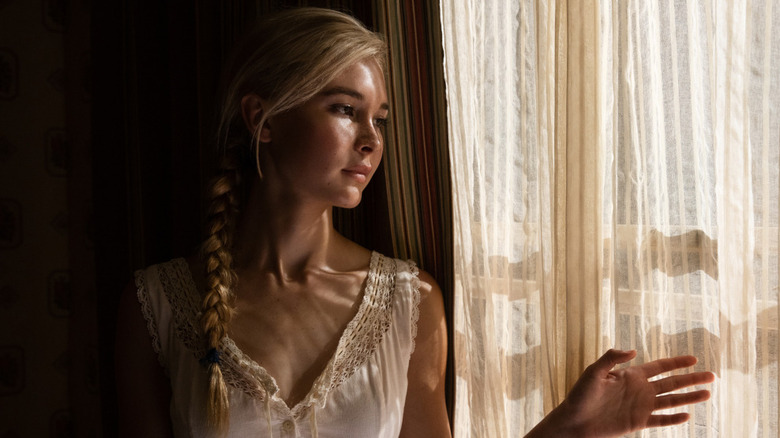 Emerson Miller/Paramount+
In the first episode of the series, Elsa's narration tells us that "rumors" were all she knew of sex, prior to her family's trip. Though she gets some instruction in the matter by looking out the window of the Hotel Calhoun, her father insists that he isn't even ready for her to "start courting." However, one member of her fellow group of travelers appears to have different thoughts on his mind. While they are both riding horses, Ennis (Eric Nelsen) quickly takes notice of Elsa and begins a flirtatious exchange with the young woman. 
Though Ennis tells Elsa she is "too pretty" for him, he assures her that he is also "pretty short on common sense." Elsa retorts that she painted a picture of her husband in her mind and *spoiler alert* he doesn't look like Ennis. However, Ennis cleverly responds, "Well, I'm a cowboy, ma'am. We don't look like nobody's husband... but we're the ones you think about when you're husband ain't around." Though she tries, Elsa can hardly contain her amusement at the remark. 
Given her father's previous statement that he is unenthusiastic about her starting to date, the future development of such a relationship is sure to cause trouble throughout the remainder of the first season.
So much loss has an effect on a person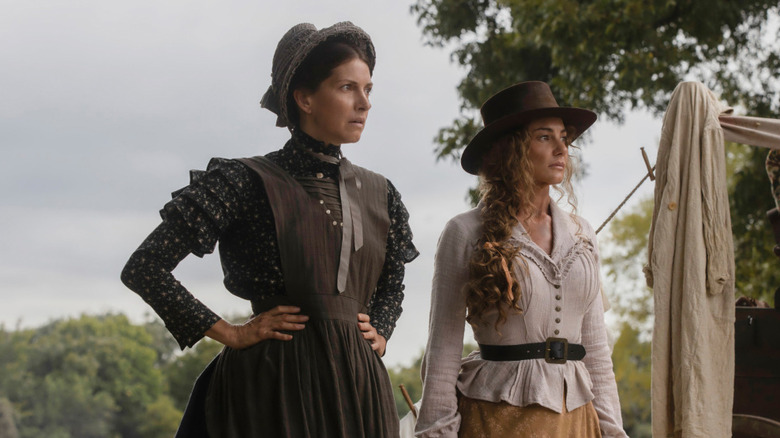 Emerson Miller/Paramount+
In the course of a single episode, the Dutton family has lost two important family members. After a group of marauders menacingly wander around the group's campsite, Claire (Dawn Olivieri) takes it upon herself to attack them with large rocks and tell them they are unwelcome. In response, the group of men attack her and it isn't long before the shooting starts. Sadly, Claire's daughter, Mary Abel (Amy Malouff), is one of the people caught in the crossfire. 
After her daughter's death, Claire is distraught as all of her immediate family members have outlived her. Her husband, Henry, appears to have died just shortly before the beginning of the series and she mentions that she lost six other children prior to Mary Abel. Knowing that there is an arduous journey ahead, Claire makes the decision to simply stay with her daughter, pronouncing that she is "done kneeling" besides her child's grave and is, instead, "ready to lie down." Though James and Margaret plea with her to go with them, she refuses. Instead, Claire retrieves a pistol from a box and shoots herself in front of Mary Abel's grave. After her suicide, James and Shea bury her next to her daughter. 
Deaths of despair are examples of some of the toughest hardships that many long-distance travelers could have faced during such a treacherous journey. According to the Bureau of Land Management, it is estimated that one of every 10 emigrants died during the journey across the Great Plains in the first eight decades of the 1800s.
New episodes of "1883" drop every Sunday on Paramount+.
If you or anyone you know is having suicidal thoughts, please call the National Suicide Prevention Lifeline​ at​ 1-800-273-TALK (8255)​.