The Jaskier Moment In The Witcher Season 2 That Was Totally Improvised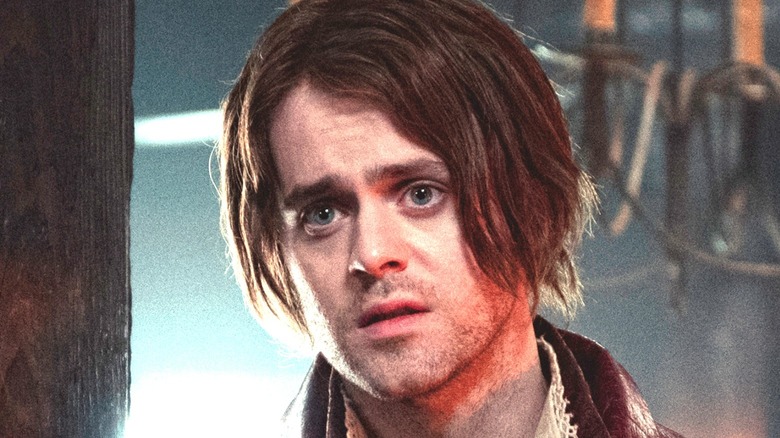 Susie Allnutt/Netflix
Some light spoilers ahead for "The Witcher" Season 2
The bard Jaskier (Joey Batey) became a fan favorite with his appearances in Season 1 of "The Witcher." While he came into Geralt's (Henry Cavill) life in a rather inauspicious way, his presence proved to be more than just comic relief as the season continued (via Uproxx). He also helped introduce the title character to Yennefer (Anya Chalotra) thanks to that unfortunate confrontation with a Djinn.
It seemed as if Jaskier might be out of Geralt's life thanks to their less than happy parting of ways. Of course, nothing could be farther from the truth, as the second season proves. Jaskier makes his way back into Geralt's good graces and offers a few surprises of his own. The conditions when viewers find him again leave a lot to be desired but, as usual, he's keen to make friends with the creatures who call a certain cell home. The choice to do so comes from a not-so-surprising source — and someone who knows Jaskier all too well.
A man among mice
It might be an obvious part of Jaskier's personality, but befriending mice didn't appear in the script. Instead, the choice to do so came from Joey Batey himself. "Any interaction with the mice is ad-libbed because I turned to [series creator Lauren Schmidt Hissrich] and said 'I can't not talk to these lovely mates' and so I named them all and described various different backstories," the actor told BBC Radio 1.
Batey's input didn't stop at character development. He was also instrumental in creating this season's new anthem "Burn, Butcher, Burn." A decidedly different song than "Toss a Coin to Your Witcher," it revels in changing the story while showing viewers how Jaskier now sees Geralt. Composer Joe Trapanese — along with the actor — wrote the song, keeping the changed bard in mind. 
The best compliment to the character's changing attitude and style may have come from Netflix itself. According to Batey, the song wasn't what the streamer's executives were expecting (via RadioTimes). "Well, it's not as catchy as 'Toss a Coin'." And we went, 'Good. I think that's the point,'" he recalled.