The Ending Of 1883 Episode 1 Explained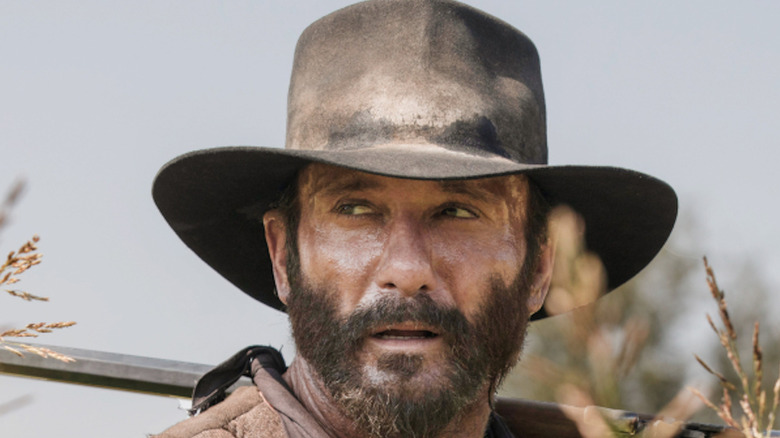 Emerson Miller/Paramount+
At long last, fans of "Yellowstone" have finally gotten their hands on two episodes of "1883," the 19th-century-set series that depicts the ancestors of the Dutton family as portrayed by Tim McGraw and Faith Hill. With a super-sized premiere clocking in with a running time of just over an hour, the first episode of Taylor Sheridan's period drama spends a lot of time focused on the danger of the journey the Duttons are embarking on.
Whether it's because of gunslingers, deadly diseases, or any number of natural and man-made hazards, moving your family such a long distance in such a time is not a task for the faint of heart. In fact, McGraw actually revealed in a recent interview that the most difficult part of production on Season 1 of "1883" was not crying his eyes out. 
Let's dive into the details of the first episode of "1883" and discover the most important moments of the series opener. 
Native Americans attack Elsa Dutton and her traveling companions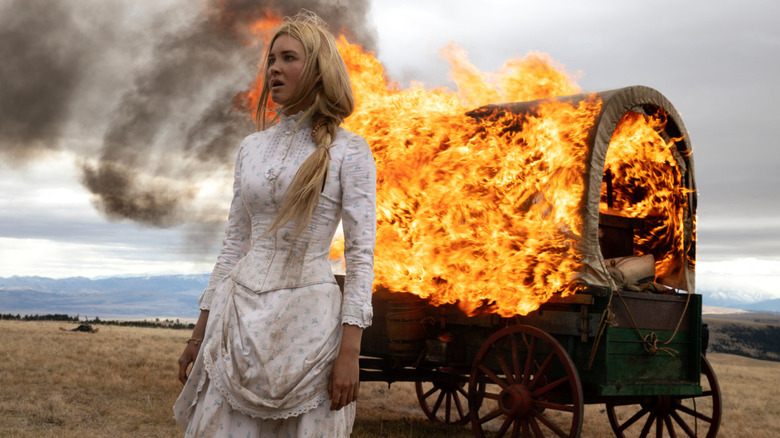 Emerson Miller/Paramount+
In the closing moments of the pilot episode of "1883," the Dutton family sets out for Oregon in what is sure to be a treacherous journey. While many of the common dangers are detailed in warnings by leaders of the traveling group, the series premiere also gives viewers a taste of the exact threats that will be faced in the weeks ahead. In the opening scene, we get our first glimpse at Elsa Dutton (Isabel May), the daughter of James (Tim McGraw) and Margaret Dutton (Faith Hill). 
The scene, which is displayed almost entirely free of context, shows Elsa weeping on the ground as a fire envelops a wagon she recently occupied. Nearby, a group of Native Americans on horseback massacre her traveling party. As Elsa rushes towards a body to retrieve a weapon, one of the Native American men fires an arrow at the corpse as a warning. When she asks if he will let her go, the man menacingly replies, "I will sell you or I will kill you." After a short, unfriendly dialogue with the man, Elsa shoots him in the head, but not before he can fire an arrow into her stomach, grievously wounding her. Elsa begins to accept her fate and fires a volley of bullets at the remaining attackers, just as the opening credits begin to roll. 
It seems all, but certain that "1883" will return to this moment at some point in the future and explain exactly how Elsa finds herself in such a dangerous situation. As more episodes are released, it will be interesting to learn whether this moment becomes a part of the endgame for the season or even the series as a whole.
Worries over smallpox abound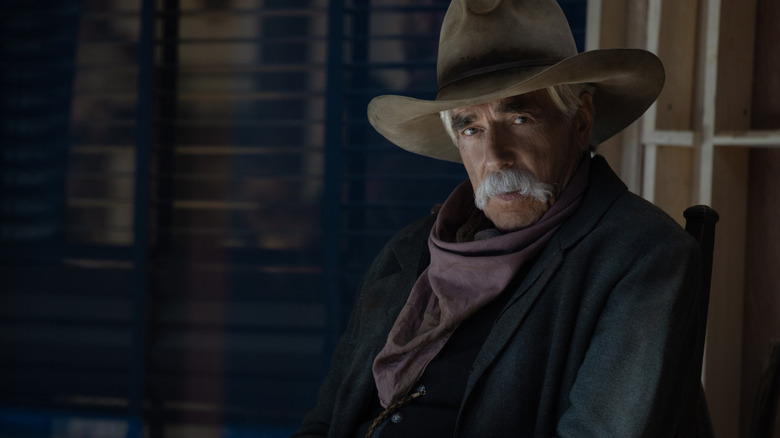 Emerson Miller/Paramount+
Towards the end of the first episode, Shea Brennan (Sam Elliott) orders that all people in the traveling group be inspected for smallpox. Through his efforts, he discovers that two people in the traveling group are infected and quickly banishes them in order to stop the spread. Sadly, Shea is extremely familiar with the disease and knows what a horrible toll it can take. In his first scene in the series, Shea mourns the recent loss of his wife and daughter to smallpox, contemplating suicide before joining Thomas (LaMonica Garrett) in a journey northward.
While it appears that Shea has a head start on the latest outbreak, contagious diseases have a way of worming their ways back into our lives in an often dramatic and deadly fashion, as we know all too well. For centuries, smallpox was one of the deadliest contagious diseases known to man. According to the FDA, the most common form of smallpox came with a 30% case fatality rate. Additionally, it has been well documented that the earliest European immigrants to the Americas unwittingly spread smallpox to Native American populations (via NIH). Without any prior immunity to the disease, the Native Americans were decimated by waves of epidemics. 
Thankfully, smallpox is no longer a problem for the world today as a result of successful vaccination regimes. A variety of programs throughout the 19th and 20th centuries encouraged the public to get vaccinated for the disease, eventually leading the World Health Organization to declare the disease eradicated in 1980 (via CDC).
If you or anyone you know is having suicidal thoughts, please call the National Suicide Prevention Lifeline​ at​ 1-800-273-TALK (8255)​.
James Dutton shoots a man in the street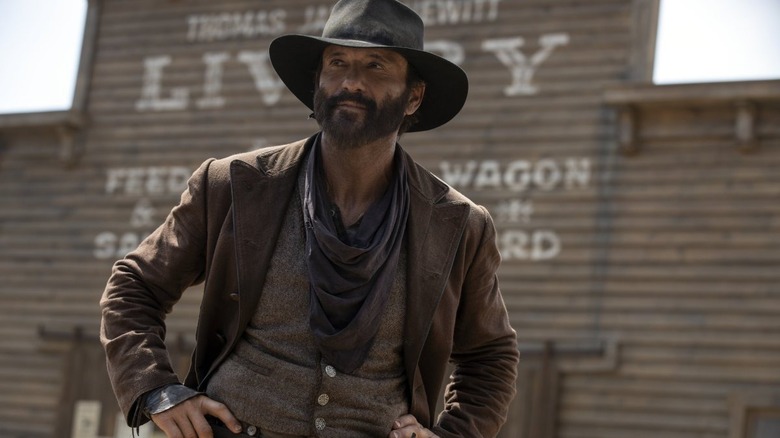 Emerson Miller/Paramount+
Within seconds of audiences meeting James Dillard Dutton, it's quickly made clear that the patriarch of the Dutton family is an expert sharpshooter — a skill needed for a man of his time. After single-handedly defeating a group of highwaymen (without any help from an admiring Shea and Thomas), Dutton makes his way into a precinct of Fort Worth, Texas called Hell's Half Acre where he encounters sex workers, pickpockets, and all types of danger. 
In Hell's Half Acre, the Dutton family encounters violence at every corner. After beating the snot out of the wrong man, James spots a pickpocket making his way across the street with James's wallet. With only a second's thought, James shoots the man where he stands. As James goes to retrieve his wallet, the townspeople all attack the failed thief and decide it's "high time we had a hanging." Later, James is forced a shoot a drunkard who stumbles into Elsa's room and attempts to rape her. Given the various ways that Elsa is targeted throughout the first episode, it seems likely that James's first encounter with the pickpocket will be the least of his concerns by the time the first season is over.
Unlike most of the central characters in "1883," Hell's Half Acre was a real and genuinely dangerous place during the late 19th and early 20th centuries. According to OnlyInYourState.com, Hell's Half Acre was home to a wide variety of outlaws during this time, including Butch Cassidy and the Sundance Kid. 
If you or anyone you know has been a victim of sexual assault, help is available. Visit the Rape, Abuse & Incest National Network website or contact RAINN's National Helpline at 1-800-656-HOPE (4673).
Manifest Destiny leads to danger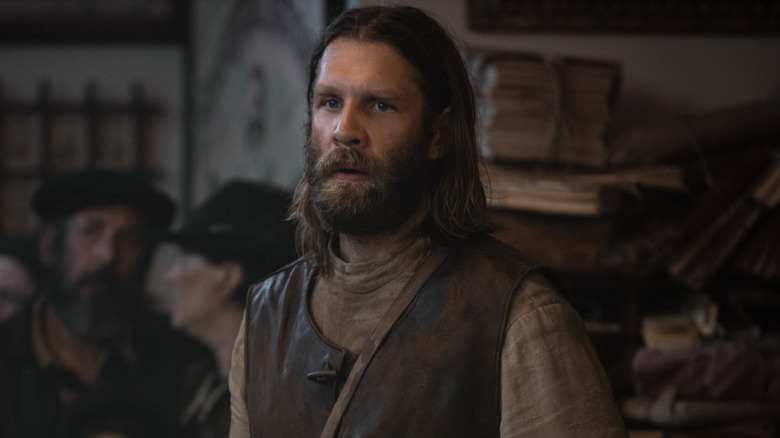 Emerson Miller/Paramount+
Once Shea and Thomas meet up with the rest of the group, they quickly realize that their traveling companions are unprepared for the perilous journey ahead. Because most members of the group are recent immigrants to the country, they are without firearms, unfamiliar with horses, and unable to speak English. As a result, Shea decides that he will need to hire more men just to protect everyone. 
Remembering the skill that James Dutton showed during his encounter with the highwaymen, Shea sets out to recruit him for the job. Though James is initially reluctant to join them, he quickly realizes that an arrangement could be beneficial to both parties. While James agrees to join the group, he also makes sure to point out that he is only doing so to help his own family and has little care for the rest of them. Shea, on the other hand, goes out of his way to help as many people as possible. Before beginning their pilgrimage, Shea instructs them all on how to avoid things like rattlesnakes, poison oak, and toxic water.
Indeed, families traveling long distances in the late 1800s would have faced threats from all sides. According to the Bureau of Land Management, it is estimated that one of every 10 emigrants died in the journey across the Great Plains, during the first eight decades of the 1800s. With the Dutton family's journey only just beginning, we have to wonder just how many people will actually make it all the way to their final destination.
The first two episodes of "1883" are now available on Paramount+. New episodes release every Sunday.