G.I. Joe Invades The Transformers World In Hasbro Crossover Comic With M.A.S.K.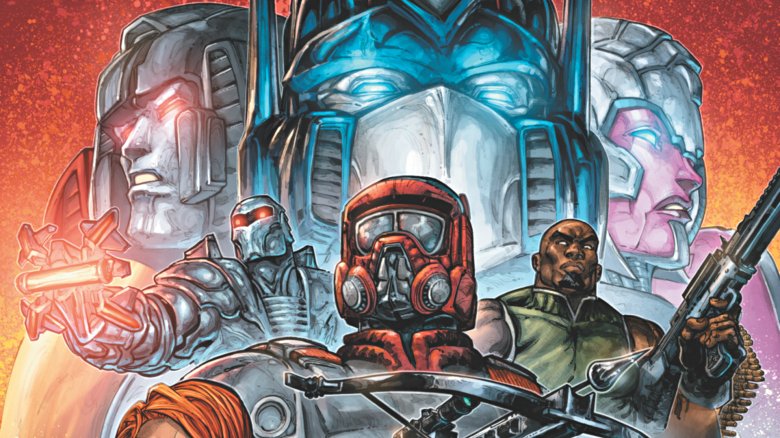 IDW Publishing
It's the kind of crossover that was previously only possible on the messy floors of playrooms in the '80s.
According to The Hollywood Reporter, Hasbro will release the six-part First Strike: A Hasbro Comic Book Event. It's the next chapter in IDW's shared Hasbro universe that began with Revolution, featuring G.I. Joe, Transformers, M.A.S.K., and Micronauts.
In First Strike, Gen. Joe Cotton, the original G.I. Joe, will lead a coalition force against the Transformers' home world of Cybertron. However, not all of the teams have Earth's best interests in mind.
"This is what Revolution has been building towards over the past year," said IDW editor-in-chief David Hedgecock in a statement. "It's been an exciting first season of action in the Hasbro shared universe, which laid the foundation for all-new stories and adventures. But now with First Strike, we're shaking things up and, once again, disrupting the status quo forever. It's a perfect time for readers, new and old, to jump on board and join us for one raucously fun ride!"
The series will launch in August, but a free preview issue is available now.
The First Strike series will be accompanied by six one-off special issues: Micronauts: First Strike, G.I. Joe: First Strike, Optimus Prime: First Strike, MASK — Mobile Armored Strike Kommand: First Strike, Rom: First Strike and Transformers: First Strike, running from September and October.
After the conclusion of the series, IDW will launch two new series based on Hasbro properties: G.I. Joe: Unmasked and Rom & The Micronauts.
Meanwhile, Transformers will hit the big screen once again in Transformers: The Last Knight, which hits theaters this week. In the meantime, check in with a few action stars from the '80s who disappeared.