The Spider-Man: No Way Home Hank Pym Easter Egg You Missed At Peter's School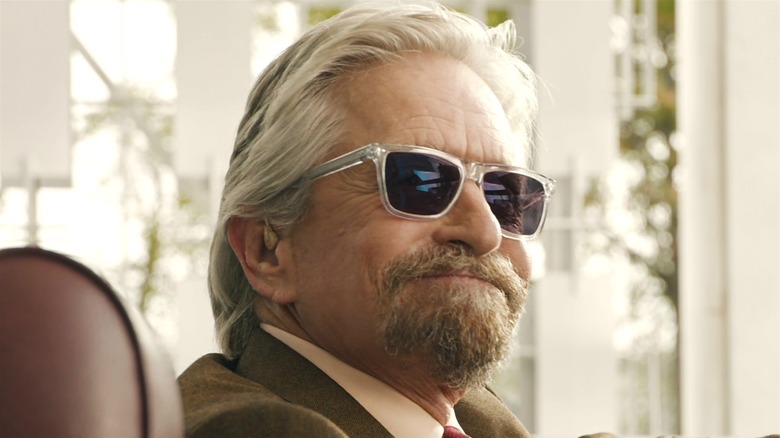 Marvel Studios/Disney
Spoilers ahead for "Spider-Man: No Way Home"
"Spider-Man: No Way Home" is a culmination of Peter Parker's (Tom Holland) time in high school as he prepares to graduate and embark on the next great adventure: college. The ending represents a new chapter for the young hero. So, it's only appropriate that there are copious Easter eggs and special shoutouts for all Spidey fans in the audience throughout the film.
Sometimes, these moments are transparent, such as the inclusion of multiple Spider-Man villains from previous movies. The addition of Doc Ock (Alfred Molina), Green Goblin (Willem Dafoe), and Electro (Jamie Foxx) makes it clear that this is a film that will honor the other "Spider-Man" franchise films that have come before. In other instances, the references may fly under the radar, such as when Norman Osborn, aka Green Goblin, saying "You know, I'm something of a scientist myself" — a reference to his most memeable line in 2002's "Spider-Man."
"No Way Home" is a film that will inevitably reward rewatches. Notably, fans are already finding hidden Easter eggs throughout the runtime, such as a reference to the original Ant-Man at Peter's high school.
Hank Pym and Dr. Erksine have been added to the mural at Peter's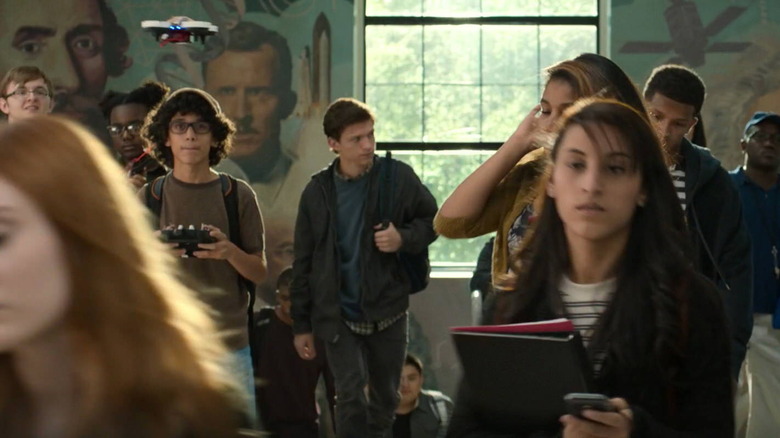 Columbia Pictures/Sony Pictures Releasing
One of the neatest Easter eggs in "Spider-Man: Homecoming" is when Peter walks through the hallway at his high school. In one particular shot, if you look behind him, you'll notice a mural of great scientists and inventors throughout history. Among the images of space shuttles and DNA sequencing, audience members might spot the image of Howard Stark (John Slattery), Tony Stark's (Robert Downey Jr.) father (via Reddit). It makes sense for a school to have a mural bearing the image of one of the greatest inventors of the modern era, not to mention the father of one of Earth's mightiest heroes. But, if you paid attention during "No Way Home," you may have noticed an update to this artwork.
During a "No Way Home" scene where Peter walks up to three of his teachers at school, you may see the image of Hank Pym (Michael Douglas) now on the same mural. Not only that, but if you really look closely, you can find Dr. Erksine (Stanley Tucci), who first appeared in "Captain America: The First Avenger." The mural is now more superhero-centric than ever, which makes sense given the state of the world. The Avengers just saved half the universe from Thanos (Josh Brolin), so paying homage to those who made the superhero tech possible is a fitting tribute.
Audiences will next see Hank Pym in the flesh when he appears in "Ant-Man and the Wasp: Quantumania," which is set for release on July 28, 2023.