Tom Holland Reveals The Villain He Wants To See Spider-Man Battle After No Way Home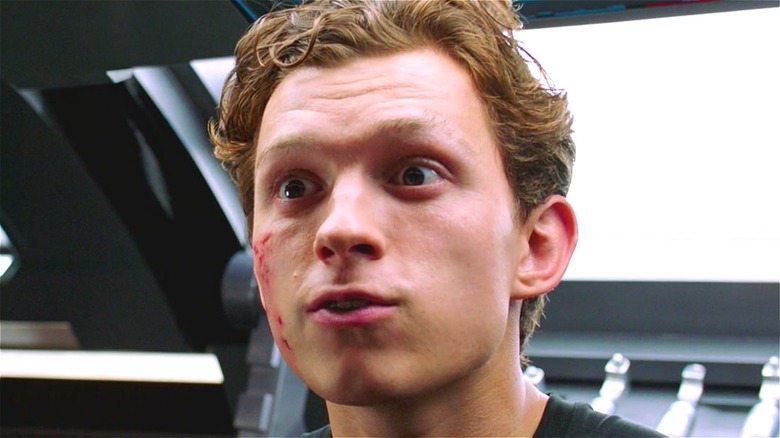 Marvel Studios/Sony Pictures
"Spider-Man: No Way Home" is unlike any other web-head film that's come before. Fans have often maligned when these movies get too many villains, such as "Spider-Man 3" introducing us to Sandman, the New Green Goblin, and Venom. Meanwhile, "The Amazing Spider-Man 2" left a sour note with fans for trying to incorporate Electro, Rhino, and Green Goblin into one storyline, too. 
However, "No Way Home" defies expectations at every turn. It dares to take multiple villains from previous "Spider-Man" franchises and put them into a single movie. It's a daring movie, and the amazing thing is that it actually works. "No Way Home" has been a massive hit with critics and audiences alike, cementing its place as both one of the best "Spider-Man" movies that's ever come out as well as one of the best films set within the Marvel Cinematic Universe.
Without giving anything away, there's certainly room for more Spidey stories in the MCU, so the question arises, how exactly will the series top "No Way Home?" Spider-Man himself, Tom Holland, has an idea.
Tom Holland wants Spider-Man to fight Morbius
Holland and his co-stars, Zendaya and Jacob Batalon, sat down for an interview with Fandango to discuss "Spider-Man: No Way Home." The movie isn't technically even out yet in theaters in the United States, but that's not stopping everyone from prodding into the prospective future of the franchise and asking about what could possibly come next for Spidey. Zendaya actually asks Holland who he'd like to see the web-head take on next, and while it takes Holland a minute to think of an answer, he comes back with, "I actually think that 'Morbius' film looks really cool. And it's more scary, that film. I think Morbius could be quite a cool thing to do."
The two have certainly gone toe-to-toe plenty of times in the comics, so it would certainly make sense for the two to battle on the big screen at some point. Perhaps Morbius could tag-team with Venom (Tom Hardy), another Sony Spider-Man spin-off, to bring all of these franchises together. Holland goes on to say, "Spider-Man versus a vampire? Yeah, I like that."
Undoubtedly, audiences around the globe would like it, too.