When Will Free Guy Be On Disney+?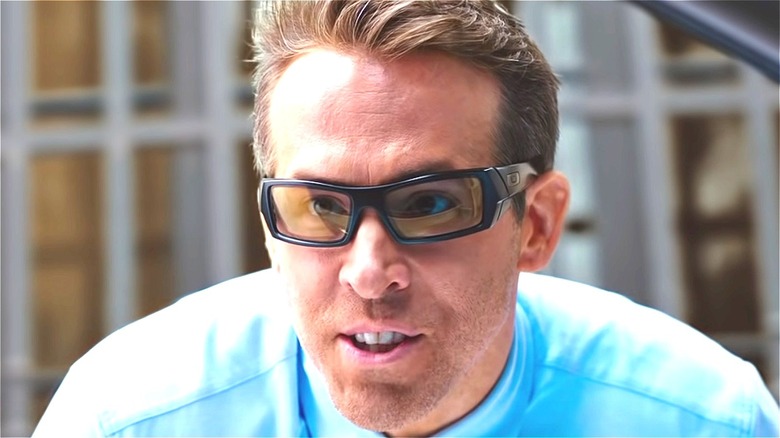 20th Century Studios/YouTube
This year was a strange year for movies, with the COVID-19 pandemic forcing movie distributors to experiment with new schedules to release their films. As a result, some movies had shorter theatrical runs, which means fewer people get to see them. The next best thing is checking out the movie on its streaming debut. It's not always easy to figure out when movies are available on streaming, but we're here to help.
"Free Guy" is one of the best comedies of 2021. It stars Ryan Reynolds as "Guy," a non-player character in a popular online video game that's about to be shut down. When Guy realizes what's happening, he rallies his fellow video game characters to take down the game's villainous creator, Antwan (Taika Waititi). The People's Choice Award for Favorite Comedic Movie winner has a strong supporting cast including Waititi, Lil Rel Howery, Jodie Comer, and Channing Tatum.
If you missed out on "Free Guy's" theatrical run, or if you want to check it out for the first time, here's the info you need.
Free Guy will be coming to Disney+ in February 2022
In a video released on YouTube on Thursday, December 16, 2021, Disney+ announced several titles coming to the streaming service in the upcoming year. "Free Guy" will be available starting on February 23, 2022.
That's about six months after "Free Guy" premiered in theaters. "Free Guy's" theatrical release was on August 13, 2021. It was one of the first Disney movies to receive an exclusive theatrical release window during the ongoing COVID-19 pandemic, as movie theaters began reopening last summer. "Free Guy's" theater-only window was 45 days, which is half of a typical movie's exclusive release window–Disney adopted this strategy for all of its remaining 2021 releases in September (via What's On Disney Plus).
In "Free Guy's" case, having a shorter release window didn't hurt its take at the box office much. "Free Guy" has grossed over $323 million worldwide, which currently puts it as the 12th-highest grossing film of 2021 (via The Numbers). Soon, even more people will be able to check it out.