Big Bang Theory: The Worst Part Of Leonard And Penny's Relationship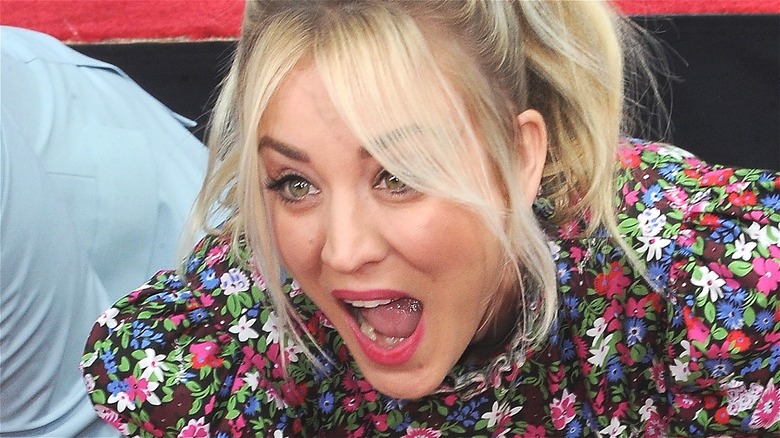 Albert L. Ortega/Getty Images
If you Google the term "Penny Leonard Big Bang Theory" in 2021, you don't have to dig far to find threads and comments criticizing the pairing. Fans who hang out at the "Big Bang Theory" subreddit and in other places are eager to pick apart the lowlights that plagued Penny and Leonard. The couple, respectively played by Kaley Cuoco and Johnny Galecki, endured multiple breakups, had very little in common when it came to interests, and seemed to be on totally different trajectories as people. It's kind of a miracle that the characters went out on a successful date in the first place.
But as the saying goes, opposites attract. Leonard and Penny ended "The Big Bang Theory" as a married couple who are expecting a child. But after all of those wobbles and stumbles along the primrose path to happiness, there were definitely some fumbles. What's the worst part of Leonard and Penny's relationship? Here's what we've pinpointed as the twosome's nadir.
He wanted kids, she didn't -- and neither can communicate
There's one important thing to remember when you realize that Penny ends "The Big Bang Theory" pregnant – she said repeatedly that she didn't want a child, and had done so after marrying Leonard, and often during the final season. She actually informs Leonard of this fact repeatedly (per Vulture), even though he hopes at least once that there will be a mistake and that she will become pregnant. Leonard reacts to her desire to remain childfree with disappointment, and since this is an adamant need of Penny's and he's so desperate to be a father he nearly donates sperm to an acquaintance, it proves to be yet another dividing line between them. He has long wanted to have children with her, and this display of baby rabies is reflective of the intense insecurity with which he approached their relationship before their first breakup. It's as if he needs to nail Penny in place for fear that she will leave him.
This is close to what happens; Penny becomes pregnant after forgetting to encourage Leonard to put a condom on after a long, drunken night with Sheldon at The Cheesecake Factory. That results in the audience feeling as if he's entrapped her, performing a mild form of partner coercion in the process. Penny compromises her ideals and dreams for an ordinary life with Leonard — who, while he's finally learned that Penny isn't his cardboard dream woman, freaks out and tries to overcompensate. It points up a fundamental lack of compatibility that the show never bothers to fully solve — or partially resolved and then failed to stick to.
Did Penny and Leonard's communication improve after their marriage?
The sad thing about this final twist is that Leonard and Penny were starting to improve their ability to communicate with one another during the final season. They talked about Leonard's desire to donate sperm to his friend instead of him concealing it from her. They seemed to finally be on the same page about raising kids of their own, and he had accepted her desire not to have kids. All of this went out the window in the series finale. There wasn't even time for Penny to be upset about the situation.
While Penny repeatedly reassures other characters that she's happy about the baby (while constantly throwing up), it feels like another life decision that's been foisted on her, like her shift from acting to pharmaceutical sales and years of living alone in her apartment while Leonard lives with Sheldon per their roommate agreement. None of this feels like a partnership, and definitely proves to be the worst part of their connection.