Easter Eggs You Missed In Cars 3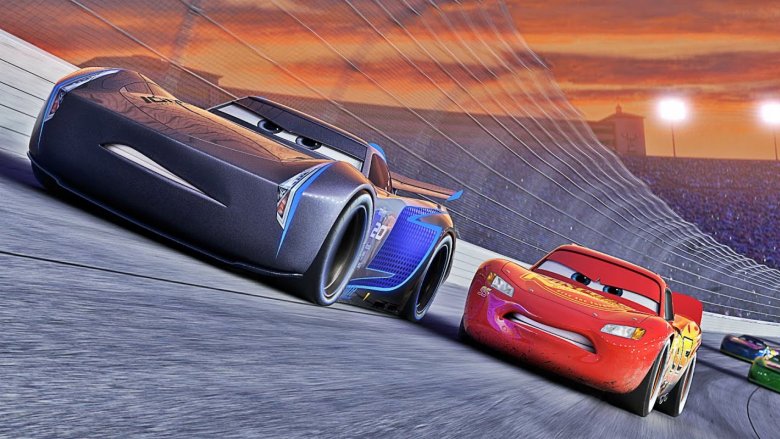 Pixar's movies are a veritable basket of Easter eggs, filled with running gags and subtle (or sometimes not so subtle) references to other Pixar properties that only eagle-eyed fans would notice. Cars 3 is no exception, and contains a boatload of new hidden gems. Here's a look at some of the Easter eggs you might've missed in the Cars franchise's third lap around the track.
A113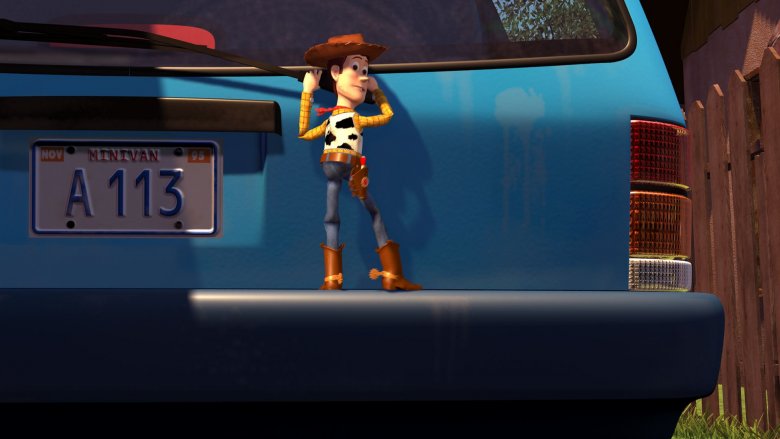 It's a tradition for Pixar films to contain at least one reference to A113, the number of the classroom in which many of its veterans—including John Lasseter and Brad Bird—studied at the California Institute for the Arts. Luckily, the symbol wasn't too hard to spot in Cars 3.
A113 shows up most noticeably on the door of the office of Rust-eze owner and company CEO Sterling as he takes a meeting with his new racer—er, product—Lightning McQueen. The door very visibly bears the number, and it's shown twice just to ensure the reference is properly caught.
The Pizza Planet truck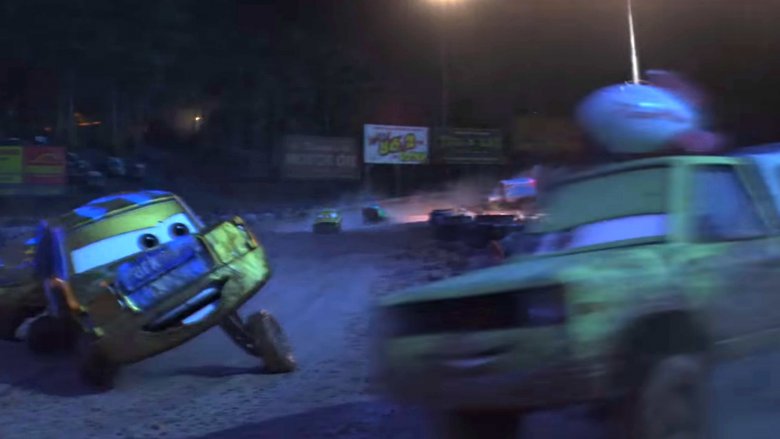 Ever since it debuted in Pixar's first film, Toy Story (which, by the way, was released in 1995, which directly inspired McQueen's car number, 95), the Pizza Planet truck has popped up in most of its films—all of them, in fact, save for The Incredibles. In Cars 3, the old pickup makes yet another appearance during the demolition derby race McQueen and his trainer-turned-protégé Cruz Ramirez participate in undercover.
In the mud track scene, it's open season in terms of which types of vehicles can participate in what's called the Crazy Eight run, with the last vehicle standing emerging as the night's winner. And for a brief moment, the Pizza Planet truck can be seen giving it a go against the likes of incognito McQueen, Ramirez, and school bus Miss Fritter (whose name may be a wink to Magic School Bus teacher Miss Frizzle).
The Pixar Ball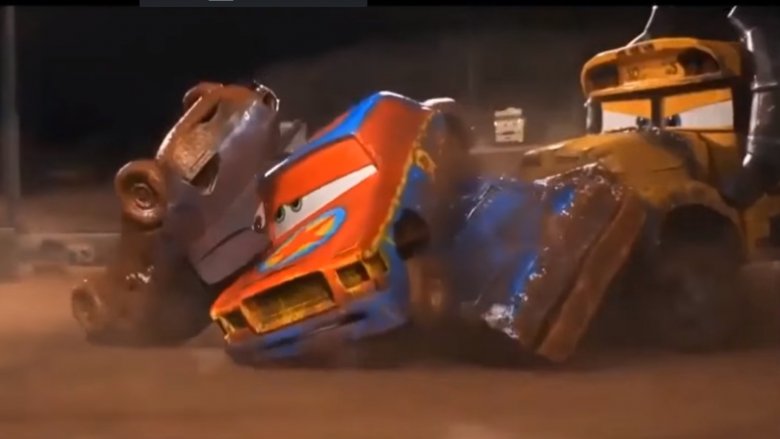 Much like A113, the Pixar ball—a yellow bouncy ball with a blue stripe and a red star—has become a must for each of the studio's films, including Cars 3. Along with the Pizza Planet truck, the Pixar ball can be seen in the demolition derby sequence, drawn on the hood of one car that crashes into another. Whereas the Pizza Planet truck was a dead giveaway thanks to its rocket topper, the PIxar Ball is a little trickier to spot in the mud-slinging crowd of cars.
Some familiar branding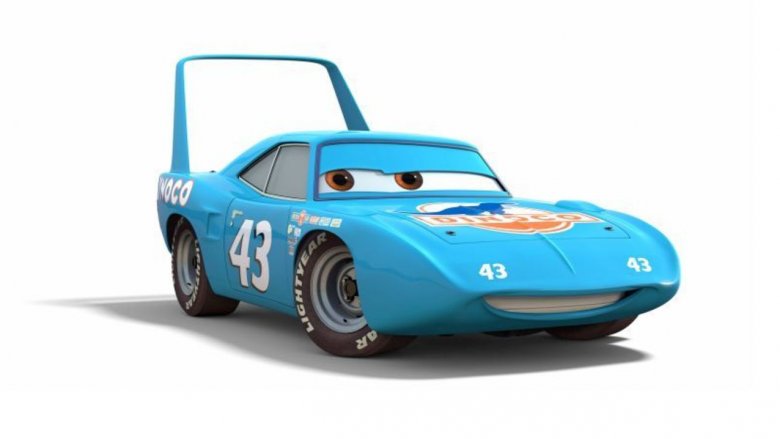 The Cars series is filled with automobiles that are sponsored by faux corporations, and there are a ton of Easter eggs planted in those brand names. Buy n Large, for example, makes an appearance as the sponsor of one of the early race cars in the film and is seen on the sidelines of one of McQueen's major races against rookie sensation Jackson Storm. BnL, Pixar fans might recall, is the corporation that made an appearance in Wall-E and played a key hand in all the consumerism that left the world in ruins—and has since appeared in subsequent Pixar pics, including Toy Story 3 and Up.
Dinoco is another old brand (it originated as a gas station in Toy Story) that's continued to maintain its relevance in the Cars world, as the sponsor of Strip Weathers, his nephew Cal Weathers, and (spoiler alert), eventually, newcomer speedster Ramirez. Another brand that gets a nod is Triple Dent Gum, which was first introduced in Inside Out.
Cinderella's pumpkin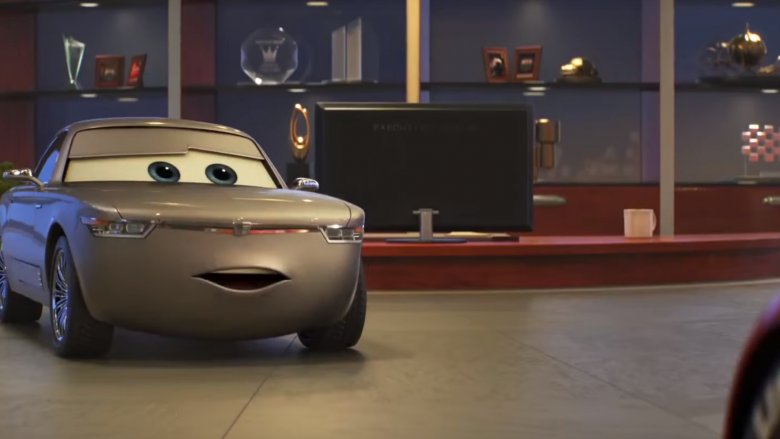 Sterling's office isn't just the place where A113 can be found—the iconic image of Cinderella's pumpkin carriage can also be seen in the background of his office. "It's out of focus most of the time," director Brian Fee teased to Collider. "But if you're looking for it you can find it." Although Cinderella is an ancient property of pre-Pixar Disney, the film has been referenced in subsequent House of Mouse properties before, including The Little Mermaid.
Coco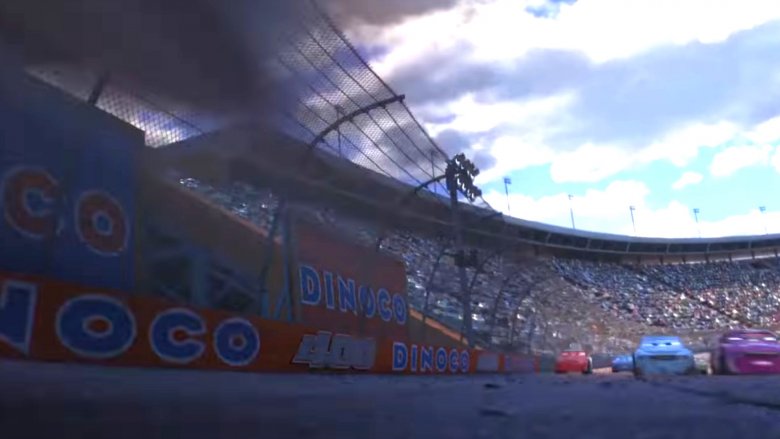 Pixar's next cinematic release, Coco, also gets a couple of nods in Cars 3. Not only does the name of the film appear to (almost) pop up in in the racetrack sidelines title art during a few shots in the film, but the town featured in the movie is also showcased on the training screen for one of the secondary racers training alongside McQueen at the fancy new Sterling center, who's asked by then-trainer Ramirez to think of his hometown.
NASCAR racers take a new name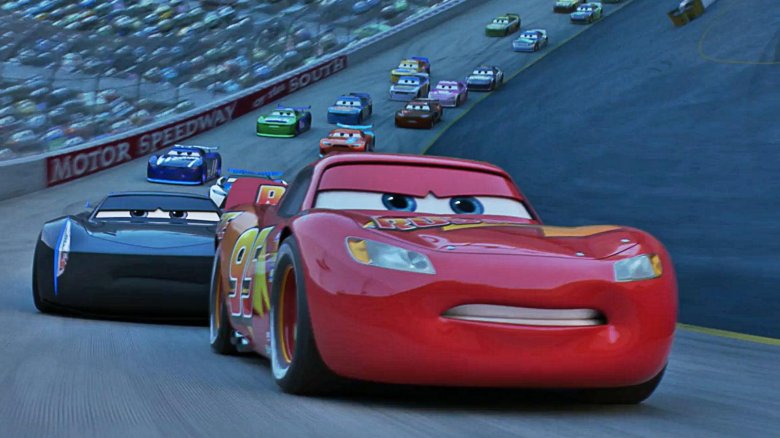 NASCAR fans should have a field day figuring out which of the tertiary characters in the film represent the real-life racers who voiced them. Among the industry superstars who make brief audio cameos as car characters in the film: Jeff Gordon reprising his Cars 2 role as Jeff Gorvette, Darrell Waltrip coming back as Darrell Cartrip, Daniel Suarez making his debut as Daniel Swervez, Ryan Blaney as Ryan "Inside" Laney, Chase Elliott as Chase Racelott, and Bubba Wallace as Bubba Wheelhouse. Gentlemen, start your microphones.
Perhaps the most subtle NASCAR reference, though, had more to do with a monkey than a human driver. Jocko Flocko is the storied simian co-driver that helped Tim Flock win a race in the early '50s, and his name was referenced by the disguise Mack put on his trailer to trick racers at the dirt track where McQueen and Ramirez went to practice.
Paul Newman resurrected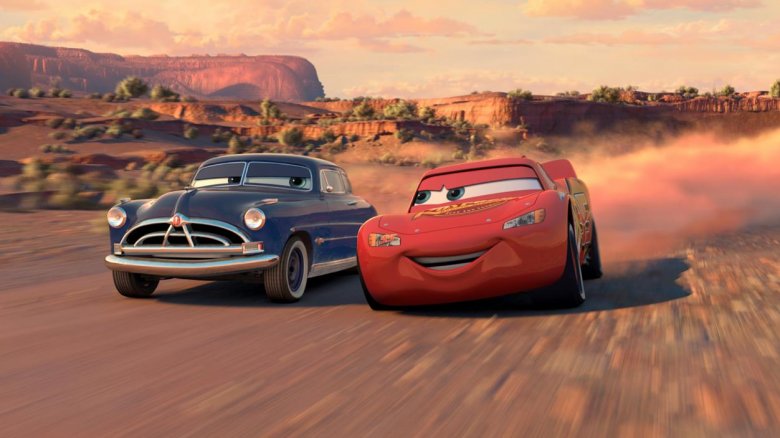 Perhaps one of the most bittersweet surprises in Cars 3 is the return of Doc Hudson, a character originally voiced by the late Paul Newman. His status as Lightning's mentor made a monumental impact on the racer, especially as Lightning added more miles to his odometer and started being edged out by newer, faster vehicles.
Not only was he brought back in spirit in flashbacks to his scenes from Cars, but he was also given new dialogue during those nostalgic moments. According to producer Kevin Reher, those soundbites came courtesy of between-takes Cars audio that captured Newman—a real-life driving enthusiast—talking about racing just for fun. "John [Lasseter] had left all the tapes running on Cars 1, so we had all these hours of Paul talking about everything and a lot of it was about racing," Reher told SlashFilm. "And that whole line, '500 of those, lap after lap,' all that was just his extemporaneous conversations with John about racing."
Car Talk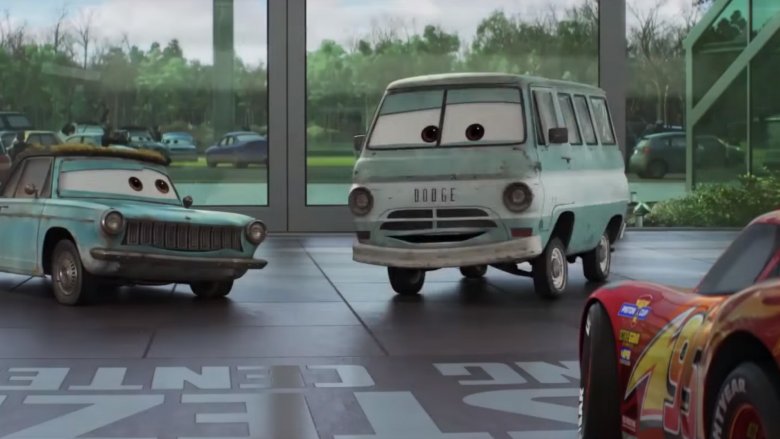 For fans of the NPR talk show Car Talk, the voices of Tom Magliozzi (who passed away in 2014) and his brother Ray, a.k.a. Click and Clack, the Tappet Brothers, have been fun additions as Rusty and Dusty throughout the Cars films. They pay poignant tribute to their old show while saying goodbye to McQueen—after selling Rust-eze to Sterling with the hopes that he could provide their prized racer a better shot at returning to the big time—by uttering the Car Talk catchphrase "Don't drive like my brother. And don't drive like my brother!"